Posted 29th March 2018 | 11 Comments
Chris Grayling cancelled electrification to save money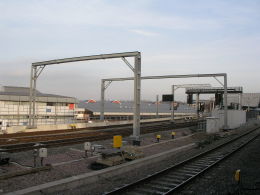 ELECTRIFICATION of several routes was cancelled because it would have cost too much, and not to 'avoid disruption' as transport secretary Chris Grayling had claimed, according to a new report from the National Audit Office.
The report also concludes that the benefits claimed for bi mode trains on the Midland Main Line are uncertain, because rolling stock able to meet the requirements of a faster timetable without full electrification has yet to be designed or built.
The cancelled schemes examined by the NAO were Kettering to Nottingham, Derby and Sheffield, Oxenholme to Windermere and Cardiff to Swansea. The report describes electrification of the sections of the Great Western Main Line to Bristol Temple Meads and Oxford which has also been delayed as 'pending'.
Concerns about the lack of sufficient funding in Network Rail's budget for CP5 were followed by an internal decision in March last year to cancel the Midland Main Line scheme north of Kettering and also on the Windermere branch, but there was less certainty about the Swansea scheme. Theresa May wanted to see more details before taking a decision, but in July she agreed to cancel that as well.
This was followed by a written statement to Parliament on 20 July, just before the summer recess, by transport secretary Chris Grayling. He announced that all three schemes had been withdrawn from Network Rail's electrification programme, saying that technology was 'advancing quickly', and that new types of power for trains were being developed.
He continued: "These new technologies mean that we can improve journeys for passengers on the Great Western Main Line in south Wales, the Midland Main Line, and on the Lakes Line between Windermere and Oxenholme sooner than expected with state of the art trains, instead of carrying out disruptive electrification works."
A DfT press release issued on the same day reinforced this message, saying: 'Passengers will benefit sooner and experience less disruption compared with putting up intrusive wires and masts along routes where they are no longer required.'
This was at odds with the business case for MML electrification in July 2012, which had said electrification would 'reduce operating costs and environmental impact'.
The report also reveals that Network Rail presented a range of options for saving money in October 2016. A total of 23 schemes had been identified, including six in 'Category 0', which were considered to be the first choices for cancellation. These included the Midland Main Line and Windermere schemes.
The NAO comments: "Network Rail considered that it could replace some of the Category 0 electrification projects with cheaper alternatives that provided similar outcomes for passengers. It is not clear what the alternatives were."
It concludes: "It is too early to tell the extent to which the Department will be able to deliver the benefits of electrification without electrifying the three routes. The Department still expects to deliver the majority of promised passenger benefits through planned infrastructure works and replacing existing trains … Although bi-mode trains allow greater flexibility by being able to run on electrified and non-electrified lines, there are some disadvantages, such as increased track damage and higher energy costs, which the Department will need to take into account."
The revelations have triggered a new wave of protests about the cutbacks.
Swansea West MP Geraint Davies said Mrs May should answer to his constituents. He added: "It's clear that she has intervened personally to break her predecessor's promises. The people who are in the greatest need shouldn't be paying the price of that incompetence and she should honour the word of the Conservative Prime Minister before her."
ASLEF general secretary Mick Whelan has described the cutbacks as 'indefensible'.
He continued: "We welcome the results of this investigation, because the decision to renege on this Conservative party pledge was as perverse and ridiculous as it was indefensible. This country needs a modern railway, and a proper infrastructure, fit for the 21st century.
"The truth is that the government didn't want to find the money and made up a story about 'sudden improvements' using 'state of the art bi-mode trains'. It's a fantasy, an exercise in smoke and mirrors to disguise the truth, and Mr Grayling has been rumbled by the NAO."
The Department for Transport said: "As this report makes clear, we are focused on delivering better trains and services to passengers more quickly, at better value for money for the taxpayer, without the significant disruption to services that electrification can cause."
Reader Comments:
Views expressed in submitted comments are that of the author, and not necessarily shared by Railnews.
Bi-Modes are not the answer, because, in diesel mode they are underpowered & consequently SLOW

It now seems several thousand carriages could become surplus in next few years owing to replacement by brand new trains .

While I reckon some of these trains were destined for newly electrified lines like Valleys in South Wales which didn't justify new trains but was planned to used cascaded EMUs but without electrification the trains can't be used .

Surely common sense ( we should be so lucky!) would see newer surplus trains at least replace older trains so the class 319s recently transferred to Northern railways could be replaced by surplus Stanstead Expenses thus bringing newer trains !

Surely we need to take on Sir Peter Hendy suggestion that electrification should be like track renewal with an annual budget allocated to allow rolling electrification thus leading to installation of Diesel motors in EMUs!

I have some sympathy with the situation Grayling inherited, with a predecessor committing to lots of electrification projects that looked easy but turned out to be difficult. But he's turned it into his own problem by pretending that suddenly hybrid trains are the magic bullet that solve everything. That was a flimsy explanation, and he got rumbled.

What he should have done was be honest about the problems, concede that the electrification will have to be delivered late, and treat hybrids as an interim solution.

It seems most of the contributions here illustrate the downsides of having government ( the DfT in particular) running our railway, making decisions for reasons of political expediency, rather than of sound economics or real public need.

I lay the blame, fairly and squarely, on the shoulders of Patrick McLoughlin, Grayling's predecessor, who was responsible for announcing far too many projects at once as a pre-election promise.

Chris Grayling I have to say. He is a joke. He's becoming just like Sir Richard Beeching who caused most of the railways in the UK to close. Suppose more Bi-Mode trains could be built if electrification has been postponed or cancelled permanently.

The major overspend on the GWR electrification is no doubt to blame but this arose largely thanks to politicians ordering new trains before electrification had got underway properly and all the unknowns like buried cables and infrastructure had yet to be dug up by the HOPs train which was presented as the super duper rail electrification system which would install around mid teens of overhead support overnight.... !

The reality is electrification of the GWR should have concentrated on London and South East services with Midland getting the Mainline electrification to Sheffield given how HS2 was sold as allowing classic Compatible trains to use HS2 and then join MML but unless you invent very high speed bi-modes then these plans can't be delivered without MML electrification!

It's time Sir Peter Hendy suggestion that electrification should be treated like track renewal and an annual budget set for a rolling electrification program this would then allow electrification of MML to proceed as sections of the Line are upgraded with bi-modes only being used while electrification is underway given how they not not as effective as pure electric or even pure diesel trains.

I'm still a believer that Battery and Hydrogen Power will be all the rage in 5 years time, and all the old Electrification Gantries and Copper Wire will just be cut up for scrap. Obviously we have just invested in the Great Western with lots of new Commuter Trains but I expect them to be the last the UK needs.

A rolling programme of electrification was hard won and the policy had received cross party parliamentary support until the arrival of the current Transport Secretary. It has been clear for a long time that the DfT's budget has been under stress due to ongoing problems with GTR and the looming failure of VEC. The NAO report has now blown open the excuses offered by the current Transport Secretary for the cancellation planned schemes. In parliamentary terms he has been 'economic with the actuality'. It simply comes down to short term scrimping. While the cost escalation on GWML has been inexcusable the alternative of introducing bi-mode trains has inflicted the industry with a sub optimal product with higher operational & maintenance costs for decades. The contract variation with the manufacturer alone has been costly.

In particular cancellation of MML electrification is sacrificing benefits hard won over several years leaving the route with an uncertain future. The current HST fleet will be non compliant shortly after the current franchise expires. The in coming franchisee will have no time to procure replacement new trains. Intervention is required to ensure continuity of service. Given the imminent melt down of VEC most likely leading non delivery of it's planned improvements perhaps the solution to MML is that the Class 91 & Mark 4 sets be retained on on ECML allowing a batch of bi modes to replace the MML HST's until a coherent replacement strategy can be agreed. I appreciate this would require leadership & direction but would not expect to see it from the DfT & it's political masters.

I "get" the rationale behind the bimode idea, but I wonder whether diesel will be the right "second mode" alongside straight electric in the same train.

It seems modern battery technology might have been a better option for electric trains to be able to extend thir range beyond catenary limits, at least for up to , perhaps, 30 - 40 miles ( Cardiff -- Swansea, eg. ) ? Both diesel - alternators and batteries are brobably expensive in first cost, but diesel, with lots of moving parts , is likely to have higher maintence costs, quite apart from "green" considerations.

As for operations like St Pancras - Nottingham and - Sheffield and Paddington - Devon and Cornwall, where the majority of the route is unelectrified, the whole bimode concept seems to rather give the"worst of both worlds", as far as I can see.

I'd be interested to read other people's ideas about this : is the current bimode concept already becoming obsolete ?

It was always obvious that this was about saving money in the short term. No doubt the costs in the long term will be far higher... It's usually the way when you make short sighted decisions.