Posted 20th July 2017 | 29 Comments
DfT scraps electrification schemes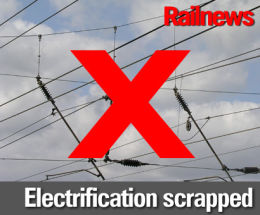 • Bi mode trains to be used instead of 'intrusive' electrification
• Cities affected include Swansea, Sheffield, Derby, Nottingham
• Electrification 'still has its place', says DfT and Network Rail
• Emphasis in CP6 is on renewals, not network enhancements
• Detailed Statement of Funds Available is deferred until autumn
updated 12.50

ELECTRIFICATION schemes between Cardiff and Swansea, north of Kettering to Sheffield, and between Windermere and Oxenholme have been cancelled by the Department for Transport.
Instead, these routes will rely on the 'new technology' of bi-mode trains, the DfT said.
Meanwhile, transport secretary Chris Grayling has postponed a government commitment on future railway investment, saying that 'Network Rail's progress on improving its efficiency in recent years has fallen short of my expectations'.
On the electrification u-turn, the DfT continued: "Passengers will benefit sooner and experience less disruption compared with putting up intrusive wires and masts along routes where they are no longer required."
Chris Grayling said: "From Autumn 2017, passengers in Wales will benefit from new Intercity Express trains which will each deliver over 130 more seats, faster journey times and improved connectivity for South Wales to London with 40 per cebt more seats in the morning peak once the full fleet is in service.
"These innovative new trains switch seamlessly between electric and diesel power, delivering faster journeys and more seats for passengers without disruptive work to put up wires and masts along routes where they are no longer required.
"Rapid delivery of passenger benefits, minimising disruption and engineering work should always be our priority and as technology changes we must we must reconsider our approach to modernising the railways. We will only electrify lines where it provides a genuine benefit to passengers."
Network Rail agreed that 'electrification still has its place' in certain cases, while Opposition politicians have reacted with dismay.
Network Rail chief executive Mark Carne said: "The advance of train technology and hybrid, bi-mode trains, enables us to deliver significant passenger benefits without the need to electrify every mile of railway on a particular route. Electrification still has its place where it can be shown to deliver passenger benefits."
The scheme to extend Great Western electrification past Cardiff to Swansea was added to the project at a relatively late stage. More recently, GW electrification had already been trimmed back, omitting Oxford, Newbury and Bristol Temple Meads, along with two Thames Valley branches.
Labour's shadow transport secretary Andy McDonald said: "The Tories have been promising the electrification of the Great Western Main Line from Paddington to Swansea since 2012 and today's announcement confirms that they have been taking people for a ride.
"The cancellation of works means passengers will be denied the faster, greener, more reliable train journeys they were promised, and South Wales will miss out on the economic activity that improved rail services deliver.
"The decision betrays a promise to South Wales and the transport secretary sneaking out the news on the final day before he goes on his summer holidays adds insult to injury."
The DfT has also launched its consultation into the next East Midlands franchise today. Transport secretary Chris Grayling told Parliament: "The next operator will be required to deliver modern, fast and efficient trains. This includes a brand new fleet of bi-mode intercity trains from 2022, delivering more seats and comfort for long-distance passengers. The provision of these trains will replace plans to electrify the line north of Kettering to Sheffield and Nottingham, improving journeys sooner, without the need for wires and masts on the whole route, and causing less disruption to services. We do not intend to proceed with plans to electrify the line from Kettering to Sheffield and Nottingham, and there will be further investment to come to ensure Sheffield is HS2-ready."
Meanwhile, Northern said that a newly-converted bi-mode version of the cascaded Class 319 Thameslink units will be used on the Lakes Line to Windermere.
Regional director Sharon Keith said: "The 'Flex trains', which will be redesignated as class 769s, are currently being converted from existing class 319s and are planned to be introduced to the network from May 2018. These will ensure our customers in the Lake District are able to benefit from the electrified route south of the national park and travel direct to Windermere – all on a fully refurbished dual fuel train."
New diesel trains built by CAF for Northern are due to follow the 769s into service in 2019.
The electrification announcement has come at the same time as the publication of High Level Output Specifications from the government, which set out railway ambitions for the five years from 2019, Network Rail's Control Period 6.
Emphasis is being placed on renewals rather than enhancements, but more information about future projects has been promised for later in the year, and no figure has been given in the present 'Statement of Funds Available', the financial details of which have been deferred until October.
Transport secretary Chris Grayling said: "The HLOS is focused on the operation, maintenance and renewal of the existing railway – the areas of activity that will deliver a more reliable railway for passengers. The government is already delivering significant enhancements to the railway, including High Speed 2 and Crossrail and it expects to continue to invest in the enhancement to the wider rail network in the next control period. In light of the findings of the Bowe Review, which emphasised the need to enable better planning, cost control and alignment with the needs of users of the railway, government will take forward the funding of these enhancements separately. The government is developing a new process for delivering enhancements and intends to publish more information on this in the autumn."
He also warned: "Before committing to the specific levels of funding required, I have decided that the government requires more assurance on the likely costs of the work programme. Network Rail's progress on improving its efficiency in recent years has fallen short of my expectations. Improving efficiency is vital if we are to maximise the value of taxpayer spending on the railway."
Lianna Etkind of the Campaign for Better Transport said: "While we welcome a commitment to renewals and resilience, this HLOS has a troubling lack of commitment to investing our country's rail infrastructure. Despite record passenger numbers and unprecedented farebox revenue, a 'pipeline approach' risks becoming an excuse for the Government to step back from the ambitious infrastructure projects passengers so badly need."
"Five years ago, the Government were trumpeting the biggest investment in the railways since the Victorians. Today, passengers face spiralling fares while investment is put on the back burner. Passengers in the north will feel most cheated by today's announcement, given that long-delayed TransPennine and Midlands electrification projects seem to have been dropped."
Transport Focus chief executive Anthony Smith said: "The emphasis from Government on maintaining and improving the reliability of existing services is welcome – this is a key rail passenger priority for improvement.
"Passengers will be looking for the benefits that might have come with electrification of services to still be on track. More reliable services, more seats and new trains will clearly be welcome. The focus on improving value for money for passengers is good. Much needed investment in the railways is being made by passengers and the taxpayer. Passengers should pay their share of that investment but has the government got the right balance between taxpayer and passenger funding?"
Peter Loosley, policy director of the Railway Industry Association, said: "We strongly welcome the Government's recommendation to the Office of Rail and Road that that there should be greater supply chain certainty. We wholeheartedly echo the Department for Transport's backing for good visibility of Network Rail project pipelines to help offer reassurance to the railway supply sector and to encourage investment in skills, technology and innovation.
"The railway supply industry is ready to rise to the challenge of delivering a increased volume of renewals during Control Period 6."
Reader Comments:
Views expressed in submitted comments are that of the author, and not necessarily shared by Railnews.
Interesting idea mentioned here - electric lorries powered from overhead cables!
www.bbc.co.uk/news/business-40715793

Now just join the lorries together and provide a guided roadway (rails?).

Convert motorways into a bi-road/rail network?
Bus / coach / rail stations at all interchange points - both local and long distance travel benefits. Imagine if the M25 had been built like that - it would be a lot more useful!



The problems arising from government control have been identiied here by others.

Infrastructure post-1994 has been through several incarnations. First we had Railtrack, a private sector monopoly , quite probably financially efficient but with an alarming approach to safety, followed by NR mark 1, with its wierd "not for profit, limited by guarantee" constitution, which solved the safety problem but allowed cost-effectiveness to effectively be abandoned. Now we have NR mark 2, to all intents and purposes a nationalised industry with all the downsides of political control.

Until NR is given a structure that is really "fit for purpose", I guess the sort of problems identified in this column will continue.

IMO, we are paying the real price of our dis-jointed transport planning system, which it seems is only possible in 4/5 year political cycles.

As Taxpayers we pay 'top-dollar' for projects like electrification, mainly because they are all costed as separate stand-alone projects, with the training, planners, engineers and hardware sourced for that project alone. Once GW is completed, electrification engineers will drift off onto other like projects, the expertise is lost, and when the next project comes along, we have to re-train new staff again.

What is desperately needed is for our politicians to.....; you know; act in the best interests of taxpayers for once. Agree on which lines need wiring, and then recruit teams of DfT employed dedicated electrification specialists on rolling three year contracts, to just get on with it as one large rolling contract. The accumulated expertise of specialist teams will massively improve the speed and costs of electrification, and be better for all of us I believe.

Curious; what has Andrew Adonis and his 'Infrastructure Commission' been doing ? I thought avoiding this sort of situation was the very point of having an 'Infrastructure Commission' at all. Another pointless QANGO sink-hole it seems.......

One other quick thing if I may; whilst todays announcements have drawn scorn, and not looked good for this government; there is nothing worse than listening to sanctimonious Labour politicians criticising; lest we look at their record on electrification when last in power. If Tony Blair and the likes of Stephen Byars had been more thoughtful, these schemes could have been completed 15 or more years ago at probably a quarter of the cost.

Hang on a mo, today the government have said petrol and diesel cars will be banned. How does that sit with this? It sounds like it's OK to have a diesel engine if it saves them money, but not if they have a target to meet. Hypocracy looms large and the Grayling Axe will fall on us in the Northern Poorhouse.

The original electrification planned for the Trans-Pennine line was "paused" when it was discovered that without a serious rebuilding of sections of the route only two minutes reduction in travel time between Manchester and Leeds would be possible. I understand that the current target is to reduce the 51" fastest booked time between Leeds and Manchester with one stop at Huddersfield to 40". The main target area is between Thornhill LNW Jn and Huddersfield where the aim is to obtain a running speed of 100mph. To achieve this it is intended to re-instate four tracks and build (probably) a 100mph flyover at Heaton Lodge Jn. Line speed improvements are needed between LNW Jn and Morley tunnel (up to 80mph I think).
Regarding electrification gaps I suspect the prime targets are Standedge tunnel, possibly Morley tunnel and a dodgy section just west of Mossley station where the rear balconies of terrace houses (where the washing is hung out to dry) are at the perfect height for the residents to poke the OHL with their clothes poles. I THINK the intention is to announce the planned upgrades this winter.......!

@Roger Capel. You may have just heard Grayling's announcement that TransPennine is to electrified "in part only", as bi-mode trains will be used. The question is WHICH PART?

If only some lines in East Anglia could of been electrified such as Ipswich-Felixstowe, Ipswich-Lowestoft, Ipswich-Cambridge, Ipswich-Peterborough, Marks Tey-Sudbury, Norwich-Sheringham, Norwich-Ely, Norwich-Great Yarmouth and Norwich-Lowestoft which the Diesel multiple unit rolling stocks would be replaced by Electric multiple unit stocks. Instead Stadler's Class 755's are Bi-Mode and will operate on most routes in the East of England that isn't electrified.

Assuming current technology and population trends where do we want to be in 2117? Not where we are going that's for sure.

I was appalled to read this and hear about it on the news. Another setback to modernisation of the rail network. Leave it to the Government to get cold feet over the costs and timescale of one project so it then delays or cancels many others, when what it should be doing is getting everyone involved in the Great Western Mainline Electrification and handing out penalty clause charges left, right and centre!!! ...including Network Rail..!!
And if the DFT has only just realised the Masts and Gantries with wires are ugly then they might want to do something about asking their pals at the National Grid to take down all those pylons and bury cables underground - the OHLE is functional at best, its not designed to win beauty awards but it does need to be designed with the ability to be adapted for sensitive areas like inner cities and areas of outstanding natural beauty. The Series 1 masts and portal ARE an eyesore, but I bet the DFT didn't hesitate over aesthetics for their design when it allowed them to be installed on the Great Western line. Anybody reading this who has been to the Goring Gap area or around Didcot will see that we have masts and structures which do not work in harmony with the locations and have a severe visual impact on the area, and one can only wonder how the Sussex Gardens/Bath Viaduct sections are going to be treated as the wiring continues.
I think Grayling`s decision is flawed, that he is a weak Transport Minister and that he lacks the power of foresight as opposed to constantly looking into hindsight. He should stand down and make room for somebody with more balls...
The UK needs electrification, it lags woefully behind other European countries with its rail programmes and its thinking mentality for both business and growth is flawed and stuck in the realms of yesteryear...

does this mean rtrains will run from Euston to the Lakes with a tank of diesel fuel just to run the last few miles into Windermere? I would not want to be on board if a rail breaks underneath it at speed.

Also building for specific services seems shortsighted. Class 166's cascaded to Bristol have had a poor start as they are underpowered and brakes are not as efficient as 150's, causing 5mph restrictions on speed at Montpelier and BTM. Can we have the HST's converted for electric running?!!!

Batteries and fuel cells are likely to be the future and bimode may be an expensive diversion.

Cardiff - Swansea has ben mentioned. A good example, I would think, of using battery stored energy on the last leg of the run from Paddington , under catenary as far as Cardiff. There could be other electrifications where gaps are left in places where catenary is particularly expensive ( tunnels, for example ), and trains switch to battery power temporarily. Also, new through journey oportunities could arise for electric / battery trains to allow them to extend beyond the limits of existing electrifications ( eg. Euston - Dumfries / Barrow / Southport ).

Diesel engines are relatively expensive , in first cost and in maintenance costs, whilst battery and fuel cell technology is advancing quite rapidly.

Perhaps they'll borrow Bombardier's test track on the opposite side of London Road !!!

The Future is batteries and Hydrogen Cells. The Germans have a H2 cell train going into service next year. Batteries have decreased in size, weight and power dramatically. Overhead expensive intrusive Electrification is so 1950s.

Yet another U-turn from this Government, this time framed in positively Orwellian language.

After years of talking-up the benefits of electrification - cleaner, quieter, faster, lighter, less need for maintenance, less wear on the track, etc - the DfT has now apparently noticed that overhead lines and masts are "unsightly".

The message now is that bi-modes are as good as electrics, even though a bi-mode operating on a non-electrified track is basically just a diesel. So we are being told that diesels are as good as electrics, despite all that was said previously.

What does this mean for projects like East-West Rail, which was being planned as an electrified railway, and for the Welsh valleys? Cutting electrification to Swansea, the end of the line for intercity services, is particularly daft because it means the bi-modes will have to drag the weight of their engines all the way from Paddington to Cardiff just to use them on the final leg.

One of the strongest potential objections to HS2 was that it took investment away from the rest of the network. The Government had a strong defence when it could point to Great Western and Midland electrification with the prospect of further route upgrades to follow. It's just thrown that defence away, making HS2 look like a cuckoo in the nest even to supporters like myself.



What a shambles. The usual regions - South Wales, East Midlands, Yorkshire - shafted once again by the Tories. For as long as this decades-long underinvestment in the regions continues (and Labour was guilty of perpetuating it in the 2000s), so will their economic woes and all the social problems that go hand in hand with unemployment, low pay and financial insecurity. And yes, good infrastructure can make a positive difference to these ills!

Quite surprised the GWML is still being electrified as far as Cardiff, actually. Will wait with baited breath to see how - indeed whether - "further investment...to ensure Sheffield is HS2-ready" materialises. Are HS2 trains going to run on diesel now too? Why not just go back to steam and be done with it :'-D

From what I can gather, a five car IEP bi-mode has 3 MTU engines; I believe these are rated at 900bhp on those being procured for Paddington - West of England services, giving a total power output of 2700bhp. The weight of a class 802 is 253 tonnes, giving a power to weight ratio of less than 11bhp per tonne.

A 5-car 'Meridian' has 5 750bhp engines, giving a total bhp of 3750; this works out at about 16bhp per tonne.

So as IEP bi-modes have an inferior power-to-weight ratio, how will they be able to match the point to point timings of a 'Meridian' on the MML?

Further, the AVERAGE axle loading of an IEP works out at over 12.5 tonnes; however, I have seen it recorded (somewhere!) that some cars have an axle loading of 15 tonnes. By contrast, a 'Meridian' has an axle loading of about 11.5 tonnes.

There are a lot of differential speed limits on the MML; so will bi-modes, with their increased weights, be able to take advantage of them?

Electrification and the Market Harborough and Derby interventions would have bought journey times of about 75 minutes between London and Derby, slightly longer to Nottingham, and (from memory) a total saving of about 15 minutes on St Pancras - Sheffield times. Is Grayling promising that bi-modes will match these?

Most of the 20 minute reduction on peak hour services promised could be introduced at the next timetable change; it's just a matter of cutting out stops south of Leicester.

Finally, bi-modes from 2022; does this mean a derogation for EMT's HSTs so that they can run after 2020?
Interesting times ahead.

I think that is out of order. But I guess that Bi-Mode trains are the best solution. At least the new Bi-Mode trains will replace the Class 43's HST's not just on the East Coast Main Line and Great Western Main Line but also to replace the Class 43's HST's on the Midland Main Line and the Class 222's Meridians that could operate to Lincoln via Nottingham/Newark to/from London St Pancras International and possibly use the Class 222's DEMU's on Norwich-Manchester Piccadilly/Liverpool Lime Street and Birmingham New Street services to replace the Class 158's/Class 159's on other routes across the East Midlands.

Will HS2 be bi-mode as well?

How convenient of Chris Grayling to make this announcement just as the Parliament Summer Recess begins, when all MPs will disappear until September.

Brexit has nothing to do with it. The Tories are just taking what they consider to be the cheapest option, but they are thinking short term, not long term (as usual). The fact is 'bimodal' trains will be heavier, slower and cost more to run than pure electrics (and will still use diesel for part of the way).

And how much will cancellation of these three projects cost?

Also, 'bimodal' is a largely unproven concept. True, we've had electro-diesels before but they never used in the way currently contemplated. It seems that we are putting a lot of faith in something that may fail to live up to expectations . . .

For goodness sake, get over socialist Europe in your comments. The EU has been a disaster for all and has nothing to do with railways here.

The DFT has made the wrong decision here, that's true. This a disaster that we're now going to have a reclassified line Liverpool to Newcastle still running on diesel when it gets its 800's. We have Cross Country which of all the main lines, would benefit most.

Then what happened to building more lines parallel to the existing ones to provide capacity - why are Network Rail and the government so happy with sweating assets to breaking point? No stretches of new line planned to add capacity, even relatively short ones - why? Excuses. More excuses not to do something.

this whole country's network should be at least 2/3 electrified now. The ECML and GWR will now be one train only electrification. The only electrified line in any proper sense is the WCML.

All this is before we get to ETCS. It all shows the government ambitions for northern powerhouse etc are just rubbish.

It was hardly unexpected given the financial & engineering meltdown affecting GWML electrification, with funding and completion timescales now stretching into GP6, that other projects were going to be descoped or abandoned. The blame game between DfT & NR over the root cause of mission creep and cost explosion will probably never be satisfactorily explained. What is clear is that consistent strategic vision and rigorous cost control has been missing though the specification and implementation of this most critical project and the reputational damage to .the wider industry is now being felt.

That consultation over the next East Midlands franchise is only now being launched surely illustrates the lack of strategic oversight and urgency blighting this important route. Many stakeholders have already contributed towards future plans for the route & until today were promised it's future was electric. With this, now abandoned, goal in mind expense has already been incurred by NR in infrastructure design which will not now to be implemented. This cost needs to be itemised and accounted for. Also the engineering surveys & designs need to be archived against the day when the wind of policy changes again.

That the Windermre branch will not now be wired is but a small loss. What though of the Trans Pennine route that is so much a part of the 'Northern Powerhouse'? Linking the existing North Western & West Yrokshire electrified routes offers so many synergies. Do bi-mode 769's really spell the future to unlock all the potential? Also when south eastern franchises are benefiting from mass influxes of new EMU stock will the northern commuter networks continue to be treated as second class operations?

The signs for CP6 look increasingly grim. Financial belts are being tightened with a return to make do and mend. Apart from the deferred completion of CP5 committed enhancements schemes for additional capacity relief look slim. Apart from a continuing HM Treasury squeeze on the DfT budget there are warning signs that expected premium payments from franchised operators will not materialise. As ever the financial pressure of East Coast is a warning of tough times ahead. Also the troubled GTR operation has cost the industry dear through lost receipts.



What a mess. The only developed economy whose key strategic main lines are not upgraded to 21st century standards. In the meantime, funds are lavished on transport upgrades in the south-east.

The comment about electrification being "intrusive" insults the intelligence. OHLE is fine for the rest of the planet but we're not having any of it here so as not to spoil the views in Kettering. In the meantime, we can be the world's pioneer in bi-modal units, Bulleid and Leader eat your hearts out.

Disgraceful decision regarding the cancellation of electrification.
On th MML at the very least there should have been a committment to continue wiring to Derby and Nottingham, the latter of which is one of the most polluted citys in the UK. The Nottingham motorist is likely to be shortly punished with proposals for a pollution tax, but it appears that this won't apply to the many noisy, dirty diesel trains that make the Railway Station a most unpleasent place to be.
Assuming the main maintence depot for the bi modes will be at Derby, how is it proposed to maintain and test the electric part of the bi mode? Presently a unit can perform a test run to somewhere such as Leicester and back for fault investigation or post repair testing purposes. This will not be possible now without a lengthy diesel journey to Kettering prior to testing, unless some form of giant, electrified rolling road is constructed at Etches Park!

This is an indication of what post-brexit Britain will be like, a third world country going backward. Bi-mode is well suited to the Government, say one thing and do another. Trying to spin it as being at the forefront of technology is pathetic and announcing it after the recess is scandalous.

Immediately noticeable that there's no mention of Transpennine. Dare we hope that means that it's still on - or has someone just forgotten to mention it?

I think this just shows what a total mess the planning of our national railways has become. What's 'good' one minute can't then be 'bad' the next (the 'unsightly overhead wires'); that's just politics and, with so many people - especially the younger generation - now turning back to rail transport over road transport, this flies in the face of reality that the travelling public want modern eco-friendly (as they perceive it) modes of transport. Better than some knackered out Class 150, which has all the ambience of a school bus after a swimming trip on a wet day.

However, I do love how this whole announcement is spun to encompass 'new technology' as the saviour of the situation, carefully ignoring the fact that 'new technology', which has already been bought and paid/being paid for, is now redundant in a whole heap of areas (and, like Melvyn said, unable to match the performance of the 40 year-old trains that they're due to replace).

Also, with electrification now being curbed - what will happen to all those perfectly serviceable units which are soon to be surplus to requirements? Scrapped?

Someone on a sister site to this said recently that it seems bizarre that we're trying to get away from the Victorian Network, when in fact we should return to it. At least they had a network that functioned and was reasonably free from political interference to this degree. Just imagine if you wanted to build the GWML today.


Bi Mode trains are still DIESEL trains pumping out pollution and often unable to match the capabilities of the HST trains that have provided these services for the last 40 years .

I suppose this is another price for Brexit vote which led to the lose of George Osbourne who was the most Rail friendly enthusiast Chancellor and I can't see another one this century !

And just remember how ahead of the 2015 election every PMQs, Treasury and Transport Questions were dominated by Conservative MPs asking about when their areas would benefit from electrification and the positive replies given.

Looks like the MML looses out again and raises the question as to whether extension of Thameslink to Corby might be best option given it would free up capacity at the limited four platforms MML has at St Pancras International.