Posted 28th November 2014 | 8 Comments
Government confirms £16m Windermere electrification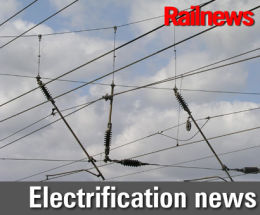 FUNDING for the electrification of the 16km branch between Oxenholme and Windermere has been confirmed by the Government today.
Transport Minister Baroness Kramer, announcing the decision to provide funding worth £16 million, added: "Electrifying this key rail link will support the vital tourism industry in the area, and help us build a stronger economy in the Lake District and beyond.
"We are committed to building a world-class rail network. Over the next five years, more than £38 billion will be spent on improving and running the system, with schemes like this helping to provide better services for passengers."
Network Rail will now develop a detailed plan for the work, which could be completed by 2017. Other routes being electrified include Manchester to Liverpool, Preston, Leeds and York, and Preston to Blackpool North.
David Golding, strategic planner at Network Rail, said: "Confirmation of this funding is great news and will support the retention of direct services between Manchester to Windermere, as the rest of the route is electrified. Once complete, electrification will enable a faster, more reliable rail service. This is part of a wider investment by Network Rail in the electrification of key routes between towns and cities across the north of England."
Chris Nutton, First TransPennine Express programme director, added: "We are absolutely delighted that the Department for Transport has announced that the line between Oxenholme and Windermere will be electrified in the near future. First TransPennine Express has worked with local representatives and Network Rail to develop a solid business case in relation to the improvements.
"We recognise the importance of rail connectivity across the regions and this line electrification is part of an unprecedented level of investment of the railway in the north. It is great news for the region and the local economy and will ensure that the southern lakes remain an important and accessible tourist destination.
"I want to take this opportunity to thank everyone who has been involved in lobbying for and achieving this significant investment."
Reader Comments:
Views expressed in submitted comments are that of the author, and not necessarily shared by Railnews.
Roland, East Coast OLE may look neat & tidy. Trouble is, it's not fit for purpose, hence NR's recent £67M programme to bring it up to scratch. Although some of it's just cheap design,though, does it take a chartered engineer to know not to use steel wire in a saline atmosphere? (I kid you not!)

David, as for elegant Victorian OLE structures, try Edwardian & not far from the Lakes Line. The Midland Railway OLE structures on Lancaster - Morecambe - Heysham (Britain's first AC railway) included arch structures on the Lune viaduct that where very smart looking actual arches, with no angles. Don't suppose that the NRM have the drawing still?

Pace Mr Capel's comment, the fact that something is looney has never in my experience stopped civil servants and politicians from going ahead with it, (slowly of course, very slowly!)
And pace Mr Perarce's comment he is really lucky to have seen those elusive masts going up in the Goring gap. All that has been seen in magazines is a few scattered masts, and now, of course, the whole shooting match has been stopped presumably temporarily, because some merry wight put a mast foot through a signalling cable. What a mess. And this is a scheme which was first authorised in 2009 for goodness' sake!

If ever there was an absolute "no brainer", this is it! After wiring Castlefield to Newton- le-Willows, the idea of keeping diesel 185s under the wires from Manchester Airport to Oxenholme just to do 10 miles down the branch was plain looney.

I think Tony raises a valid point. I think most people who follow this sort of think accept the overwhelming positives of electrification. However the ugliness of the masts is undeniable. I'm sure in parts of the country a more aesthetic design could be used (think of a beautiful victorian ironwork streetlamp as oppose to a modern concrete one) .

Does the overhead have to be so ugly? After the initial rather heavy handed 25kv electrification British Rail developed quite an elegant and tidy system for the East Coast Main Line and lines to Cambridge. The old Italian overhead, albeit on a different voltage, was really quite neat. The French system has a visual logic to it. Now what is being put up looks like a veritable scrapyard - an incoherent collection of masts and gantries. Pity, because we are going to have to live with it for a long time.

Excellent news - I look forward to the re-introduction of the 'Lakes Express'! Barrow-in-Furness next?

I do agree the GW overhead equipment does seem to be very 'heavy duty', but at least it will avoid the 'issues' on the East Coast which was done on the cheap in the 80s. Some of the GW bridge reconstructions are not particularly sympathetic either, but at least the Windermere branch was originally double-track throughout, so some judicious slewing should avoid too many bridges having to be rebuilt.

I have been watching the electrification of the Western Main LIne through the 'Goring Gap' part of the Thames Valley. Its a very beautiful part of England and why I live in the Hills there. The masts going up are - to my eyes a bit of a nightmare - and I am aware that they are not going to enhance the beauty of Bath Sidney Gardens - where I grew up and learnt to love the Great Western. But I'm sure that with the passing of time, the wires and masts will become as part of the scenery as Electricity Pylons - and I may come to love them just like I did the Didcot Power Station Cooling Towers which were demolished this year. I know the economic case for the Windermere Branch is over-whelming and I hope the locals do come to regard the electrification 'furniture' with ambivalent if not actual pleasure.