Posted 4th February 2014 | 10 Comments
£2 billion electrification contracts awarded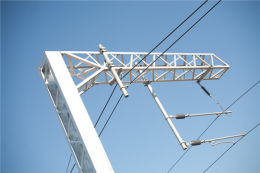 IN a £2,000 million electrification extravaganza, Network Rail has let contracts extending over the next seven years.
The contracts involve electrification of over 3,200km (2,000 miles) of running lines – including the Great Western and Midland main lines, Liverpool to Manchester and Preston, the Valley lines in South Wales and the 'electric spine' from Southampton docks to the West Midlands and Yorkshire.
When the work is completed more than half Britain's rail network will be electrified and electric trains will account for three-quarters of all traffic.
Six geographic framework contracts have been awarded, with each having a defined 'workbank' of schemes to be delivered. This approach has been endorsed by the supply chain and industry groups such as the Railway Industry Association, said Network Rail..
The companies involved are Balfour Beatty, AmeyInabensa, CarillionPowerlines and ABC Electrification.
Simon Kirby, managing director of Network Rail's infrastructure projects division, said: "Our work to electrify 2,000 track miles represents the biggest programme of rail electrification in a generation and will provide faster, quieter and more reliable journeys for millions of passengers every week while cutting the cost of the railway.
"Thanks to a firm commitment from government to invest in electrification schemes across the country, we are transforming the railway and providing Britain with a sustainable, world-class transport system that is fit for the future. To deliver this work in the safest and most efficient way possible, we need to make the most of the huge potential within our supply chain."
He continued: "The framework approach chosen by Network Rail gives suppliers a greater degree of certainty about the companies' pipeline of work and means suppliers can target investment so they have the right people with the right skills in the right parts of the country to deliver schemes which will improve our railway and boost economic growth."
Jeremy Candfield, director general of the Railway Industry Association, commented: "This is a major and very welcome step in the transformation of the railway. It will encourage suppliers to invest in the training and equipment needed for the growing national electrification programme and pave the way for suppliers' greater involvement to maximise the efficient delivery of the projects."
Reader Comments:
Views expressed in submitted comments are that of the author, and not necessarily shared by Railnews.
Absolutley terrific news for Great Britain's railways. We are finally coming out of the dark ages and going for electric trains. Will they all be 25kV AC then? (Yes.--Ed.)Hopefully the TransPennine Express and Northern Rail will get more 160 km/h electric trains. I cannot stand those Pacers and Sprinters!!!!! Ironic name as they are painfully slow and noisy! Luckily the Pacers have to be replaced by 2019 as they don't allow disabled access, and with this scheme I think they may go for electric trains. Exciting times for British railways, and finally we are getting going!!!!!!!

All this is very good news apart from the idea of ripping up the existing third rail between Basingstoke and Southampton which is a needless waste of money that could be far better spent elsewhere in my opinion

Dogsauce, as I understand it, those contracts cover the Northern Hub-related electrification for work due to be completed up to 2016. Manchester-York is due for completion in 2018. So, presumably, that will be in the next round of contracts.

In the meantime, Leeds, York, Sheffield and Doncaster can enjoy more frequent and longer Transpennine trains using the rolling stock freed up from the Manchester-Scotland electric trains.

So when will work start then? Answer requested please.

Hopefully thus announcement that bundles electrification into a single package might lead to the purchase of more HOPs factory trains that could both speed up this program and even reduce costs enough to allow further. wiring for the same total cost.

It's also worth asking whether given the age of some of the currently electric lines infrastructure whether HOPs trains can play a role in re-electrification of existing electrified lines ?

Of course we have been here before with grand schemes for electrification under the 1955 Modernisation Plan only to see the succumb to government spending cuts* so let's hope this is the real beginning of a rolling electrification plan which will make further schemes more likely as wires stretch over and along various branch and local routes that still use DMU s!

(*Very few of the electrification schemes proposed in the 1955 plan did not come about in the end. In some cases the scope was extended, so that for example the East Coast was eventually electrified in the later 1980s between London and Edinburgh, whereas the 1955 Plan had only envisaged London-Leeds/York.--Editor.)

Me again I'm afraid. I WONDER IF ANYONE COULD TELL ME WHAT A "FRAMEWORK CONTRACT" MEANS AND, IN PARTICULAR, WHEN THE FIRST SPADES WILL GO IN TO THE GROUND AS A RESULT? MUST FURTHER STEPS BE TAKEN EVEN AFTER A "FRAMEWORK CONTRACT" is awarded BEFORE WORK COMMENCES?

No word on TPE electrification or Leeds to Colton Junction? When does Yorkshire get a slice of the pie?

Not "Liverpool to Manchester and Preston" surely - but rather Manchester to Preston and Blackpool - the Liverpool to Manchester and Wigan lines are already being wired - by Balfour Beatty.
But it is good to see these contracts awarded, particularly with the change in Network Rail's relationship with the Government impending - and goodness knows what THAT will bring!
But whatever happened to the cross-Pennine electrification? Not abandoned I hope - though there's no mention of it in this announcement.

Unbelievably good news. I am still pinching myself! As a cynic I cannot believe that slothful old Britain is actually going to GET GOING and electrifiy so many miles AT LAST.
But wait - would it not therefore be a timely and good idea, and a necessary one, to invest NOW in another of those High Output Wiring Trains?