Unions and transport campaigners have been staging a demonstration today outside the London headquarters of Network Rail at King's Cross as the company passed wholly into the public sector. The not-for-profit company is a now a government body following a change in the way its debt is classified for statistical purposes, but the Department for Transport has denied that the change amounts to full nationalisation, while reports have been circulating that ministers are uncomfortable with the company's new status.

North Wales town welcomes the return of its trains
The train service between Harlech and Pwllheli in North Wales was running again today following the rebuilding of a viaduct. The line had been closed north of Harlech for the bridge work, but the route was also badly affected by savage storms last winter.
CONTACT
Stay in touch with Railnews by signing up to our email newsletter
TRAVEL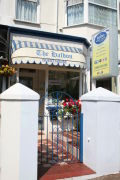 Long sandy beaches, first class attractions, a vibrant atmosphere and a great place to stay are all the essential ingredients for a perfect getaway holiday – and Paignton has them all – THE great place to be beside the sea! The Haldon Guest House is just 5 minutes from the train/bus station and 3 minutes level walk to Paignton's sandy beach with safe bathing and ideal sand for making sandcastles....