A strike by depot staff at Derby, Nottingham and Leeds is disrupting East Midlands Trains services. The walkout, which involves about 80 members of UNITE, concerns a 2.75 per cent pay offer which the union has condemned as paltry', although EMT has defended its offer as 'very reasonable and fair'. Most routes have altered timetables, and EMT warned that some of the trains which do run may be shorter than usual.

Construction headquarters for HS2 is named
The headquarters for the construction of Phase 1 of HS2 is to be based in Birmingham, it has been announced. The move is expected to mean that up to 1,500 people will be employed in the city. A spokesman for HS2 told Railnews that the move is part of a wider regeneration scheme centred on the site of the future HS2 station at Curzon Street.
CONTACT
Stay in touch with Railnews by signing up to our email newsletter
TRAVEL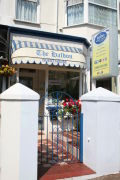 Long sandy beaches, first class attractions, a vibrant atmosphere and a great place to stay are all the essential ingredients for a perfect getaway holiday – and Paignton has them all – THE great place to be beside the sea! The Haldon Guest House is just 5 minutes from the train/bus station and 3 minutes level walk to Paignton's sandy beach with safe bathing and ideal sand for making sandcastles....