Posted 30th September 2015 | 10 Comments
Dismay as electrification plans are 'un-paused' but delayed by four years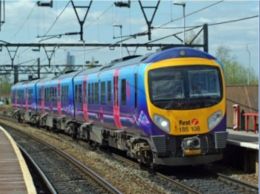 Updated: 30/09/2015 17:58
NEWS of the government's announcement that work on the 'paused' North Trans-Pennine and Midland Main Line electrification schemes is to resume has been greeted with some dismay – because completion will be delayed by around four years

The Department for Transport made the announcement ahead of next week's Conservative Party conference in Manchester, which crucially is one of the cities at the heart of Chancellor George Osborne's 'Northern Powerhouse' plans.

The DfT's statement was carefully worded, but it was clear that completion of both projects – which were 'paused' by Transport Secretary Patrick McLoughlin, in June due to soaring costs and delays to Network Rail's big programme of enhancements – will be delayed by around four years.

While the statement suggested that Midland Main Line electrification would be concluded only to Kettering and Corby by 2019 and not to Sheffield, via Leicester, Nottingham Derby, until 2023, it was not at all clear whether North Trans-Pennine electrification will actually be completed by 2022 – as a letter from Network Rail's new chairman Sir Peter Hendy to Patrick McLoughlin only stated that, if his advice was followed, it "could" result in delivery of NTP electrification "by the end of 2022."

Mary Creagh, former Labour shadow transport minister and MP for Wakefield, was one of the first to attack the DfT's announcement with a tweet saying: "Rail u-turn shows chaos at the heart of govt. Rushed out before Hendy review completed to spare Osborne blushes at Tory conference in Manchester."

The new Shadow Transport Secretary Lilian Greenwood added: "It's disappointing that these projects will be delivered years late, holding back the economies of the Midlands and the North while schemes in other regions go ahead as planned."

Ed Cox, director of the think-tank IPPR North, said the delays had been a "setback for the credibility" of the Government's 'Northern Powerhouse'.
The original plan for the NORTHERN TRANS-PENNINE route was to complete electrification eastwards from Stalybridge through the Pennines into Yorkshire by the end of 2018.

In a letter to Patrick McLoughlin, Sir Peter Hendy notably made clear Network Rail had NOT paused "significant interventions in the route to improve journey times and speed, and this will continue."

"However," Sir Peter explained, "in order to ensure expenditure is not wasted on abortive works, my advice is that a full planning exercise should start immediately with the relevant parties – Network Rail, Department for Transport and Transport for the North – involved.

"This will establish a firm detailed design which increases benefits to passengers compared to the previous paused scheme, and this will be concluded by the end of 2017.

"During this time we should also explore the best methods of delivery on the Trans-Pennine route, nearing in mind the need to keep the railway operational, but also the need for necessary access to the railway for the works.

"My advice is that commencing electrification at the beginning of 2018 (with some enabling works carried out before then) could result in delivery by the end of 2022."

The DfT's statement, however, did not include reference to "electrification" but spoke instead of "the upgrade" which it said is "expected to provide capacity for six fast or semi-fast trains per hour, take up to 15 minutes off today's journey time between Manchester and York and be complete by 2022."

Upgrading of the route – with, for example, some additional tracks and realignments for higher speeds – would provide permit capacity and reduced journey times even without electrification being completed. This will now be a major issue for bidders for the next Northern and Trans-Pennine Express franchises, which are due to be announced in December, who must decide what type of trains they would propose to deploy, and when.

DfT added, but without mentioning any end date: "When the work is finished, the whole route from Liverpool to Newcastle (via Manchester, Leeds and York) will be fully electrified and journey times will be significantly reduced compared to today's railway."

On the MIDLAND MAIN LINE, the wires will not now reach Kettering and Corby until 2019, whereas the original plan had been for electrification to stretch to Derby, Leicester and Nottingham by then.

Sir Peter Hendy said "the line north of Kettering to Derby/Nottingham and Sheffield can be electrified in stages by 2023."

The DfT concluded by stating: "The total programme of rail electrification and upgrades will completely transform the railways for passengers in the North and Midlands and help ensure that every part of Britain benefits from a growing economy.

Transport Secretary McLoughlin commented: "As a 'one nation' Government we are making sure every part of Britain benefits from a growing economy.

"Connecting up the great cities of the North is at the heart of our plan to build a Northern Powerhouse. This Government will see the job through and build a better, faster and more reliable railway for passengers in the North and Midlands."

Network Rail's Sir Peter Hendy said: "The temporary pause in the programme has given us the space to develop a better plan for passengers. People can expect more services and faster journeys."

But he added: "We face some difficult challenges, and there is more work still to do."
Reader Comments:
Views expressed in submitted comments are that of the author, and not necessarily shared by Railnews.
Why dismay? Back in June it was made clear that Transpennine/Midland Mainline schemes would be put on hold to allow programmes, costing and scope to be reviewed in the light of experience on North West and Great Western schemes to date - that's what "pause" meant. The fact it is now "un-paused" should come as no surprise at all.
[The un-pausing is good news, but it is the new delay -- particulsrly pushing the Midland Main Line work north of Kettering back to the 2020s -- which has attracted some criticism.--Editor.]

Quite right, trans - pennine service could be much improved using tilting trains, and longer than 3-coach trains, too.
While we're at it. Manchester - Glasgow / Edinburgh also deserved 6-car "baby pendolino's" that wee offered by Alstom rather than the 350's it actually ended up with ( used as local/ commuter trains in my area ).

I heard of the "un-pausing" before I read of it. My instinctive reaction, while waiting until I could read the details, was to doubt that it will happen soon. And just as well as we see that those wretched politicians are dissembling and prevaricating as usual - there are delays built into every bit of the so-called "un-pausing." It is barely worth the paper it is written on. Well, we shall see sha'n't we?
In the meantime when is the rebuilding of Blackpool North to begin? This could perfectly well be under way NOW; it does not have to await the start of wiring!!! Can't they ever think of two things at once?
And finally, we should be hearing lots about Pendolinos for Trans-Pennine services. On very curving track these tilting trains are precisely what is required. However what is also required for this to happen is common sense, drive and enterprise! All of which are in short supply I fear. (See Blackpool North above.)

Unfortunately all this mud slinging wont stick; the problem was within NR and to some extent the ORR.

One other point; a big advertisement for those still in college that there is demand for a skilled workforce; if you make teh effort, there will be jobs waiting.

There are fewer things more sickening in modern politics than listening to Labour politicians bemoaning the delays to rail electrification.

They should remind us how many total route miles they electrified whilst in power from 1997-2010; I think I have enough fingers to count them all.

That's not to mention what the final bill was for the WCML upgrade which was completely mismanaged by their administration.

If this government thought it was right to put the yellow signal on the current projects to review and reign-in costs then I for one say good.

The inability of Labour politicians to control their spending is one of the main reason why this country is in the financial state it is in.

I have a suspicion that as the new Thameslink Class 700 trains release the nearly new Class 387 trains, some of these will get converted to IPEMUs.

These would be able to bridge gap in the electrification between Leeds and Manchester and be able to reach Kettering, Leicester and Corby from Bedford.

[The single IPEMU (or 'battery train') converted so far is a Class 379. Only Bombardier can say if conversion of a dual-voltage 387 is feasible. The 387s seem to be heading for Great Western at the moment.--Editor.]

It is of course good to hear that MML electrification is proceeding again, as it should. I am a little disturbed however that 2019 will only see wires as far as Corby, with the rest of the route following 4 years later. Surely Nottingham should be the initial target along with Corby, which would enable the replacement of the much loved, but life expired HST's? I do hope this isn't part of a larger plan to transfer Corby services across to Thameslink.
As I said initially though, great to see work restarting

Okay, had a look through this. Three interesting things that we didn't know before:

1) We have target dates for completion again. I know 2021-ish had previously been mooted as a revised target for TP electrification, but the fact we have proper dates now, as opposed to indefinite delay, should allay some fears over cancellation.

2) Midland Mainline is being split into two distinct phases. Makes sense too: if it's going to take some time, it makes sense to do Corby first.

3) I've done the maths, and the journey time improvements for TP work out better than what was being offered until the old scheme. So we're looking at some sort of infrastructure enhancement over and above electrification.

What we haven't got is any details of what's going to be in these improved schemes. As a TP regular, the first thing I want to know is what they plan to do about the two big tunnels between Leeds and Manchester. The last thing we want is a repeat of Farnworth.

Relatively good news but we are still awaiting an announcement concerning the replacement contractor for completion of the North West electrification, following the withdrawal of Balfour Beatty. If that does not come soon, Manchester - Euxton Junction and Preston - Blackpool may not be finished much before 2020.