Posted 10th June 2015 | 11 Comments
Transpennine electrification delayed indefinitely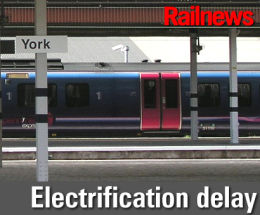 ELECTRIFICATION between York and Manchester across the Pennines has been delayed indefinitely.
Network Rail has explained that it is putting the scheme on hold so that further development can be worked out first to yield the maximum benefits, but industry observers claim that problems encountered in electrifying the line between Manchester and Liverpool are also a factor.
Jonathan Reynolds, the Labour MP for Stalybridge and Hyde, has condemned the delay as 'unacceptable', and is demanding a meeting with Network Rail and the Department for Transport.
Mr Reynolds, who said he was 'incredibly disappointed', added: "We are now in a situation where passenger numbers are increasing at stations like Stalybridge and Mossley and this electrification is badly needed. Yet the government and Network Rail cannot even give a set date when the delayed work will be completed. This is unacceptable, and I will be writing to the rail minister and Network Rail to demand a meeting with both."
The Department for Transport said "Network Rail has been working with the department to ensure that this work will be planned as efficiently as possible, and we cannot clarify the completion date until the planning is completed," while Network Rail explained that the change of timetable was to "take the maximum advantage that this investment opportunity presents", with the aim of accelerating journey times and increasing capacity.
However, a spokesman added: "This means the original plan to deliver the electrification project by 2019 will take longer as more work is needed and the plans for the new, bigger scheme are currently under way."
There has been growing concern in the industry about some other electrification projects, with work on the Great Western Main Line currently beset by slipping deadlines, construction problems and rising costs.
Reader Comments:
Views expressed in submitted comments are that of the author, and not necessarily shared by Railnews.
Has anyone who lives in London or the South East ever travelled Manchester to York or Leeds regularly? More to the point, has anyone in Government ever done this journey? Before anyone responds, the answer must be that if they had, they would not want to do again.
Now ask yourself how an equivalent journey (of less than 100 miles) would have been covered by the Victorians and any country in mainland Europe.
The Victorians would have used Steam locomotives, proven to be quicker and more punctual than ancient diesels and the Europeans would use modern electric trains that are quiet, spacious and ultra efficient.
So why in 2015 are we (in Britain) continuing to debate/delay getting the service that we know we need? Why is it that the South East continues to benefit from disproportionate investment in rail infrastructure whilst the North languishes with outdated diesel powered trains?
We are talking of 100 miles not 1000!!!! Britain is not that wide

So go on, what is the excuse this time?

Transpennine electrification was never likely to be completed until 2019 at the earliest. In the meantime additional capacity is needed on most TPE routes. If the recent ITT is anything to go by (and judging by the limited availability of suitable rolling stock) it seems likely to consist of Class 442s pulled behind Class 67s. It may not sound glamorous, but it would probably provide plenty of seats, a reasonable journey-time and a decent passenger experience.

Good point Roland Horner. We are told that high output wiring trains will allow Network Rail to complete Great Western a Electrification in 4 years. A route that should be relatively easy to Electrify. Flat, straight and benefitting from Brunels generous gauge. In the early 70s British Rail electrified Weaver Junction to Glasgow over the far more challenging terrain of Northern England and Southern Scotland in exactly the same timescales with nothing more than some flat roofed carriages and a steam crane.

It is extraordinary that in 2015 the primary rail route that connects some of the largest conurbations in Europe - not just the UK- remains to be electrified. It is even more extraordinary that the dithering about its electrification continues. The Chancellor, George Osborne, has expended much energy in championing his vision of a Northern Powerhouse. Meanwhile, CossRail continues apace. If Mr Osborne truly cares about the North, doubtless he will ensure that the region's taxpayers and voters will swiftly be reassured that electrification across the Pennines will proceed expeditiously and to the highest standard.

Surely, so long as this is just a temporary delay, it makes sound commercial sense; since the project was initially authorised, HS3 has been proposed, and very little is known about it at present.

To illustrate this point, the LNWR "four-tracked" all of its trans-Pennine main line between Stalybridge and Leeds; some of this was conventional widening, the Micklehurst Loop was constructed between Stalybridge and the western end of the Standedge Tunnel, and a completely new railway - usually referred to as the Leeds New Line - was constructed from the Mirfield area to the outskirts of Leeds. British Rail subsequently rationalised this; the Micklehurst Loop and Leeds New Line were closed completely, and much of the four-tracked section was reduced to two. Later, lines were slewed (particularly between Standedge Tunnel and Huddersfield) to maximise speed on this section.

So as things stand at present, I guess electrification of much of the route could be quite easy; on the section west of Huddersfield, I guess there will be space for road vehicles to use the vacant trackbed to install masts, and there will probably also be locations were track could potentially be slewed when passing beneath bridges to capitalise upon the height available at the crown of the arch, thereby making bridge reconstruction to establish sufficient clearance height for 25kv AC overhead wires. But what if the option taken forward for HS3 restores this section of line to four track?

As I understand it, HS3 is just an outline requirement specification at this time; how it will be achieved is far from clear.

Therefore, I believe a temporary delay is sensible. This will permit HS3 to be developed further, and synergies between the two projects can be identified; moreover, the risk of having to re-do work as a consequence of HS3 will be greatly reduced.

It will be interesting to see how this delay impacts upon Pacer replacement.

Election Promises always bear little reality to actual Government Action. But I am very interested in the development of new Batteries and there being fitted to a Test Train which is now in Normal service. Batteries may be the way forward - especially on lightly used lines - instead of huge investment in overhead wiring.
(See the March 2015 print edition of Railnews for a full report about the Class 379 battery train.--Editor.)

This isn't necessarily a bad thing. One of the big downers we've learned about the current Northern Programme is that the Manchester-Leeds line is struggling with reliability. Going from 4tph to 5tph has significantly dented reliability and we've still got to get to 6, and I'm not sure how much help electrification is going to be with this.

If this "new bigger scheme" they're talking about means tying in electrification with other improvements that'll improve speed/reliability (sort of like what the Farnworth Tunnel works are doing on the Bolton line), I'd be happy to wait a couple of years for something better. But that's a big if. We really need more information on what NR's thinking.

One other thing: if we've got to wait longer for Manchester-Leeds electrification, we've also got to wait longer for an increase in rolling stock if we're solely relaying on cascading diesel trains off electrified lines. Waiting until 2018/9 was iffy, but waiting to 2021/2 is going to be even more iffy. Time to order more new diesels like we're doing for Northern?

Yes, "intercity" service in North Britein is of much poorer quality rhan on London-based routes.Improvemenrs are feasible even without telectrification.

Currently, Liverpool- Manchester-Leeds- newcastle service is provided by glorified suburban dmu's (185's) whilst Mancherter- Glasgow / Edinburgh is covered by trainsets rhat in my part on the world ( Milton Keynes) are used for commuter / secondary passenger duties ( 350's ).

These northern intercity services could be much improved by, for example using Super Voyager sets on Liverpool - Mewcastle and 6- car Baby Pendolino's on Mancherter - Glasgow / Edinburgh, giving fastetr, better quality services that would be especially attractive to the business customers who will heve an important role in the regeneration of the North.




What is going on? Railway electrification, with all the associated works, has been going on for the best part of a century. British Rail came up with a rather elegant system with head-spans instead of massive portals. Not withstanding a rather lean specification, with supports spaced too far apart, they managed to complete the East Coast route on time and within budget as I recall. Now we seem to have very ugly system of clumsy supports for the wires with no apparent rhyme or reason. This matters because the taxpayer is in part footing the bill and because we all will be looking at the resultant mess for years to come.

So more Tory pre-election sweetners hit the buffers. Maidenhead - Marlow electrification is also of the agenda for CP5 and new GWR franchise.