Posted 20th August 2015 | 4 Comments
Blow for Northern Powerhouse with new electrification delay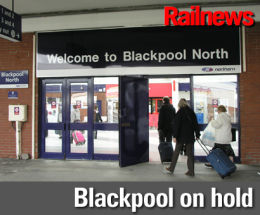 THE scheme to electrify the line between Preston and Blackpool North is running late, because the contractor Balfour Beatty is walking away.
A review of progress concluded that the project was overrunning, and that it was also unlikely to be completed within the budget.
Although Network Rail pointed out that the scheme is only on hold until another contract can be signed, the news is being greeted with dismay in the north of England, which has already seen two larger electrification schemes -- from Sheffield to Bedford and from Manchester to York -- officially 'paused' by the government, while a review takes place of Network Rail's project management skills and its control of spending.
The new delay is also a further blow to the government's plan to create a 'Northern Powerhouse', which depends crucially on better transport links.
It is now known that Network Rail was aware that its budget for the five-year control period, Control Period 5, was not going to be enough as far back as March, but the transport secretary has insisted that he did not know there were any problems with the Midland Main Line scheme from Sheffield until 15 June this year.
Network Rail said a new contractor would be appointed 'shortly' for the Blackpool scheme, but Blackpool South MP Gordon Marsden said: "It's obviously a further blow to the progress of the electrification, not just in Blackpool but across Lancashire as a whole. The Blackpool to Preston line has already been delayed once.
"We do not know whether the rest of Lancashire will be affected in the way the Transpennine electrification has been affected, which is an indefinite postponement."
The scheme should have been completed in May next year, and when combined with a similar scheme eastwards from Preston through Bolton, would have ushered in electric trains to Blackpool from Manchester and other regional centres, as well as a local electric service between Preston and Blackpool North.
The open access operator Alliance Holdings, trading as GNWR, has just won approval from the regulator to run six off-peak trains a day between London and Blackpool, which would also be electric. However, these cannot start before 2018 and will not, with luck, be affected by the present problems.
Network Rail said: "Network Rail has carried out a review to ensure we have the most efficient deployment of resources to deliver the next phases of this key improvement.
"By mutual agreement Balfour Beatty will be leaving the partnership delivery of North West electrification. This is the appropriate time following the completion of phase two between Manchester, Liverpool and Wigan.
"We will be retaining Balfour Beatty's design services and a new contractor will be appointed shortly."
Reader Comments:
Views expressed in submitted comments are that of the author, and not necessarily shared by Railnews.
Running late. Delay after delay! Everywhere. And always, always electrification projects suffer. Endlessly. This country really couldn't run a whelkstall!! And the Westminster/Whitehall gang couldn't care less so long as they get their salaries. For doing what one might askl!! Cancelling or delaying things obviously.

Absolutely right.

I'm glad we have a government that blows the whistle on these engineering overruns, and we avoid situations like that with the WCML upgrade that saw costs spiral to £9bn+

We'll see the usual line-up of brain-dead NW labour MP's moaning about these delays; at which point we politely ask them exactly how many miles of railway were electrified by them from 1997-2010.

I have always believed that the reason why these electrification schemes cost so much to the tax-payer, is that they are let as individual contracts. What's needed is for the DfT to directly employ a couple of teams of electrification teams to slowly roll-out full network electrification over the next 20 years and be done with it.

We'd get it done at half the price of individually let contracts.

Behind the public statements this is a severe blow to the conclusion in the delivery of an electrification project that is already well advanced and should have the resources in place for completion. It very much looks like NR will be picking up the costs and risks of the failure of a private sector contractor to deliver what was promised.

The knock on implications for the TOC's involved, Northern and TPE, will impact on the services that can be provided now that the full benefits of through electric working have been deferred. Will Preston be a frontier between EMU & DMU working? Full replacement of DMU's by EMU's will be deferred affecting rolling stock planning across northern England. At a time when both franchises are being retendered a further uncertainty has been introduced to the bidding process.