Posted 9th August 2013 | 26 Comments
DfT unveils Lakes electrification plan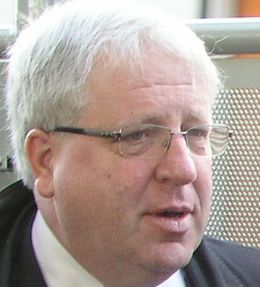 Transport secretary Patrick McLoughlin: "This is a key line to one of the most important tourist areas in the UK."
THE Department for Transport has announced that the line to Windermere in the Lake District is set to be electrified, as part of wider electrification schemes in the north west of England.
The 16km branch connects at Oxenholme with the West Coast Main Line, where electrification was completed as long ago as 1974.
The scheme is expected to cost £16 million, and if it goes ahead electric trains will serve Kendal, Burneside and Staveley as well as Windermere itself by 2016, when through electric services are envisaged to and from Manchester.
Transport secretary Patrick McLoughlin said: "This is a key line to one of the most important tourist areas in the UK and I believe the rail industry has a role in making sure more people can travel comfortably to enjoy the beautiful lakes.
"I recognise that strong rail links across the country are important drivers in our economic recovery at a national and regional level that is why we are pushing ahead with the biggest programmes of rail electrification ever."
Councillor Keith Little, Cumbria County Council's Cabinet member responsible for transport, said: "Electrification would bring this vital railway into the 21st century and would be great news for both rail users and the county's economy. We have been working long and hard through the Lakes Line Community Rail Partnership to help secure this investment and welcome the Government's announcement giving broad support to the project.
"This has been a joint lobbying effort from Cumbria involving the Lake Line Rail Users Group, local MPs and businesses, Cumbria Tourism, Network Rail and TransPennine Express, and I'd like to praise all their efforts which are now starting to pay dividends. The county council will be supporting Network Rail and TransPennine Express to put forward the strongest and most robust business case which underlines the compelling case for electrification of the line."
So long as the business case is confirmed, Network Rail will be asked to carry out the work in conjunction with other rail electrification projects in the region. Network Rail will also develop detailed plans in conjunction with passenger train operators and local authorities.
The DfT added that 'the rail industry recognises the importance of the National Park environment and the value of visitors using the railway and these factors will be taken into account in the electrification plans and works'.
A new timetable will be considered as part of the new Northern and TransPennine franchises, both of which are set to start in February 2016.
Reader Comments:
Views expressed in submitted comments are that of the author, and not necessarily shared by Railnews.
I have to say I smell a rat with Dft's intention to hive some services out of Transpennine into Northern. If Oxenholme to Windermere becomes self-contained again with no through running, who is going to spend $6M wiring it?

When i read this article the first thought that sprang to my mind was what are the local environmentalists, residents and other NIMBIES are going to say about the OLE and views of the surrounding countryside!!

Apart from that, it is a good idea!

On top of these welcome news Barrow could do with having the wires extended from Carnforh to help boost the town which has seen cutbacks in its shipbuilding / submarine building. Getting the tracks rebuilt from Penrith to Keswick to boost the Lakes tourism , closing the gap from Colne to Skipton with a new Leeds - Blackpool service via Skipton , reinstating trains to the NE ex coalfield towns of Ashington , Blythe etc , building BLM2 from Lewes to Uckfield, reinstating the LSWR line from Bere Alston to Okehampton ( as the Dalwish sea wall diversionary route ) are the sort of small schemes that have far greater cost benefit to their local areas than the HS2 white elephant will ever have ( akin to the BR failed 1955 modernisation plan - remember the diesels that barely lasted 10 years , marshalling yards for wagonload traffic that were redundant the day they opened - these cost failures blighted BR for years when we had the Department of Roads ( I meant transport ) At least rail gets more funding now than it ever did in the 3 lost decades of the 60's through to the 80's.

Makes absolute sense to include this as part of the North West/Lancashire triangle project. Windermere will become the Northern terminus of through Manchester Electric services to Manchester Airport. It will also allow trains to combine with Blackpool and Transpennine Scottish services at Preston as they do now. A very simple scheme too, single track, easy to slew beneath bridges and ample supply capacity via existing WCML Oxenholme/Natland feeders. I see no reason for anyone (even people with Beards) to see anything negative in this.

In today's BBC news: "When the government announced in 2002 that it was widening a 29-mile section of the A1 to three lanes, the price tag was £263m".

As been said before, the Windermere scheme is peanuts!

These piecemeal electrification projects are welcome, but they are costing us the taxpayers a fortune. £16 million for a 16k line.....

Assessing the business case of each seperate route is fine, but imagine how these numbers could be transformed if we had a rolling programme of total network electrification over the next 15-20 years with teams of employed engineers with factory trains. Costs would be halved.

Another thought. There is enough OHLE rusting away unused on the Old Dalby test track last used to test the Pendolinos. Why not use this redundant equipment for a real budget scheme somewhere like Windermere.

Another sensible electrification decision, but will the plans also include the installation of an automatic level crossing outside Burneside station that will allow faster line speeds rather than the creeping 5mph speed limit that was in operation the last time I went on the line?

As a further thought, would there be a case to electrify the Furness mainline from Carnforth to Barrow? I doubt it but it would remove the need to operate diesel powered commuter trains between Manchester and Cumbria.

One suspects that the final driver for this is the example of Paisley Canal (cheap, early & under budget). There should be a lot of preliminary design material for it already in the archives, it was looked at as long ago as the '70s.

Diesel 185s under the wires from Manchester Airport to Oxenholme just for the sake of a 10 mile branch is loony!!

Actually Solar and Wind power make electricity more expensive.

Electrification pays for itself. Diesel fuel is expensive; electricity is cheap, and it's staying cheap as solar and wind get installed.

Good on the UK for electrifying more rail lines. I wish the US would do that.

The northern section of hs2s completion is so long in the future that it is almost impossible to make accurate predictions that far ahead, this scheme should go ahead now if the business case is right irrespective of anything to do with high speed lines

Some areas of the country get starved of investment because there will always be areas with a stronger "Business Case". When it comes to it the "Business Case" is just a series of numbers on a page. Not everything is quantifiable.

Great news if it goes ahead. Pity it did not happen when the branch was temporarily closed for total relaying of new track some years back. One hope's provision is made for a passing loop, to enable greater timetabling flexibility. I suspect the Furness Line Users Group will be interested in this significant development, as that line may well be the loser in respect of some or all of its direct services to/from Manchester.

Are they going to (re)double it as well? That would have a huge impact on capacity and make Park and Ride viable. Windermere-Ambleside would be nice, but where would you put it in a National Park with all the planners and nimbys out in force?

I was going to follow up my last flippant comment with another one about calculating the business case Martin Tett-style, but instead I think I'll make a serious point.

The serious point is that this is a no-brainer. £19m is peanuts for railway investment, and it eliminates what would otherwise have been a big hassle for rolling stock configuration. By 2016, with Manchester-Preston electrification complete, all routes onwards from Oxenholme will be electrified, so we may as well do the whole lot. Otherwise, it's going to be an absolute pain to ensure than any trains from Manchester going on to Windermere have to be diesel instead of electric.

Why does it cost 16 million to string a wire from Oxenholme to Windermere? The only reason this is going ahead is because there's no need to any heavy electronics: the existing transformers can be used at Oxenholme and another wire strung along from it. That means 16 millions on a few wires, poles, and people to put them up. There are no bridges needing altering either.


John Gilbert that's a very old world view you have, which has led to numerous unsound projects being delivered in the past (freight marshalling yards, class 92 procurement). In today's railway any project must prove that the value of likely benefits exceed realistic capital and operational costs - essentially that any project generates a return rather than suck more government subsidy.

I'm hoping that this project will demonstrate such a case through reduced journey times, increased patronage and reduced TOC operating costs.

Well. Chris once HS2 opens then capacity released on WCML will allow new services on WCML that can serve more localities using electric trains be they long distance or regional trains or even tram trains!



Could happen. Might happen. Depends on the business case. Etc. etc. The usual English delays, doubts, erection of blockages. Whereas in Scotland they just get on with it. Now just what does the business case amount to? Surely the justification for this, ostensibly minor wiring, is to provide a unity with the WCML? The "Business Case" per se will probably not stack up as against - say - extending wires to Manchester - Southport. That's not the point here.

All rail extensions and electrifications need planners and engineers (Civil, Electrical and Mechanical). My guess is that this country does not have enough to cater for all these 'plans' and that is not enough Science based schools to be training the next generation ready for their studies at University. I obtained 4 A levels in science subjects back in 1967 (and so did most of my year) but looking at results of my local Comprehensive last year not one pupil got 4 'A' levels let alone 4 in Science.

Or better still relaying the Penrith-Keswick line.

extending the line to Ambleside would have made a much more significant reduction in congestion & pollution in the Lakes methinks.

I was being sarcastic.

No Chris, it'll be one of the many projects that is going to happen AS WELL AS HS2. e.g. Great Western electrification, Midland Main line electrification, Northern Hub upgrades, Edinburgh to Glasgow upgrades, South Wales Valley lines electrification, Stafford area upgrade, Peterborough to Huntingdon 4 tracking, Oxford to Milton Keynes/ Bedford re-opening, Borders line re-opening....

I could go on. HS2 is certainly not starving the rail budget at the moment! Indeed, the UKs railways haven't seen as many projects go ahead!

So, that'll be a another one for the "projects that will never happen because of HS2" pile then?