Posted 11th September 2017 | 2 Comments
Government faces autumn of discontent over electrification retreats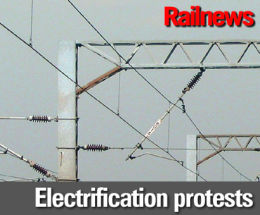 THE government is facing a growing wave of protests following the latest cancellations of railway electrification plans.
The announcement that electrification was to be scrapped between Kettering and Sheffield, Cardiff Central and Swansea and Oxenholme and Windermere was made on 20 July as Parliament was about to rise for the summer recess.
Transport secretary Chris Grayling then revealed 24 hours later that Transpennine electrification was likely to be 'discontinuous', and that bi mode trains would be needed on that route as well.
These revelations had followed earlier retreats, some of which were given no particular publicity, as when Network Rail had confirmed within a consultation document that the DfT required electrification to be removed from the scope of East West Rail.
Mr Grayling may now be facing an autumn of discontent over the controversial decision to promote bi mode trains as an acceptable alternative on many routes.
Some MPs are already applying pressure. Chris Ruane, who represents the Welsh Labour Party in the Vale of Clwyd, has lodged Parliamentary Questions asking Mr Grayling how much route has been electrified since 2010, and also which rail electrification projects have been cancelled over the past decade.
Swansea East Labour MP Carolyn Harris had already written to Mr Grayling, describing the 'many angry Welsh MPs' who have been demanding explanations since the Cardiff-Swansea scheme was scrapped, while just before the weekend Conservative MP Stephen Crabb, who represents Preseli Pembrokeshire, said bi mode trains would be a 'second-best' solution.
Discontent is also growing outside Parliament. Environmental campaigners carried a giant electric plug on a relay journey by rail from Bedford to Sheffield on Saturday, compiling a petition en route sponsored by pressure groups including the Campaign for Better Transport.
After the plug arrived at Sheffield station, a rally calling for an electrification rethink was staged by Sheffield Climate Alliance, Sheffield Friends of the Earth and Sheffield Green Party.
The transport secretary is also preparing to announce the delayed Statement of Funds Available for Network Rail's Control Period 6, between 2019 and 2024. His decision is expected in October, and it will include the outlook for further electrification.
Reader Comments:
Views expressed in submitted comments are that of the author, and not necessarily shared by Railnews.
Shame that Chris Grayling has scrapped the Midland Main Line electrification to Kettering, Corby, Nottingham, Sheffield, Derby, Leicester and Leeds. Im disappointed on what he's done. He's becoming the new "Richard Beeching" who caused the closure on most railway lines across the UK as he called it the "Beeching Axe".
[Mr Grayling has not cancelled Bedford-Kettering-Corby. The abandoned sections are from Kettering North Junction to Sheffield via Trent South Jn and Derby, and Trent South Jn to Nottingham. Dr Beeching most certainly did not use the phrase 'Beeching Axe'-- that was a media term.--Editor.]