Posted 18th July 2016 | 11 Comments
Grayling targets Southern crisis and backs HS2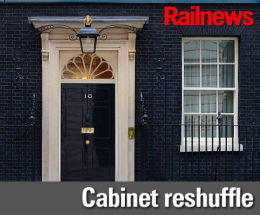 THE new transport secretary Chris Grayling says sorting out the tangled problems affecting Southern will be his first priority, and that he will be meeting managers from Southern's owner Govia Thameslink Railway again today. He took office last Thursday, but has already held preliminary talks with them.
He has also backed HS2, and is rejecting calls from opponents to the scheme that he should scrap it.
Mr Grayling told the BBC the standard of service at Southern, where one in six trains have been cancelled until further notice in a bid to match staff resources to the timetable, has 'got to improve quickly'. The company is restoring a small number of suspended services today in the light of experience last week, which saw the introduction of its emergency timetable in response to continuing high levels of sickness among conductors. Former rail minister Claire Perry, who resigned last Thursday, had described this as 'outrageous' and a 'work to rule'.
The main issue is the continuing dispute with the rail unions, particularly the RMT, over extensions of driver-only operation on Southern. This dispute has already resulted in several 24-hour strikes since April.
In Scotland, too, DOO is also a point of contention. The RMT staged another strike over the weekend over proposals for more DOO on ScotRail, and more walkouts are planned.
Both ScotRail and Southern say there will still be a second member of staff on board their trains, but unlike conductors they will no longer control the doors.
Meanwhile, anti-HS2 protestors have taken the opportunity of a change of transport secretary to renew their calls for the project to be scrapped. Mr Grayling's predecessor Patrick McLoughlin was a firm advocate of the scheme, and it seems unlikely that his replacement will be any different.
Mr Grayling told the BBC: "I have no plans to back away. The thing that's important for people to understand is that HS2 is not simply a speed project, it's a capacity project."
One of the opposing groups, Stop HS2, has already called on the new Prime Minister Theresa May to undertake another review of HS2, saying a failure to do so would be 'irresponsible'.
But Mr Grayling continued: "We have lines at the moment which have seen huge increases in the number of passengers, the amount of freight in recent years.
"Of course it makes sense if we're going to build a new railway for it to be a fast railway line, to increase travel times or reduce travel times from north to south -- that's logical. But actually we need a better transport system for the 21st century and HS2 is part of increasing the capacity of our transport system."
Reader Comments:
Views expressed in submitted comments are that of the author, and not necessarily shared by Railnews.
This topic is too big to comprehensively address here, but a few points:-

1/ The Chiltern line to B'ham. Once Crossrail takes some present GW suburban services over, will not Paddngton gain spare platform capacity which B'ham / High Wycombe trains could use? This in turn could free up platforms at Marylebone due to this displacement, useful for diverted / new services from the Northwest if the ex - GC line were to be re- used with a new connectio n to WCML near Nuneaton.

2/ Similarly , King's Cross will soon have Thameslink trains diverted away from its terminal platforms, which if lengthened could take additional longer distance services.

3/The ECML could have around three new- build cut- off stretches totalling about 200 miles bypassing the slowest, most junction - ridden sections, with 200mph capability. The remaining 200 miles to be re- signalled for 140mph. This could bring Northeast England , Edinburgh and Glasgow within day - return range of London.

John, if you think people will lie down and take a 4 tracking of the chiltern line you're very much mistaken. There are lots of bottle necks along the line and existing pinch points. The only part that would be comparatively easy to quad track would be high Wycombe to south of bicester and that is it. Youd hit issues at ahno junction,banbury and then leamington Spa. The other problem is birmingham. The quad track idea would cause delays in the birmingham terminals.


I can appreciate the upgrade regional lines argument, but that needs to be done anyway to accommodate growth in regional and freight services. However there is a big cost associated with upgrading existing routes. it is not simply a case of increasing the speed limit, the trackbed needs to be re-engineered to accommodate the higher loadings associated with high speed rail. Furthermore, the existing signalling systems also need upgrading to allow faster line speeds with associated braking distances. Electrified lines may also need upgraded supply systems to cope with power demand, etc. Then there are the station platforms, which may have been accommodating up to 6-8 car trains and may now be expected to cope with longer trains to accommodate demand. On top of all of that, what about freight services? Moving passenger trains is one thing but many freight services already follow convoluted paths in order to avoid passenger services on the existing network and there is the speed differential between slower moving freight trains and faster passenger services, which will impact upon headways and service frequency. Addressing all of this stuff will cost money and will take time and has to be sufficiently beneficial to be worthwhile for the investment pumped in.

[Electrification is rarely simple (consider the GWML problems). At the moment, work is underway electrifying the Barking-Gospel Oak line in London, and the first possession is Barking-South Tottenham. It is not merely a matter of stringing up wires and putting in the odd sub-station. Parts of this section must be lowered by up to 500mm to fit the future OHLE under structures. In a handful of particularly restrictive locations, slab track is needed as well so that there can be no vertical movement in future. It's a complex job.--Editor.]

Melvyn, we do not need projects like Crossrail 2 right now as that is alow priority in the national scale. HS3 by far is the most important national project needed in the UK. One guaranteed to create economic growth.

4 tracking the Chiltern Line will not meet the hostility HS2 has rightly met. The people along its path will benefit on a daily basis. It is only uprating an existing line. Have you seen the new housing complex HS2 is running through in Doncaster? Shishhhhhhh! Also ripping apart unique Camden for it?

The flat junctions on the ECML can be removed over the coming 10-15 years, the timespan for HS2 implementation. They are not show stoppers, neither are removing the bottlenecks on the WCML. The ECML has no capacity problems. Much of high-speed rail lines have been negated because faster trains that operate on existing lines have been developed.

A prime point is that Leeds can be access by 140mph Hitachis on the ECML only minutes slower than this HS2. Parts of the ECML can operate at 160mph. In future (10-15 yrs) 160mph trains can be introduced to take advantage of these fast stretches, to reduce journey times again.

True, the GWR and the GCR were designed for speed, as was parts of the ECML. Even the 1830 straight Liverpool-Manchester Railway line was designed for the maximum speeds of the time and projected faster locos.


HS2 has to be thought of in a grand scheme of things and not on it own. The stretch to Birmingham is only the first part. The further sections to the Northern cities and even possibly Scotland are the real aims.

Yes there could be some upgrading to the other lines, but the way the general public moan about a bank holiday closure imagine the whining from 5 years of constant weekend work on the WCML.

There are a lot of other possible projects that could use a share of the money, like speeding up the construction of the East-West line between Oxford and Cambridge. Or extending the Boarders line to Carlisle.

Either way hopeful the politicians can hurry up and make a final decision, as an infrastructure project of that scale will be a massive employer and economy booster particularly during the current Brexit uncertainties.

If it is built however there should be priorities to British companies when dealing with contract bids and it should also be state run due to the amount of public money being pumped in. (But that's another argument in it's self)

Chris, there is no 'need' for a tunnel under High Wycombe to upgrade the Chiltern Line. It would be nice to have of course. The line was designed to be 4 track. Any upgrades also benefit the local and regional rial also using the line. So two birds killed fro one. You have a point regarding Paddington, however The Birmingham train can be diverted into Crossrail going to where most people want to be - the West End and The City.

HS2 is political not to fulfil a transport need. The EU calls for high-speed rail. Most decent ideas I doubt were ever investigated at all in any reasonable depth.

Just because The Conservative Party has played musical chairs it makes no difference to the fact that HS2 has already passed through it Commons stages with majorities of 10/1 in succeeding parliaments and has also passed its first two stages in the Lords where it is now at committee stage with Royal Assent likely before the end of this year.

Of course the vote for BREXIT now means HS2 can't be wrongly described as an EU project and if we are to have a chance of retaining companies like Hitachi to remain here then we need projects like Crossrail 2 , HS2 with plans to create new east west lines as part of Northern Hub to keep them here .

As for 4 tracking Chiltern Rail well that runs through same locations as HS2 so instead of STOP HS2 we would have same people with NO4TRK !

As for 140'mph on ECML well that route is still full of flat junctions which would all need to be removed to allow these speeds so you are talking about many billions of pounds to add to your 4 track Chiltern and you would still have nothing compared to what HS2 will provide for the next century or two !

As for speed well Brunel built his GWR to allow for speeds of 50 mph which in the days of stage coaches was equivalent to HS2 today ..

[I believe Brunel envisaged an eventual 100mph, although in his time there was no locomotive capable of doing it. We are, of course, still benefiting from his far-sighted vision today.--Editor.]

John Burns, quite a lot of flaws in your argument, but to pick the main one of substance: the idea of diverting trains from Birmingham on to an upgraded Chiltern line. That's a reasonable proposal and might have been a decent problem had there been a less severe capacity issue, but the main problem is cost. In order to make this workable, one would have to four-track a lot of the line, and that was estimated to be £8bn, with a major expense being a tunnel under High Wycombe. Even this is probably an under-estimate, because this estimate didn't take into account the GWML upgrade pushing Paddington to the limits. Now the Chiltern option would almost certainly need a very expensive extension to Paddington.

There are plenty of reasonable alternatives to HS2 (and plenty of unworkable ones too), but as a rule of the thumb, if you have a good ideam it's probably been considered already and rejected for a good reason.

Editor, HS2 is not a slam-dunk no-brainier must e done project fro sure. No other public works project has ever met with such hostility and opposition*. Capacity issues north of Northampton on the WCML tend to be 'bottlenecks'.

My prime point still stands, Make the WCML and ECML 140mph expressways by diverting trains off them onto other lines, and building new regional and local lines** which will serve communities far better. This is where the prime need is.

HS2 will do precious little in assisting regional and local rail, but regional and local rail can greatly assist high-speed 140mph routes. Then we kill two birds with one stone. Everyone gains.

[*What about the Channel Tunnel (tremendous opposition in Kent), CTRL/HS1 (ditto) and indeed many railways in the nineteenth century? And, of course, a third runway at Heathrow now? Citing the level of public opposition to a proposal is an extraordinarily weak argument, partly because so much of it is based on self-interest. I recommend the conclusions of skilled, proven professionals who actually run the job as worth your consideration.
**And other new corridors would be greeted with a sweet smile from those affected? I suspect not. --Editor.]

The only capacity issues are on the WCML south of Northampton. NOWHERE ELSE!!! The ECML has none with the WCML having twice the traffic of the ECML

HS2 is a political transport project, not a project that meets a transport 'need' for sure.

The capacity south of Northampton on the WCML can be alleviated by diverting trains to other lines, such as the Wolverhampton,ton and Birmingham trains to to an uprated Chiltern line, and/or building new local and regional lines taking trains off the WCML.

Tilting trains can reach 140mph, they do not because they do not have in-cab signalling fitted. Take out the bottlenecks on the WCML, run the trains at 140mph by taking slow trains off by building local and regional rail and the difference in journey time from London to Manchester compared to full HS2 is about 15 minutes.

There is no need to build a national high-speed rail line in the UK. Many rail experts have constantly emphasised this point. Local and regional rail is where the 'need' is. Christian Wolmar eloquently emphasises this.

[It is only fair to add that many other 'experts' are completely in favour, including the professionals who actually run the railway. There are, as a matter of fact, significant capacity issues well beyond Northampton (hence the new Norton Bridge flyover), while freight paths are in increasingly short supply.--Editor.]