Posted 28th June 2016 | 8 Comments
Route changes on the way for HS2 in South Yorkshire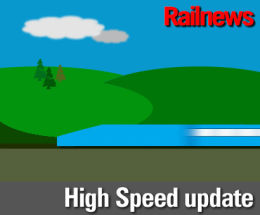 THE chairman of HS2 David Higgins has revealed that some revisions are being planned to the route of Phase 2 in South Yorkshire, but no details will be published for at least another week.
He has also dismissed suggestions that the economic turmoil following last week's Brexit vote could delay the project. A review of national infrastructure projects is due to be completed by the autumn.
He has been speaking in response to a new report from the National Audit Office, which is said to contain a warning that the project schedule as set out by the Department for Transport is 'too ambitious', and that rising costs could mean that it does not provide all the intended benefits.
The report, expected to be published today, was prepared before last week's EU referendum.
NAO head Anyas Morse said: "HS2 is a large, complex and ambitious programme which is facing cost and time pressures. The unrealistic timetable set for HS2 Ltd by the Department means they are not as ready to deliver as they hoped to be at this point. The Department now needs to get the project working to a timescale that is achievable."
However, David Higgins said imminent changes would mean a reduction in costs. He told the BBC: "The route has had modifications all along ... we are hoping that the government will make a determination on the Phase 2 route by the end of the year."
He was also cautious about the prospect of delaying the start of work on Phase 1 for a year, again in a bid to reduce costs. At present, Royal Assent in the Phase 1 Bill is due by the end of this year, allowing work to begin in 2017.
"If there's anything we have learnt from the referendum, it's not to take the Midlands and North for granted. HS2 will improve connectivity in those regions," he said.
Reader Comments:
Views expressed in submitted comments are that of the author, and not necessarily shared by Railnews.
The two biggest ongoing transport projects in this country are airport capacity in the south-east and HS2; and its a great shame that nobody at the DfT seems to have realised that a revised HS1/HS2 plan could negate the need to build an extra runway at Heathrow, and thereby assist HS2 funding by around £12bn.

IF HS1 / HS2 were developed to incorporate 'short-haul' replacement rail services to Paris/ Brussels/ Manchester/ Leeds, this alone would release 30+ daily departure slots at LHR to develop more intercontinental flights the country needs, and the Davies report identifies.

I swear that if HS2 is given the go ahead, only the London-Birmingham section will be built. The sections to Manchester and Leeds will be scrapped to save money due to brexit. ;)

'Changes to the HS2 route but no details 'till next week ' doesn't that sum up
this gigantic waste of taxpayers money i'll believe it when they start digging up the Chiltern Hills!

It is pretty much accepted that The West Coast main line is at capacity. (At times trains leave Birmingham New St at 3 min intervals. The last being a slow train that is then caught by the next Virgin service to London).
HS2 is not about London - Birmingham but about capacity across the Midlands and North.

Unless HS2 expected to get EU funding at a future date to meet its costs the report recently by STOP HS2 about how small the European Union funding of HS2 was means they have no argument that BREXIT will affect HS2.

Likewise, the arguments of made about HS2 being a project imposed by the EU will have no basis as the line will be as domestic as Crissrail project !

What must be maintained is building HS2 to continetal gauge given that is size 21st Century lines are built and in or out of the eu through services to mainland Europe will remain a long term ambition just like it was when the original GCR was built.

One irony is the Chilterns who have opposed HS2 has The Chiltern Line which German state railway DB has run and invested heavily in since the line was privatised and it's possible that they may have voted them out of operation of Chiltern Railways in the long term !

As all of this money to build the line will be borrowed on International Money Markets, is the Brexit Vote going to influence foreign Banks and Governments in their desire to lend us the money.

How about no routes because there will be no HS2, Mr Higgins? ;)
[It's Sir David, if you wish to be formal. He is known to prefer simply 'David Higgins' for most purposes, though.--Editor.]