Posted 15th July 2016 | 3 Comments
Southern cancellations down, but more ScotRail strikes loom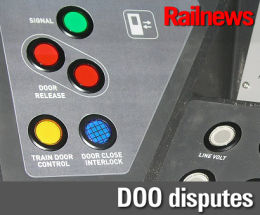 THE emergency timetable introduced at the start of this week by Southern to combat staff shortages has resulted in a sharp fall in cancellations, said Southern's owner Govia Thameslink Railway. But there seems to be no end in sight to disputes with the rail unions over extensions of driver-only operation in England and Scotland, with another strike set to take place on ScotRail this weekend.
The Southern timetable will be improved from Monday, with more trains running on some routes. The company said the number of cancellations has fallen from more than 20 each day in the peaks to just one now, and punctuality has also improved, with eight out of ten trains now arriving on time rather than six out of ten before.
Southern passenger service director Alex Foulds said: "Now that the revised timetable has had time to bed in, we have been able to fine tune the deployment of our available train crews to plug timetable gaps and provide additional capacity on some of the routes most affected.
"Although we are running fewer trains, we are providing greater certainty for commuters by concentrating our resources on providing a more reliable and punctual rush hour service. The journey to restoring the railway to a better level of performance still has some way to go but we are encouraged that the new timetable is a first step in that direction."
Meanwhile there seems to have been little progress in resolving the dispute with the RMT over extensions to driver-only operation, which has already caused several 24-hour strikes on Southern this year.
The union is opposing more DOO on any route, and is also staging a series of strikes on Abellio's ScotRail over the same issue, with the latest walkout taking place this weekend.
After a parliamentary question revealed that 214 out of 346 Scottish stations are unstaffed, the union's general secretary Mick Cash claimed that disabled and vulnerable passengers will suffer if DOO is extended in Scotland.
He said: "It is clear as day that the overall policy is to move to a faceless railway in Scotland with both trains and stations de-staffed in the name of corporate profit – profits that are shifted to Holland to subsidise their rail services. The consequences for personal safety, disabled access and the overall safe operation of rail services are simply horrific.
"As our members strike again this weekend in defence of safety it is wholly unacceptable for the Scottish Government to sit on their hands in the face of the clearest possible evidence that the railway system in Scotland is being turned into a criminals' paradise which excludes people with diabilities.
"The Scottish Government should be dragging their contractors Abellio/Scotrail back to the negotiating table to address the full range of issues at the heart of this current dispute and should be facing up to their responsibility to deliver safe and accessible rail services."
ScotRail has described the strikes as 'totally unnecessary'. It said: "The RMT say we're planning on having driver-only trains. We are not. We will always schedule a second person on trains to serve our customers. They say it's about safety. It is not. Today, 59 per cent of our customers travel on a train where the doors are safely opened and closed by the driver."
Reader Comments:
Views expressed in submitted comments are that of the author, and not necessarily shared by Railnews.
It does matter what they are paid fares are set my governments why special interest groups under 25s or over 60s can but a discount card its political not economic. The trains are no ryan air its basically state sector led my a minister that has no control the set up is mess may be nationalisation be best as currently get worst of state and private but still quite good

Here is an idea for the RMT to consider.

If they are so concerned at having lack of staff at stations, perhaps their members could get paid less, thus allowing the railway companies to employ more staff for those unstaffed stations, and also perhaps for passenegers to also get a reduction in their fares!

No? didn't think so either.