Posted 15th July 2016 | No Comments
'Ashamed' rail minister Claire Perry steps down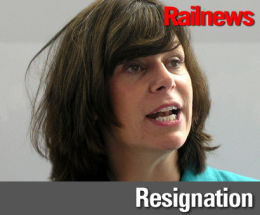 THE transport minister who had been the public face of the Department for Transport over the Southern DOO dispute has resigned.
Claire Perry, who is MP for Devizes and became Parliamentary Under Secretary of State in July 2014, was usually known as the 'rail minister'.
She had sometimes been outspoken as tempers flared in the dispute between Govia Thameslink Railway and the RMT over extensions of driver-only operation, describing the unusually high levels of sickness among Southern conductors which had added to the disruption in recent months as 'outrageous' and a 'work to rule', but earlier this week she admitted that she was 'often ashamed to be the rail minister'.
In a Commons debate about the GTR problems on Tuesday, she said: "If I thought it would help by falling on my sword, I would. This feels like a failure."
It is understood that she resigned from her post at the DfT last night (14 July), on the same day that Prime Minister Theresa May had announced that transport secretary Patrick McLoughlin was being replaced by Chris Grayling, who served as shadow transport secretary when the Conservatives were in opposition ten years ago.
However, her departure has yet to be logged on the official page which is supposed to be reporting ministerial changes, and her picture was still included on the DfT website at midday on 15 July.