Posted 9th May 2016 | 5 Comments
Work starts on construction of HS2 colleges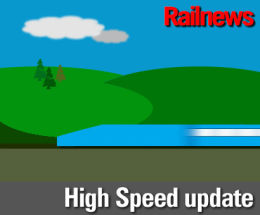 CONSTRUCTION has started on two sites of the future National College for High Speed Rail.
A ground breaking ceremony on 9 May marked the beginning of work in Birmingham's university district and and Doncaster Lakeside.
The College will provide specialist training, skills and qualifications required to build HS2 and other rail infrastructure projects in future.
Transport minister Robert Goodwill said: "This landmark moment means we are one step closer to seeing students walk through the doors of the College in 2017, learning the cutting-edge skills we need to deliver HS2 and world-beating rail infrastructure.
"This shows the transformational effect that HS2 is already having on our country - boosting skills, generating jobs and supporting economic growth – before spades are in the ground next year."
Terry Morgan, who chairs the College's Corporate Board, said: "The College will have a major and hugely positive impact on the ability of the rail industry to develop a multi-skilled specialist British workforce, capable of building HS2 and future infrastructure projects.
"It will be a catalyst for growth in both Doncaster and Birmingham that will bring new investment into the area and provide highly skilled jobs for local people."
The first students are due to start their courses at the new College in September next year, while the Hybrid Bill authorising Phase 1 of HS2 between London and the West Midlands has already been passed by the House of Commons and is now working its way through the Lords. Ministers expect Royal Assent by the end of the year, so that construction of the line can start in 2017.
Reader Comments:
Views expressed in submitted comments are that of the author, and not necessarily shared by Railnews.
When anyone says some infrastructure cannot be improved further, I will always disagree with them. The WCML has had enhancements done to it to improve it, but I cannot think of any reason to stop it there.

[Four tracking through the West Midlands (Rugby to Birmingham) has been suggested, but there is very little room for additional running lines nearer London, at least not without demolishing slices of Harrow and Watford. Neither will any amount of 'upgrading' straighten out the curves.--Editor]

I always knew the probability of the WCML being upgraded further was going to be low, even before Lord Andrew Adonis' words, which I do remember him saying. But as highlighted, and I'm not alone here, I'm just not convinced the HS2 project is worth it for little difference in the journey time.

@Chris Green: "The West Coast Main Line has plenty of room for improvement".

Citation needed.

[Lord Andrew Adonis of the National Infrastructure Commission has recently dismissed any significant further upgrade of the WCML, saying: "It's hardly a compelling alternative to HS2 let alone a cheap one." See http://www.railnews.co.uk/news/2016/04/15-upgrading-west-coast-line-not.html. -- Editor.]

While this will create jobs, I've not been a massive fan of HS2. I don't see how shaving a few minutes off the current journey time is going to be value for money in the long run. The West Coast Main Line has plenty of room for improvement, and this is being ignored in favour of this so-called government project.