Posted 11th July 2016 | 1 Comment
Angry commuters demonstrate as Southern cuts services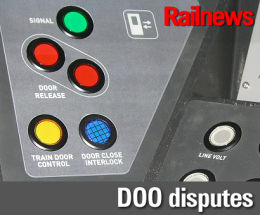 ANGRY rail users from the south of England are set to demonstrate at London Victoria later today, as Southern axes one train in six in a bid to improve reliability. Meanwhile, the government has indicated that its patience could be running out, as MPs continue to report a barrage of complaints from their constituents over Southern's recent performance.
At the same time, Scottish rail passengers are facing the second day of a 48-hour walkout by members of the RMT.
In both cases, the disruption is being caused by disputes over proposed extensions of driver-only operation, which rail unions claim is unsafe. Train operators deny this by pointing to the long-established use of DOO on many lines and services, and also to the support for DOO voiced by safety authorities. The RSSB has gone further, by suggesting that relying on a conductor to close the doors could be more hazardous because of possible 'miscommunication' with the driver.
Apart from several 24-hour strikes, Southern has also been affected by high levels of sickness among its conductors, which have led to many cancellations. In a bid to restore some predictability, 341 trains -- around 15% of the timetable -- have been cancelled from today.
The casualties include the hourly service linking East Croydon and Clapham Junction with Harrow, Watford and Milton Keynes via west London, and also many trains on Coastway services from Brighton and nearly all trains to nearby Seaford, which are being replaced by buses. On other lines, there are no services between Guildford and Leatherhead, Sutton and Streatham via Wimbledon or between London Bridge and Beckenham Junction. Services are also being cut back between Reigate, Tonbridge and London Victoria or London Bridge via Redhill, London and Redhill, and Hastings and Ashford. The frequency of Gatwick Express is also being reduced, but Southern has been unable to say how many trains will run each hour.
The RMT has offered to suspend further strikes for three months, on condition that Govia simultaneously delays its planned introduction of 'on board supervisors' on Southern to replace conductors so that further talks can take place. A spokesman for GTR said: "We welcome the suggested suspension of industrial action, but we don't need three months to resolve this. We are ready to sit down with the RMT and discuss a way forward that we believe that they, our employees and customers will welcome, and can bring an end to this dispute."
Although an extension of DOO on Southern was part of Govia's bid for the GTR franchise, rail minister Claire Perry has indicated that her attitude is hardening. She told the BBC: "It has been quite clear to me that companies who cannot deliver a good service, particularly over the things they can control, should not be bidding for new franchises. We need to have serious questions asked about their [Southern's] performance going forward."
The second day of a 48-hour strike on ScotRail, again caused by a DOO dispute, has disrupted many services north of the border. Talks aimed at resolving the dispute had broken down on 6 July.
ScotRail said 70 per cent of its services were running, but even so, trains on many central belt routes are being replaced by buses, including Glasgow-Stirling-Alloa, Edinburgh–North Berwick or Dunbar, and Edinburgh–Aberdeen. Other highland services affected include Inverness to Aberdeen and Inverness to Kyle of Lochalsh.
The ScotRail Alliance has branded the walkouts as 'totally unnecessary'. As on Southern, ScotRail proposes to carry a second member of crew on its trains. However, again as on Southern, this crew member would not control the doors.
Meanwhile, Southern said 92 per cent of its services have been running to time today.
The company said: "We know the service level in the last couple of months has not been good enough and we apologise unreservedly. This new timetable allows us to target our resources where they are needed most and at the same time give passengers a more predictable service which they can plan their lives around.
"It is a temporary measure while we work with the RMT to end the dispute and bring their members back to work and, while it should be judged over a few days, the first few hours of operation are encouraging."
Reader Comments:
Views expressed in submitted comments are that of the author, and not necessarily shared by Railnews.
Claire Perry can spout off all she wants about GTR but if, as many suspect, the DfT is behind the DOO push then why doesn't she use the RSSB's statement that "relying on a conductor to close the doors could be more hazardous because of possible 'miscommunication' with the driver" and end this pointless dispute with GTR (& ScotRail) by introducing legislation (or updated safety standards) on safety grounds REQUIRING all trains to have driver operated doors (with CCTV monitoring) within a reasonable about of time?
The updated law or regulations should also require all trains to be scheduled with a "train manager/guard" on board who will perform all the current duties of a guard (including assistance to passengers and tickets sales where necessary) EXCEPT for operating the doors in normal circumstances. That part SHOULD satisfy the RMT, who have to shake the cobwebs out of their heads and realize that this is no longer the 19th century and CCTV has been invented. HOWEVER to avoid unnecessary cancellation of services the changes should also allow for operation of a train to proceed without a "train manager" in cases where a scheduled employee fails to show up for their shift, or may become ill or injured during their shift, and no replacement can be found in time for the service to continue as scheduled.