Posted 26th May 2016 | 29 Comments
Critics call for HS2 top speed rethink to cut costs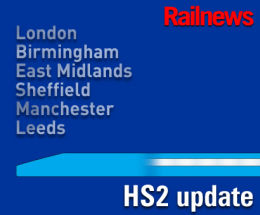 A GROUP of academics are claiming that speeds on HS2 will be unnecessarily high, adding significantly to the costs.
They are calling for an independent assessment of 'less damaging' alternatives.
A major cause of their concern is the potential maximum speed of 400km/h, which the group says could be reduced to 300km/h.
One member of the group, Professor James Croll of University College London, told the BBC: "It is just vanity for the UK to have faster trains than the usual high-speed trains. The UK is far too small geographically to need an ultra-high speed network -- by the time the trains get up to speed it will be almost time to slow them down again.
"The decision to design for 400km/h has led to a succession of needlessly expensive knock-on effects in construction which will be saddling taxpayers with huge bills for a generation."
HS2 Ltd said cost reductions were being examined, and that the head of the civil service Jeremy Heywood is conducting an investigation. He is expected to report to his findings to the government soon.
Ben Ruse of HS2 Ltd said rail speeds were rising in other countries, adding: "The railway is being designed for the future. It anticipates faster speeds to ensure the railway can take up future technological innovations without having to create further new railways or adaptations to the HS2 route that would cause further impacts."
Some high speed trains have already broken the 300km/h barrier. Eurostar's new Siemens Velaro fleet, which entered service between London and Paris last November, is branded e320 because the Velaros can travel at 320km/h.
The Hybrid Bill which authorises Phase 1 of HS2 between London and Birmingham has passed all its Commons stages and is now being scrutinised by the House of Lords, which means changes are still possible. Ministers expect the Bill to receive Royal Assent this year, so that construction can begin in 2017.
Reader Comments:
Views expressed in submitted comments are that of the author, and not necessarily shared by Railnews.
David Cook said "nobody in the history of modern transport has ever been attracted to something slower".

So what was the successor to Concorde then?

From my viewpoint, if you have lower line speeds, you will need more trains to move the same number of passengers over a given period of time. If you have more trains, you will need more depot space with more trains out of service at any time being serviced, so any theoretical saving in costs will be mitigated to some effect by having to buy and maintain more trains. But even that ignores the simple fact that nobody in the history of modern transport has ever been attracted to something slower. Speed is everything. But don't take my word for it. Just ask anybody trying to get home from work.

A few reasons for a conventional line to relieve the southern part of WCML being cheaper than a very high speed one.

1/ No need for wide bore, high speed tunnels under the Chilterns and NW London suburbs. Paddington will soon have some suburban services diverted into Crossrail, giving opportunity for Birmingham / H igh Wycombe line trains to divert into Paddington. In turn, 4 out of Marylebone's 6 platforms could then be freed up to take diverted and / or new services to/from the Northwest via the existing line through Aylesbury.

2/ No need for new construction in the Birmingham area. A relaid GC could simply diverge from the original alignment north of Catesby tunnel passing to the West of Rugby and joining WCML south of Nuneaton giving the needed capacity relief , whilst Euston - Birmingham sticks to its present route.

3/ No need for noise-abatement earthworks or land acquisition in expensive areas such as South Bucks and North Warwickshire.

@Claydon,

Thanks for making it clear that it was Virgin Trains' Chris Green who you once had a conversation with on HS2, and not me. I wouldn't want to be in his shoes, with the pressures of being a Chief Executive of a leading train franchise. I'm content with being a regular Railnews contributor.

One thing that hasn't been discussed is the actual claim that a slower line saves money. This has been looked at before, and a conventional line was estimated to be only about 10% cheaper than a high speed one.

If Kroll and co have a credible reason why a like-for-like line at a lower speed saves more than 10%, let's hear it. It'll be a tough one to sell though. The most expensive bits of the line are London to Aylesbury and the spur to Birmingham, where the line speed is already well below 400 km/h. The leaves the relatively short stretch between Aylesbury and Lichfield to find some pretty massive savings to make this worthwhile. Good luck coming up with suggestions.

William Claydon asks 'why build a high speed railway and then waste the time saved by joining/parting trains at Crewe and Toton?
The surprising answer is that speeds up services compared with HS2's ''service pattern for demand modelling''. That shows 2tph to Liverpool with one at least 6 minutes slower than the other because it stops at Stafford, while the other one stops at Crewe. A better pattern would be a slow train dividing at Crewe and a faster train skipping Crewe.
Similarly the 3 Leeds tph have one stopping only at Toton, one stopping at Birmingham Interchange, Toton & Meadowhall (12 minutes slower) and one stopping at Toton and dividing at Meadowhall (10 to 13 minutes slower). My proposal would speed up the last 2 tph by skipping Meadowhall and using some of the 6 minutes that takes to divide at Toton. Sheffield would gain services to its town centre station.

Yes, I agree that London - Birmingham (and Manchester) is really about capacity ; the serious high speed is only relevant for London to Teesside, Sunderland, Newcastle, Edinburgh and Glasgow , giving new day-return journey potential.

Seriously high speed between London and Birmingham would give little extra benefit but entail far more cost than an extra conventional line , probably largely utilising the ex-GC trackbed, due to the extensive tunneling . anti-noise embankments and compensation to upper-crust property owners needed by the SHS option.

I read the BBC News article, but stopped taking it serious when they said that HS2 costs five times more than the line in France. That is wildly misleading - the cost discrepancy has next to nothing to do with line speed and almost entirely to do with the fact that these new LGVs are being built in rural France without the need for the massively expensive tunnels under three cities and the cast compensation bill for the line unavoidably running next to so many places of residence.

They're academics, they cannot possibly have overlooked this. This smacks of yet another attempt to deliberately mislead the public. Furthermore, one must question how much James Kroll really cares about costs when he was backing a double-deck down station as Euston, which would have been insanely expensive and disruptive. Add to this the obvious question of why this is yet another person who is only talking about a lower line-speed now and not five years ago when the idea might have been taken more seriously, this smacks of yet another anti-rail lobby trying to delay HS2 to death.

James Kroll needs a damned good explanation if I'm to believe otherwise.

Stuart Porter, Kettering
........- which would be OK if the 2 trains per hour HS2 show as using the Litchfield link divide at Crewe with the front portion for Liverpool or Manchester via Wilmslow and the rear portion reversing to Stoke on Trent &
.......- if the Meadowhall services divide at Toton with the front portion going non-stop to Leeds or York via HS2 and the back portion going to Sheffield Midland via Chesterfield (the key parkway station for Sheffield's upmarket suburbs and villages).
------------------------------------------------------------------------------------------------------
Pray tell; just what is the point of building a high-speed railway; if you are then going to waste the time saved on joining and parting trains at Crewe and Toton ?

Its the same brain-dead argument used in the Scottish HS proposals to join/part trains at or near Carstairs......


I; and many others; have commented on this whole 'HS2' debacle for over a decade. Not surprised at all that questions are still being asked.

I recall a conversation I had a long time ago with Chris Green; (the 'Virgin Trains' chief, not the guy from Huddersfield); and it was said then that the project ought to really be called 'MC2' (More Capacity 2); rather than 'HS2'. Capacity was the key here, not line-speeds.

If you had said to designers; " look, will you please design the most expensive high-speed railway between London and Birmingham you possibly can "; we've got what was asked for.

Many of us advocated a 'westerly' route using existing 'transport' lands, via Acton, Ruislip, The Chiltern route to Banbury, alongside the M40 and into Birmingham via vacant track-beds and railway lands in Small Heath.

Whilst a few minutes slower than the current route; it would have probably been a third of the current cost, and if a Heathrow spur were included; there would be no need for a third runway at Heathrow; (saving another £12bn); as 'HS2' would largely negate the need for domestic English flights form Heathrow.

The DfT does not need to spend more millions kicking this thing backwards and forwards between civil servants and consultants; a committee of level-headed railway enthusiasts could have done a better job of planning 'HS2'; and done it gladly for free.



I fear HS2 is a good cause in the wrong hands. They seem to be pushing all the wrong buttons.

As the report makes clear, the capacity case - the central plank for HS2 - has NOT been proven. As for connectivity argument ... they can't be
serious, surely? Changing not just trains but stations as well in Birmingham! Not to mention the other clumsy arrangements planned for elsewhere.

Would railway engineers have concocted anything as dysfunctional as this?

It's time to look at the other options.

If HS2 is not going to link up with HS1 and if it is not going to carry freight then why make it non standard by building it bigger than it needs to be? The stock will be too large to access the rest of the system and it will have no cascade value either. Might just as well reinvent the broad gauge!


Just to say how unimaginative we British are. Unimaginative and lacking in drive and enterprise. So many of us are always so full of reasons why something inspiring should NOT be done. Really it is surprising we aren't still living in caves and painted in woad!! If these unimaginative miseries had their way we would still be!

If the trains are incompatible with existing infrastructure, they won't be able to serve more than a handful of cities, whereas 300kph trains could be compatible.*

Brunel wanted a broad-gauge railway - but in the end the GWR had to downgrade to standard-gauge.
[The main issue with high speed/classic network compatibility is loading gauge. A train capable of running at 400km/h doesn't have to do so all the time, but a train built to UIC GB+ would be too large to fit under and between the structures on British classic lines.-_Editor.]

it's not short signed at all. 400km/h is completely unnecessary. The two above points are of course relevant; no one is suggesting that a higher speed line wouldn't be better, it's a case of the pot of money isn't bottomless. Why is it fair to spend billions of the relatively small amount of money that we have to develop our railways on just one line serving a small part of the country.

If we cut the speed to 300km/h, and then use the saved money to electrify the line from Bristol to Penzance or reopen the rest of the borders line, more people benefit. it's about being realistic.

If we reanalyzed the benefit-cost ratio, it would no doubt be significantly greater for a 300km/h line than a 400km/h one.

A perfectly strain line requires less land than one which meanders about as the track requires a wider corridor on bends to allow for the movement of the trains as well as providing additional forward visibility. Coincidentally the straighter the route the faster that trains can go. As such unless a straight route is going through something expensive to move/buy/replace then it is better to keep the lines as straight as possible and therefore would mean that trains can go faster.

It is very sensible to design the HS2 for higher speeds than currently used, but it is not sensible to allow the possible requirement for higher speeds in the future to justify the choice of route to one that is highly damaging environmentally and far more expensive than is necessary. With large walking distances between Birmingham Curzon Street and New Street and London St Pancras and Euston, hs2 is not being designed for the future, as Ben Ruse claims, but for the distant past when different railways companies had different stations in different parts of town.

It's a bit late to start making route suggestions now that work is (finally) due to begin on actually building something, rather than just engaging in endless discussions. Oh wait... They're academics, that's all they do ;-)

Hopefully we still have some engineers in the UK. Otherwise to meet our future transport needs, we should invest in a fleet of balloons that could be powered by all the hot air generated by these time wasters.

If both spurs north of Birmingham are built, I'll give them a go and see how it feels to travel in a train at such speed. Some won't be able to as we live in a country where the age of the population is on the rise, though I'm only 21 at the present.

Did anyone else have to convert the Kilometres to miles per hour?*

Anyway, I believe that whilst everyone is entitled to an opinion, if someone who is an expert in a field says something, then generally they are going to know what they are talking about.

Plus faster trains does not necessarily mean more trains per hour, as you need longer braking distances from top speed to stop and between trains.
[*No.--Editor.]

North of Crewe HS2 plan to run fewer trains per hour and there's a case for slower speeds if that saves lots of money. But south of Crewe & Leeds there are better ways of saving money. The 3 leading money saving ideas according to the 8/5/16 Sunday Times half page article are
1. Reducing the number of platforms at Old Oak
2. Eliminating the 9 mile link to the WCML at Litchfield - which would be OK if the 2 trains per hour HS2 show as using the Litchfield link divide at Crewe with the front portion for Liverpool or Manchester via Wilmslow and the rear portion reversing to Stoke on Trent &
3. Eliminating Meadowhall HS2 Station - which seems sensible if the Meadowhall services divide at Toton with the front portion going non-stop to Leeds or York via HS2 and the back portion going to Sheffield Midland via Chesterfield (the key parkway station for Sheffield's upmarket suburbs and villages).

If restricting the maximum speed to say 320kmh meant that the project would be delivered sooner and cheaper, I'd say it's a good idea. Considering the actual time a train would be likely to spend per journey at speeds higher than 320kmh/200mph and the extra energy needed to accelerate to the higher speed, compared to the actual journey time reduction, the difference in journey time is negligible on anything less than non stop London-Scotland. (further than the line is actually planned) Better to deliver capacity and journey time improvements sooner and cheaper. The faster speed does not guarantee more capacity, since braking distances are likely to be greater, aren't they? Which if correct would limit the numbers of trainers on the line at any given time.

There's only need to have the trains going at such high speed – we're a small island located off the northern tip of France. Has there been talk of scrapping the Manchester spur of HS2? I'm not sure on the Leeds section, but I could have sworn that there was talk of not going ahead with the construction of the spur to Manchester. The Tories at it again – treating the north like life doesn't even exist up here.

@Tim.
"Higher speeds don't just mean shorter journey times, they also mean higher capacity as you can run more trains per hour."
Not so. If all trains run at the same speed, there is almost no effect on capacity with one speed compared to another.
[Tim is on the right track. When Virgin introduced its VHF services in 2008, there were only three trains an hour rather than four, precisely because the hoped-for line speed of 225kmh (140mph) had become a casualty of the flawed West Coast upgrade. Capacity is also affected by signalling arrrangements, but the sooner one train is out of a section (whether that section is fixed or moving) the sooner there is space for the next one.--Editor.]

I have to say I agree that this country is too small for rail speeds in excess of 200 mph. In particular, both Birmingham and Manchester are too close to London to justify these speeds ; they are already well within day return range with the lion's share of the market on rail. If capacity relief is the main need, this could be achieved much more cheaply with new conventional infrastructure south from Nuneaton, probably largely utilising the ex - Great Central trackbed.

As for high speed, this would make more sense serving the London - Teesside / Sunderland / Newcastle / Edinburgh / Glasgow market via an East Coast alignment, these being of a distance having the potential for new day return opportunities with an attendant "step change" in market share.

The line speeds between Plymouth and Exeter are still stuck at 50mph for parts due to the poor nature of the line built by Brunnel. If they hadn't wasted so much time and money on the atmospheric railway they could have just built a better route to begin with.

I can't believe that it's academics who have produced a report which has such an obvious bias. The comments/conclusions appear to have come from the treasury trying to cut back on agreed project parameters. HS2 is not to be taken in isolation rather a strategic view should prevail and the line built to enable short journey times rather than acceptable ones when taken as part of an extended network of high speed railway lines which could possibly extend from the Highlands of Scotland to Cornwall or the European mainland. We're talking of journeys of hundreds of kilometres not an inter-county commute.
Is there a balancing report by other academics which says that the speed is right as planned and what is the proportion of each viewpoint?

I suppose the same could have been said of Brunel designing his GWR to allow unheard of speeds of 50 mph ...!

As recent plans have announced the present HS2 is just part of longer term plans to reduce journey times to Scotland and if one day one gets Edinburgh to Cardiff HS journeys or even Glasgow/ Edinburgh through trains to main lane Europe destinations then journey lengths will expand to thousands of km making the higher speeds w worthwhile investment...

This is just same old argument from antis who need to realise HS2 is only a year away from construction starting ..

[You are quite right about Brunel, except I believe he envisaged 100mph as a long-term goal. His remarkable foresight still benefits GWR passengers to this day.--Editor.]

How shortsighted. If you cap the speeds just to save money you will have to spend more money in the future.
Higher speeds don't just mean shorter journey times, they also mean higher capacity as you can run more trains per hour.
If we're going to build a new line it should be the highest grade possible so that it doesn't need upgrading for 100 years.
Higher speeds also have a major benefit as they can take traffic away from polluting air travel and encourage business activity that might not happen otherwise. If you can get to somewhere and back in a day you are more likely to visit.