Posted 27th June 2016 | 9 Comments
HS2 could be casualty of Brexit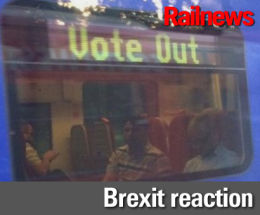 THE implications of Brexit for the railway industry could include the abandonment, reduction or at least a delay to HS2, it is feared.
Following the vote in favour of the UK leaving the European Union, the Office of Budget Responsibility will now be re-assessing national infrastructure projects, although its conclusions are not expected to be published before the autumn.
The Chancellor George Osborne said today: "Given the delay in triggering article 50 and the prime minister's decision to hand over to a successor, it is sensible that decisions on what that action should consist of should wait for the OBR to assess the economy in the autumn, and for the new prime minister to be in place."
Lord Tony Berkeley, who chairs the Rail Freight Group and as an industry commentator has frequently criticised the effects of successive EU Railway Packages, said: "The priority for the government at this time will not be big sexy projects such as HS2."
His concerns have been echoed by Richard Threlfall, head of infrastructure at the accountant KPMG, who said: "I can't imagine that any part of Whitehall is going to be thinking or doing anything... except trying to work out where we go from here.
"That's certainly going to be true in the Treasury. Getting attention on important strategic infrastructure decisions, I fear, has just got significantly harder."
There has been some comfort in Derby, however, where the Canadian company Bombardier employs more than 1,000 people building rolling stock. The works at Litchurch Lane are currently busy constructing trains for London Overground, GWR and Crossrail, but Bombardier also has a presence in several other EU countries, including the headquarters for its Transportation division in Berlin.
Bombardier warned that although the outlook was not yet clear, it was 'too early to speculate on potential outcomes/impacts of the UK now having voted to leave the European Union'.
A company statement continued: "As always, we are committed to our businesses, all our employees and our customers in the UK and we will continue to work with the Government and other industry stakeholders, to create the necessary business environment to ensure our future success.
"Bombardier has a strong and established presence within the UK and EU and a successful track record of supplying our products and services to customers throughout the UK and the EU.
"We have a number of ongoing major UK projects, plus there are other upcoming opportunities and we are committed to meeting the future needs of the UK market."
Reader Comments:
Views expressed in submitted comments are that of the author, and not necessarily shared by Railnews.
Word around Whitehall is that a 'review' leading onto a number of options including a strong cancellation recommendation based on the revised finances and business case was being penned before Brexit, with an announcement slated for the autumn. Not sure how this is all affected though.


Young people - do not spend all their time at school (only 39 weeks out of 52) or Uni (only circa 30 weeks out of 52), they are also less likely to drive meaning that going forwards there could be a growing number of people who rely on public transport (especially rail for long distances) to move about. In fact a lot of Uni students use rail to visit friends and family at random times as their lectures allow
Working people - likewise have this thing called rest days each week (not always at the weekend) and Holiday entitlement. You also didn't account for those who work part time or work compressed hours (i.e. doing 35 hours in 4 days). All of which means that those that are working could use HS2 in their leisure time.

Given the stage the HS2 bill is and the cross party support it has received there is no reason why the bill can't continue its progress through parliament . With a new PM in place for a final decision to be made at the end of this year.

However, what difference this will make to invites for tender awards needs to be clarified given question as to whether UK will remain in or be outside the single market something that is contentious as it's tied in with freedom of movement which Angela Merkle has said can't be cherry picked , you have both or neither.

Of more concern than HS2 must be the recent orders for new trains to be built and delivered in the future for Northern and TPE and the effect on these orders.

We also have franchises here operated by DB and in Europe operated by National Express and if this will contine ?

We seem to have that new Base Tunnel ahead but have no idea where it goes to when we emerge at the other end !

HS2 say that the biggest users will be leisure travellers, with less business users and commuters. So who are these leisure users? Not young people because they'll be at school or uni. Not working people because they'll be at work. In the off-peak periods when fares are lower, the users will be mainly pensioners - a growing group. Wouldn't it be better to give these pensioners free tickets to Alton Towers than trashing the country to build a 400km/h showpiece railway? Of course, the passenger numbers have been massaged to make HS2 look viable - which it could never be. We do need new tracks northwards from London but HS2 is absolutely not the answer.
Cheryl Gillan for Transport Secretary?

HS2 is more than likely to be killed by Brexit and I'm grateful for Rail News, a sycophant of HS2, pointing it out. Fortunately, we can get everything promised by HS2, and more, for less money with less destruction. Rail News's rules forbid me to say how.

Anyone who thinks that this is a good thing for the rest of the network possibly hasn't realised that some of the linked projects (rail services around Birmingham, Crossrail 2 and the like) all receive greater benefits from the progression of HS2. Therefore without HS2 there is a risk that such schemes are also delayed which could adversely affect commuters across the country,

Denis, as far as I am aware no company has been instructed to start building trains for HS2*, yet several companies have been instructed to build new trains for Scotland, Northern, Transpennine Express, GWR, Thameslink, SWT and Crossrail which will provide a lot of decent trains for the commuters across the country, all of which were progressing as well as HS2.

In summary HS2 and improvements to the rest of the network isn't an one or the other it is both. With both providing extra benefits to the other (thus increasing the likelihood of the other happening).
[*You are correct. Any procurement of HS2 trains will be some years away.--Editor.]

This can get the boot for me – our current railways should be the priority. ;)

Why not stop this project now and get the company making the trains make decent trains for the commuters across the country. Who precisely is HS2 meant to be for by the time it ever gets built no one will be able to afford to use it. Another White Elephant.