Posted 12th July 2016 | 2 Comments
Frustrated commuters call for action over Southern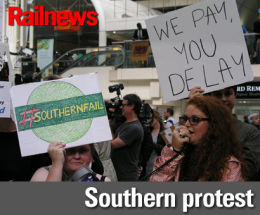 THE crisis at Southern was deepening last night, after the first day of an emergency timetable which involved the axeing of 341 services -- around a sixth of the total.
Angry commuters protested in strength at Victoria station in London, under a banner reading 'Commuter Hell', while it was reported that a City lawyer who claims she was forced to resign because of Southern's problems is threatening to sue Govia Thameslink Railway for loss of earnings.
The emergency timetable was introduced in a bid to improve the reliability of Southern's services, which have been disrupted by high levels of sickness among conductors.
At the heart of the matter is the continuing dispute over the proposed extension of driver-only operation to most Southern services, although the company said former conductors will become 'on board supervisors'. They will no longer operate the doors, and will concentrate instead on revenue protection and giving assistance to passengers. Govia Thameslink has pledged that no jobs are at risk and that pay rates will be maintained.
The RMT continues to claim that DOO poses risks to passengers, and remains firmly opposed to any extensions. It has already staged several strikes. The dispute has spread to Scotland, where train services are returning to normal this morning after a 48-hour walkout -- one of several called in protest at similar plans for more DOO on ScotRail. More action is planned.
Southern has said it will begin the changeover to more DOO in August, but the RMT has offered to suspend industrial action for three months if Southern will place its DOO reforms on hold at the same time, while fresh negotiations take place. However, Govia Thameslink has given this proposal a cool response, saying that a three month postponement is not necessary, although it remains open to talks.
The first day of the emergency timetable saw performance figures rise sharply, with Southern reporting at 16.30 that some 82 per cent of services were running to time. The figure for the day might have been better still, but some morning trains had been delayed by traction current problems near East Croydon.
Southern said: "The changes we made today have, so far, delivered an encouraging start to what we wanted to give our passengers: a more robust timetable with more trains running to schedule at times when people need them the most.
"But while we cautiously welcome this news, it is early days and we also realise that what our passengers really want is for us to get back to our normal timetable as quickly as possible."
Commuters staging the 'Commuter Hell' demonstration at Victoria station last night would have agreed. They described 'Southern Discomfort', protested that 'We pay, you delay', and brandished a mock skeleton which was allegedly 'still waiting for the next train'.
A protestor told Railnews that she was there on behalf of one of her employees, whose journey from Watford Junction to Shepherd's Bush has been disrupted by the emergency withdrawal of all Southern services between Milton Keynes Central and East Croydon.
Beverley Lowry, who lives in Clapham but runs a small business in west London, said: "He can't get into work. It's really frustrating, but it's not his fault." She added that she would tell GTR chief executive Charles Horton: "Just sort it out and get your trains running. Other companies can do it."
The anger felt by delayed passengers seems set to continue. There have been calls for a fares strike and for Govia to be stripped of the franchise, although so far the Department for Transport has ruled that out, with rail minister Claire Perry saying that she does not believe transferring the operation to the state temporarily would solve anything.
Meanwhile, lawyer Emma Green may be set to test her rights as a frustrated Southern commuter in court. She said the 'constant delays' she experienced while commuting from Littlehampton to her office at Cannon Street had forced her to resign and accept a lower-paid job in Portsmouth. She concedes that challenging Southern in court would be 'very difficult', but has invited other lawyers to join forces with her to prepare a case.
Reader Comments:
Views expressed in submitted comments are that of the author, and not necessarily shared by Railnews.
It's beginning to feel like Connex all over again!

Not paying for tickets isn't going to hurt GTR directly but could force the DfT into action if their revenue suffers

It's so sad that everything has come to a head in this manner and commuters have to sacrifice frequency as a makeweight for a 'predictable' service

I just wonder if we will ever hear the truth in this dispute. Add in ScotRail disruptions and threats over VTEC it seems that the RMT are going to inflict misery the length of the country

Surely nice new trains should be a good thing and not a reason to engage in a campaign of industrial action? Does nobody involved not stop and think that regardless of who thinks they are right or wrong it's passengers who rely on a rail service that are feeling the pain here?

It makes me so angry that an industry we should feel proud of is being dragged into the gutter in a dispute that doesn't seem to be necessary