Posted 19th July 2011 | 17 Comments
New anti-HS2 report dubbed 'massively misleading'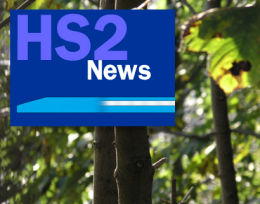 A THINK TANK report which is deeply critical of the plans for HS2 has been dubbed 'massively misleading' by supporters of the scheme to build a High Speed line from London to Birmingham and the north of England.
The government is currently consulting on the proposal, which could see the first section opened between London and Birmingham by 2026.
The Institute of Economic Affairs, which is also urging fresh cuts to public spending amounting to more than £200 billion, has condemned HS2 as a 'vanity project', and claims that it is 'economically flawed'.
Dr Richard Wellings of the IEA, who helped to write the report, said: "High Speed 2 is another political vanity project – like Concorde and the Millennium Dome – being ploughed ahead with with complete disregard for properly thought-through commercial prospects."
But his views have been swiftly rebutted by pro-HS2 campaigners.
Professor David Begg, director of the Campaign for High Speed Rail, said: "I am hugely disappointed and shocked by the IEA's analysis of High Speed rail. This is a weak regurgitation of weak research carried out by the Taxpayers' Alliance in February, which has not stood up to public or industry scrutiny since.
"Just like them, the IEA declare that the scheme will cost £1,000 per taxpayer. This is grossly disingenuous, as it fails to account for fare revenues, private investment and generated taxation that will offset the public investment.
"The IEA have completely failed to grasp the wider benefits of the high-speed rail project, which will create jobs, boost investment and spread the economic wealth of this country to places outside the heartlands of London and the south east.
"I would expect better from an otherwise reputable think tank than to parrot misinformation and repackage the propaganda of opponents to the project, who are clearly motivated by a mixture of small-state ideology and 'not-in-my-back-yard' attitudes."
Reader Comments:
Views expressed in submitted comments are that of the author, and not necessarily shared by Railnews.
i am against hs because it will ruin an area of natural beauty, and it doesnt benifit us in any way

"More people will not switch to rail as it is going to be so expensive to buy a ticket. They will just be passed by empty trains.

There will not be less CO2 as the energy consumption of the trains is far higher. Improving links to Birmingham airport will not create less air traffic."
- Isabel Conolly, High Wycombe

Yet Another Rich Nimby? There are no substance to these assertions, and there are figures available to support the opposite.


'The IEA fails to recognise the enormous benefits of HS2'. I wonder why? Could it be that actually studying the proposal for more than ten minutes led to the conclusion that it is a stupid idea, a 'vanity project'?

More people will not switch to rail as it is going to be so expensive to buy a ticket. They will just be passed by empty trains.

There will not be less CO2 as the energy consumption of the trains is far higher. Improving links to Birmingham airport will not create less air traffic.




in fact there is so much actual evidence to support hs2 that it should go ahead most certainly not the other way round !
i guess by evidence robin from tamworth means repeating the same statements that have already been discredited. at least he admits he lives near the proposed route !

I think the current HS2 proposal is too ambitious. We need to make it future-proof but not spend unnecessary money now. If the environment is a serious concern then the trains can run slower to save energy, but if building a completely new line the alignment should be as fast as we might need for the next 150 years. So I would suggest:

1 - Go for a sensibly fast line (e.g. 170 mph) rather than a headline-grabbing speed.
2 - Build HS2 from London to Birmingham International Airport, with a plan to extend north to Leeds and Scotland. Reorganise cross-country services to go via Birmingham International rather than Birmingham New Street, in order to reduce congestion at the latter station.
3 - Don't rebuild Euston station. Just use 240m trains for now, maybe upgrade to longer trains in the future if needed. Divert the slow West Coast Main Line trains onto Crossrail, and link HS2 to the existing slow lines to Euston. The new tunnels can be in the Acton area, avoiding the need to tunnel under Primrose Hill.
4 - Build a loop going to Heathrow and maybe taking over the Heathrow Express, but the main line should not take a detour to Heathrow.
5 - Don't build a station at Old Oak Common, because it will be in an awkward position between a depot, prison and park and will attract few passengers.
6 - Build the HS1-HS2 connection at surface level along the North London line, avoiding the need for tunnels in that area. It doesn't matter if this short connecting section is not high speed.

HS2 delivers 88% of its supposed "social" (time saving) benefits after 2043 - assuming we are all 4 times richer by then and earning salaries of £250,000 (in 2009 money). The cost in 2009 cash is £43bn to build it, probably £66bn in inflated cash terms - the real budget.It does nothing for other rail capacity before it all opens in 2033 and it is then so limited and inflexible that most UK rail travellers will never use it. Paid proponents, like Begg - or does he do all this fact-free propaganda for free? - claim lots of growth benefits but other than the deeply flawed KMPG analysis for Greengauge/centro, nobody has identified any benefits other than to West London property developers and those that want to concrete over the east Birmingham green belt. Oh, and there are already big cuts to conventional rail in the current HS2 Ltd business plan and that is before it has gobbled up the available rail funds. Think what you could do with an investment budget of £45bn on the current rail and road network (and even schools and hospitals) and then ask if we need this ludicrous scheme.

The Millenium Dome is now used and known as the O2 and is the most successful entertainment venue in the WORLD!!!

So when anyone uses this nonsense statement one should know they are living in some fantasy world which is time locked.

As for those who say HS2 should use the Great Central then surely that is whats planned but this is the 21st Century so dont keep thinking of Thomas the tank engine.

The best way forward is to follow the example of the DLR and not Crossrail with HS2 and build it in sections and transfer existing high speed services to the new line as sections are built.

For eample, add a new line to the Northern Hub between Birmingham and Manchester and when built transfer pendolinos to it thus releasing capacity on the existing historic network.

The reality is that in most countries HS2 would be seen as no more than a branch line but in this country where investment has always been starved there is a fear of large amounts of money. Thats why the DLR which was built in stages got built while Crossrail was parked in sidings.

An excellent document on building the Channel Tunnel Link (HS1) was made and it showed how high speed railways are built by first building a road and then laying a track on top, so lets convert the M40 into HS2 - Wonder what reaction from 'The Midsummer set' this proposal to save money would receive?

Odd thing is the way Chiltern Railways have gone from a branch line to near inter city 100mph railway and nobody has even noticed going by the lack of complaints!!!

There are other countries having problems with their HStrains.As Robin Powell said let us continue to improve what we have .Elecrify more lines remove more 1st class carriages that are under used.There was one train Paddington to southampton 8 carriages 3 1st class with 3 people and the other 5 crowded .So where are all these 1,000 1st class payers going to come from to fill a train every 4 mins for19 hours a day?the idea is crazy.

HS2 is like the M40 past High Wycombe, and past Banbury and Warwick, the A 34 past Newbury, the A 40 beside Oxford and the A41 Tring and Hemel Hempstead Bypass and Amersham A 413 bypass road in th heart of the area of greatest concern; all BYPASSES to avoid congested local areas, separating the fast through traffic from local.
Motorways, high streets, suburban roads, lanes and cycle tracks. Each have their uses in providing for different strands of traffic' but which meet and link up at appropriate places.
So too, a High Speed Railway, freed from the encumbrances of a "mixed use" line, especially one whose route was decided to facilitate the primative locomotive powers of the 1830s, would provide a long overdue BYPASS for fast, long distance traffic, but which would also connect with the "classic" network at strategic points.
Like the "cut off " lines built by the Great Western in the early 20th century, HS2 is a modern BYPASS.

On one website it is alledged that Dr Richard Wellings of the IEA, who helped to write the report, is an organiser for the 'Keep Burton Green' anti-HS2 action group and lives close to the proposed Route 3.

Apparently he promoted a wine-tasting evening the group hosted to raise funds to oppose the high-speed rail project.


I am a Eurotunnel shareholder and recognise the problems there was in getting the Tunnel built because of rubbish attacks like this from right wing groups with their many 'hidden' agendas.

If you believe not building HS2 will help the rail system you are either a fool niave or simply another extreme right winger trying to mislead. HS2 will make funding the local transport systems essential as it will consume passengers on a big scale. We can already see funding coming with beginnings of rolling program of electrification appearing hardly signs of rail being deprived of funds.
Thameslink +crossrail finish before HS2 starts-at last the regions can have their share of rail funds-but watch out for Boris and Ken and Crossrail 2

Your and others likely you in certain so called 'rail supporters' and 'greens' will assist the anti rail lobby in their objectives by getting into bed with opponents of rail a situastion I thought just simply could not happen.
Without HS2 it is more likely a massive road/motorway program the likes of which we have never seen will be begun and the anti rail section of DfT will once more be in the ascendancy and you wil, have given them the sword with which to cut the rail network to bits.

To meet capacity demand would need another 4 lanes each side of M40 from centre of London to Birmingham and 3 lanes alongside M6/M1 Birmingham to Manchester/Leeds. This is the real agenda of many opponents of HS2 IEA TPA RAC and others.
Rail will once more be starved of funds and left to rot (McNulty will give 'hidden strength')

So think again think again use your brain do not believe any of the ANTIFACTS handed out to you they are meant to stop you from thinking in depth by showering you with easy answers and 'silly statistics'

ANTis claim HS2 costs £1000/minute saved but do not explain how they
arrive at this figure and this applies to almost all their claims. They claimed 20million cu metres of spoil when it was less than 5m cu metres.
They claim HS2 75m wide when it is 22m and so on.
The message is identify your enemies and never join them they are not to be trusted.

The IEA report is very well thought through and covers the fundamental flaws in the thinking (or lack of) behind HS2.
HS2 is 'lipstick on a pig'. The Pig being the unattractive UK inward investment economy. UK competitiveness will create jobs - HS2 is not going to come close and is so far off delivery as to be irrelevant - even if it could create a good ROI

Years ago I worked for an engineering practice who undertook a feasibility study to tarmac over a main line.

The relatively straight and level alignment would make an ideal four lane highway.

The number of people arriving at a London terminus in the morning would make it impossible to find the room and parking space for private cars. Buses were considered. To allow for enough room for the number required to arrive safely, turn around and leave to allow space at the platforms the buses would require cabs at each end, have at least 10 joined together and be guided along a special track.

The amount of money wasted to appease the road lobby could have provided new signalling, rolling stock or station amenities.

Since then the number of people travelling increases year upon year by many modes of transport. High speed rail is viable alternative to road and air.

The routes could still be altered to follow the motorways in some places to reduce environmental impact. If some of the road subsidy was made available to rail, then the regional schemes mentioned earlier could easily be funded.





I am no expert on railway construction, but Ruth Kelly (a woman I loathe, I might add) did suggest a number of years ago whilst Secretary of State for Transport, that reopening the Great Central Railway would be a sound solution to capacity issues on the West Coast Mainline.

I imagine that project could be completed with less expenditure, given that the alignment is, more or less, still intact.

After this IEA report I've heard enough. There is now SO much evidence that HS2 is not in the national interest that we shouldn't be wasting any more time or public money discussing it. By all means come back to it in a few years' time when we've paid off our vast national debt. But for now, let's improve existing public transport links and build a world-beating digital economy - based on high-speed broadband for all - which removes the need for constant travel to and from meetings.

I'm extremely pro-rail (and a Eurotunnel shareholder) but it has always been obvious to me that there is no economic case for this line.

If it requires massive subsidies to keep going this will come from the Rail Budget and massive cuts will have to occur elsewhere on the Network.

The head of Birmingham airport said recently that HS2 was vital to help the Airport expand. Exactly right.

If this money is really available then there are countless other rail schemes that really need to go ahead

The IEA view fails to recognise the enormous beneitsof HS2, not only of itself but also as a building block towards a high speed network for the whole of England and Scotland.

The rationale for HS2 includes 5 principle benefits:
1. Higher speeds mean less time wasted en route
2. More people will switch from other modes to rail
3. Rail capacity will be higher
4. Environmental benefits - less CO2 and less air and road traffic
5. Basis for England/Scotland high-speed rail network