Posted 1st April 2011 | 10 Comments
HS2 'will allow major boost to existing services'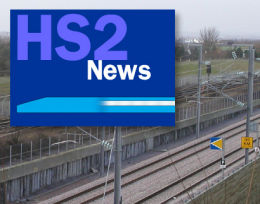 THE frequency of trains at some provincial stations could almost double once HS2 has opened, according to the transport secretary.

Mr Hammond was responding to claims from the Taxpayers' Alliance earlier this week that a new High Speed line would mean worse services on existing 'classic' routes.

He said in fact the opposite was the case: removing longer-distance traffic to the High Speed line would free capacity for more regional and commuter services, not only into London but also provincial centres such as Birmingham, Manchester and Leeds, especially once the second phase had been built from Birmingham northwards.

Some of the suggested improvements are almost 90 per cent more trains from Milton Keynes Central, 46 per cent from Northampton and 80 per cent from stations on the Trent Valley line such as Tamworth and Lichfield.

Mr Hammond is reported to have said: "Our proposed new HSR network would free up a huge amount of space on current railways for more trains to operate.

"Building a whole new line would create scope for people who live near the current stations to get more frequent services that are less crowded - I would also hope that this additional competition could mean cheaper fares as well."
Meanwhile, in a House of Commons debate yesterday, several MPs hit back at accusations of 'nimby' motives among the opponents to HS2.
The Conservative MP for Tamworth Christopher Pincher said: "My constituents are not nimbys. They tell me that if it can be demonstrably proven that the business case stacks up, if there are proper mitigations in place and if they get fair and reasonable compensation for the loss they suffer, they will, through gritted teeth, accept the proposal. The trouble is that the business case has not been proven, mitigations are not yet known – the route was announced last December but in the Tamworth area we are still waiting for a roadshow, which we will not get until June – and, although we have had hints about compensation for blight, we still do not know anything about what we might get. People are understandably very concerned."
Later in the same debate, transport minister Theresa Villiers responded to her opponents by insisting that HS2 must go ahead.
"Perhaps most important is that delivering a major uplift in inter-urban transport capacity is not some nice-to-have luxury," she said.
She continued: "It is absolutely essential if we are to prevent a capacity crisis on the West Coast line and other key transport corridors in the years to come. No Government can afford to sit back, ignore the problem, and pretend that it does not exist."
Reader Comments:
Views expressed in submitted comments are that of the author, and not necessarily shared by Railnews.
You can't blame people for worrying about noise. Much of the blame is down to HS2 Ltd and the DfT manipulating figures and misleading people on likely noise levels - e.g assuming that HS Trains will be half as loud as they are now & choosing different power units for noise measurements to lower the impact. E.g there is a recording of a HS2 "expert" telling a visitor to a HS2 road-show that "HS2 will be so quiet it will reduce pre-HS2 sound levels overall". Utter nonsense of course.

People aren't stupid and no longer trust HS2 figures on noise and the number of properties affected. Their view is backed up by HS2's refusal to release the noise contour maps which show sound levels along the line - despite Hammond's statement to parliament that they would be released as part of the Consultation.. What is HS2 hiding?

Finally, 61dB is 10 times the level recognised by the World Health Organisation as causing annoyance to the majority of people. (1999 Noise Guidelines). It is also 4 times the level of noise - 55dB(a) Laeq - thought to trigger hypertension with associated increased risks of heart disease and strokes (WHO Guidelines)

HS2 Noise – AntiFacts or Real Facts
This is how the opposers of HS2 demonstrate the level of noise from HS2 to the people of Whittington and Fisherwick as reported in the local newspaper.
'Stop HS2 action group's "DEAFinately Noisy" event starts at 6pm with the roar of a high speed train, recorded from a distance of 350m, played throughout the village.' they say
From a factual viewpoint the situation is simply totally uncontrolled
The method is subject to meddling with the recording or playback level and therefore totally unrepresentive.
The recording terrain is unlikely to represent any situation other than that at the recording site. Either of these makes the demonstration highly suspect at least.

Assuming the Antis have not committed any 'electronic modification' just how did they allow for the fact HS2 as it approaches from the south is in a deep cutting (6metres) making the line invisible and substantially reduces noise levels.

How did they allow for the fact that here HS2 is also almost double the distance from the noise souce than the recording was made.

Finally how did they allow for the difference of terrain between recording site and Whittington.
HS2 will not be as loud as the Antis demonstrated or claim you can be sure of that. They are not stupid so they must know this was yet another attempt to mislead those less informed by yet one more AntiFact.
To seek out for myself the situation at Whittington demanded a visit to the village to take noise level meter readings 'on site' so to speak. The measurements taken may not be precise but accurately represent the situation as described.
The ambient noise level in the Village was 60/65dB.
At the highway maintenance site (junction of A51 and Whittington Common Road) I carried out noise level tests of the noise ambience away from the village and by using my car radio as the noise source turned up to produce 95dB at the speaker in the car.
One yard from the open car door the noise level was 92dB; 40yards away the level was 61dB and ambience fluctuated with traffic at or around this level. Mean levels were recorded.
Using this trend HS2 noise in the village 500m from the line would have disappeared to become just part of a fluctuating background and probably less than the noise from the Village hall on a good Saturday night.
Of course the real truth would be the noise would be attenuated by both cutting and distance. Ignoring cutting and assuming noise level halves each time distance is doubled the true noise level at the village edge nearest HS2 would be less than 60dB i.e. lower than background noise in most active villages or when watching TV.
People of Whittington and elsewhere visited by HS2 opposers should seek alternative views to those of the Antis. Beware of their scare mongering attitude, they will do/say anything to scare you. It is a must to test the 'Anti facts' they give against the real facts.

The UK Needs HS2, delay costs money lets build it NOW.


No company will want to invest in the UK, if mobility and therefore business is impaired by an overcrowded, difficult transport system that is over-reliant on oil. Peak Oil is the real game changer here. We have to install alternative low carbon capacity ready for the oil shortages that will make kerosene, petrol and diesel unafforable to most.

The latest gimmick of the AntiHS2 mob is to 'demonstrate how loud HS2 will be by playing the recorded noise of a TGV (at 95dB) in the village of Whittington (Lichfield).

Now HS2 is in cutting as t approaches Whittington from the Birmungham direction and exits that cutting just as it passes the village. The village at its closest point is about a kilometre away at the nearest point.

No doubt the Anti HS2 will show their usual accuracy in depicting the noise level in the village by blasting the recorded noise out at a level of 95dB.

Of course the real truth would be the noise would be attenuated by both cutting and distance. Ignoring cutting and assuming noise level halves each time distance is doubled the true noise level at the village edge nearest HS2 would be less than 60dB ie lower than background noise in most active villages.



HS2 is a major improvement which will create a massive increase in NEW CAPACITY something that small projects wont do on a longer timescale.

We have the recent WCML where billions were spent but most of this was simply to replace worn out assets very little extra capacity was created with the 4 tracking in the north west being the main upgrade in capacity.

Many smaller schemes are underway with the Hitchin flyover on the ECML just approved and the recent announcement of electrification together with Crossrail and Thameslink also adding improvements.

The big question on HS2 is whether we could benefit from the scheme earlier if sections of it are built ahead of the main construction allowing fast trains to Manchester to run along the new route thus releasing local capacity long before the main HS2 reaches even Birmingham!!



Seems many have simply forgotten one simple fact

More than 95% of the HS2 budget isn't for now - it's for ten years hence when major projects such as CrossRail and Thameslink have completed. So if you're looking for something to cancel that will provide money for "little tiny projects" I suggest you ask the minister to cancel either CrossRail or Thameslink - mind you I wouldn't shout about this too loudly in and around London - it might not go down too well?

While i see the benefits of HS2 and am behind it, i would rather see maybe a few little projects go ahead. Inc various chords around the country that would help railfriehgt

Yes, the frequency of commuter trains on existing routes could be increased by building a new £33 billion line to take the longer-distance trains.

However, by sorting out a few key pinch points on the West Coast and East Coast Main Lines, and improving the signalling, you could provide adequate capacity without resorting to spending £33 billion.

I know which I'd choose.

Because this has major, strategic, UK-wide implications. The Portishead branch doesn't.

Why is there money for this but not any for little tiny projects.

My favourite for re-opening is the Portishead Line linking to Portbury Docks. Only 3 miles and all Planners agree that this would ease traffic from the south into Bristol enormously. Estimated cost is £10 million.

Government Minister, Liam Fox said recently 'I'm sorry there is no money for this scheme'.

There are literally dozens of small schemes like this that would be of enormous benefit to Communities but as always there is 'no money'.

So I repeat 'Why is there money for big schemes but not these'.