Posted 10th March 2011 | 21 Comments
Business leaders urge abandonment of HS2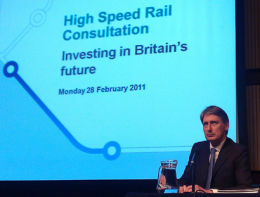 A GROUP of business leaders, as well as the head of the Taxpayers' Alliance, is urging the government to abandon its plans to build a High Speed line between London, Birmingham and the North.
In an open letter to the Daily Telegraph, the writers dub the HS2 scheme 'an expensive white elephant'.
The 21 signatories dismiss High Speed 2 as an unaffordable 'vanity project' that will cost each family in Britain more than £1,000.
They say it will be wrong to spend more than £30million on a 'train set that only a minority of fortunate passengers will use', claiming the money should be used to help the economy in other ways.
The alliance, which includes Lord Wolfson, the chief executive of Next, who is also the Conservative Party's competitiveness adviser, and Nigel Lawson, a former chancellor, wrote: 'An extremely expensive white elephant isn't what the economy needs.
'If the Government want to encourage growth, there are better ways to get Britain growing and make us more competitive than getting each family to pay over £1,000 for a vanity project that we cannot afford.'
Their views are in direct conflict with those of the transport secretary, Philip Hammond (pictured), who is whole-heartedly behind the scheme and launched the public consultation in Birmingham on 28 February, saying that 'after an extensive review of the options' the Government had concluded 'the only sustainable transport solution' for the future was High Speed rail.
Mr Hammond went on: "No other form of transport investment offers the same package of benefits. Indeed, countries across the developed world have come to the same conclusion – and are pressing ahead with ambitious plans for high speed rail. The UK simply cannot afford to be left behind."
His words have echoed the sentiments of the pro-High Speed rail lobby group Greengauge21, which has maintained that one important benefit of the new line will be to release capacity on existing routes. Network Rail expects the West Coast Main Line, in particular, to be full within six years.
Writing in the new edition of Railnews, Greengauge21 director Jim Steer said: "Reaction to the Greengauge 21 report on securing benefits on the 'classic lines' has included the argument that 'these new services will require subsidy'.
"To be expected, perhaps, with the Taxpayers' Alliance in the fray. Perhaps they would like to do away with all financial support for the railway and give the savings to their chums in the Motorists' Alliance? They will do the HS2 protestors no favours with their suggestion that HS2 doesn't offer a pay-back; sad to say there are still people who believe everything can be gauged in cash terms rather than economic impact."
Reader Comments:
Views expressed in submitted comments are that of the author, and not necessarily shared by Railnews.
I think a key question that I've yet to see answered so far is "how much will it cost to travel from London to Birmingham on this line?". Unless it's considerably cheaper than it is now, I sincerely doubt many more people will consider it as an option. Outside the cloistered world of rail fandom, travelling by train is generally considered extortionately expensive. My partner currently spends nearly a fifth of her income travelling a measly 45 miles each way by train every day. It's all very well all the readers of Rail News singing HS2's praises, but how many of you have your travel subsidised because you work in the industry?

Look at the reality: most people travel on trains because they're commuting to and from work. Is there a serious suggestion that people are going to commute from London to Birmingham every day? If anything I'd expect most travel in the opposite direction, which would seem to counter the argument that HS2 will bring benefits to the North. Maybe businesspeople will use HS2, but given the advances in telecommunications technology over the last decade, I would be surprised if many business people at all felt the need to travel to meetings, sales conferences and training sessions in another 10 years' time.

Who, then, exactly, is HS2 for? I suspect a lot of people will get very rich very quickly should HS2 go ahead, but the majority of them will be involved in its planning and development.




Regrettably a vast number of the British people are Nimbys at heart, i.e.ignorant, selfish, blinkered and short-termist. (These are the people who think they could bring high intellectual powers to deciding if we should stay in Europe or not - knowing few of the details of course!)
Centuries ago they would have led protest marches when there were proposals to stop living in caves and move into those new-fangled houses - and WASH for goodness' sake!
The important thing is not to let them stop forward progress. Many European countries now have or are building High Speed Railways, and they take up far less room than six-lane motorways!
In France they protest when a High Speed Railway is NOT going to pass through their town; here they protest when one IS. There's a lesson for us all in the UK

Would this be the same Nigel Lawson famed for 18% inflation and destruction of our manufacturing base?

Much nonsense is written about HS2 ripping up the countryside and yet a photo in a recent issue of Rail shows a eurostar passing at high speed a herd of cattle grazing in a field in Kent which goes to show the nensence of this argument.

In addition parts of HS2 will use the route of the former Great Central Railway so if it had not been for Beeching trains would still be running along this corridor. While the success of Chiltern Railways has been to re-open closed lines which now allows trains from Marylebone to reach the West Midlands via the Chilterns!!!

The problem is HS2 is being wrongly sold only on the basis of speed and therefore allows opponents to go on about savings of 30 minutes to Birmingham.

HS2 should be sold on increased capacity and even allowing people from the north direct access to Europe via regional eurostar as was the original case for the Channel tunnel.

However, given the delays opposition brings we need to better use what we have already and that means electrification and upgrade of the MML as well qas possible electrification of Chiltern Railways main routes.

There is also the issue of Euston and its approaches one solution would be to re-locate the Overground services into a new tunnel with new stations south of Willesden and a new Thameslink style station beneath Euston with potential for extension across London like Thameslink to Victoria/Waterloo. With the land released used for additional tracks above the Overground for Midland trains thus reducing the need to demolish buildings on the western approach to Euston.



Will the same tax payers alliance and business leaders report how much the wars in Iraq, Afghanistan and replacing trident will cost each household? What have we got from them, other than angering more people into terrorism?

Improving West Coast Main Line does just that and only that it will do NOTHING for MML or ECML.

Building HS2 will frree up WCML MML AND ECML for local and medium distance passengers AND for freight.

AND

Free Airports of Short Haul traffic enabling them to concentrate on LONG HAUL very profitable routes.


AND

Provide some relief for M Ways and other roads by really getting motoristsaout of their cars.

All that can or needs be said to Those Naive Rail Supporters (well they call themselves that anyway) who are against HS2 is they are NAIVE and should get their heads out of the sand.

If I had £17 billion (and the cost would probably be higher) to spend on the railways, then I would spend it on up-grading the East Coast Main line and opening up about 20 lines abandoned by Beeching (eg Lewes, Clevedon).

This would benefit maybe millions of local people.

I would not spend it on huge big attention seeking schemes so beloved of politicians.

If oil prices go higher than travel in general will all fall, and the costs of this project rise. (eg less traffic, more electricity costs.)

One wonders why we have the internet and telephones, when all Business Leaders want is to travel around the country faster and faster on business expenses.

With the cost of fuel continually rising the money being spent on HS2 should be used to electrify the rest of the existing rail network, otherwise there is a real risk that those of us who currently live outside the privileged electrified areas will not be able to afford to get to work no matter which mode of transport we use, to the detriment of the economy.

Those advocating abandonment should be reminded that the cost of HS2 will be spread over many years and will breed immense amounts of national confidence and pride. They should also be reminded that when a big project like this on the railways is carried out there are spin offs that benefit other rail areas and in the case of Manchester the spin off will be the Northern Hub project which will improve everybody's commuting and travel experiences.

The most important advantage however will be the ease with which jobs in the south will become available in the north. Firms and Government departments and foreign investment should find the lower costs of the North attractive by having such quick links to the capitol via HS2.

In my personal experience other countries around the world have experienced major job opportunities in areas away from the capital as a result of high speed railways - typically France, Japan, Taiwan, China, Germany, Italy, Spain. Why shouldn't we?

I suspect that the business leaders are part of the road lobby, and want cars and lorries to remain the norm and can't stand the idea of a major change to rail. Did anybody complain about the building of the M40?

so 21 say not to build it - kind of pales beside all those in the major parties and many businesses and councils throughout the country - hs2 is needed and needed asap home come virtually every other country in europe and others around the world such as china have them and are building more. they cant all be wrong !

if wee didnt have pollution problems with short haul flights and the roads werent crowded and the railways carrying more and more people i could see the argument against. otherwise there isnt any reason to not build hs2 that stands up to any kind of scrutiny. dont NEXT want a solution to transport congestion ? do they use rail or are they another retailer only using roads.

they had me for a moment - then someone mentioned the taxpayers alliance were involved. Not a heavy weight or knowledgeable group then.

Anyone would think we have not built one of these lines before. HS1 is a great success and the landscaping and environmental work before and during construction was high quality. The opponents to HS2 are the same people who objected to HS1 and now bitterly regret it bypassing their town.

We are all in this together and it is up to people along the route to play their part inour economic recovery not spin badly researched information.

Lets get the freight off the WCML, if we have to build a new line let it be for freight and be capable of stacked containers as well as carrying semi trailers as they do in the USA and maybe even go the whole hog and carry lorries for the bulk legs of journeys as per the channel tunnel. Leave WCML for passenger services and introduce the improved in cab signalling as originally intended.



Extract from the Daily Telegraph letter from HS2 opposers
Railnews did not report the tail of the DT article which said
'The high speed rail project has had all-party support, but in recent months Maria Eagle, the shadow transport secretary, had signalled that Labour's support could be weakening - although Ed Miliband has since thrown his weight behind the scheme'

As for the letter from HS2 opponents lest see some of the signatories

a truck manufacturer - hardly a supporter of rail
a banker - their record as business case experts is questionable at least
a ex chancellor- whose record of support for any public transport is nil or less and now heads an organisation that denies global warming hardly a defender of the environment
An ex Frontperson for the Institute of Directors and not a supporter of public anything
A prominent Member of the Taxpayers Alliance an organisation you would expect to give rail a unbiased verdict
The Chair of a Right Wing think tank
To these we could add the Motorist Alliance and Geofrey Robinson never a supporter of rail'

All in All just a list of those from whom HS2 could hardly have epected any different verdict

If Lord Lawson is against HS2 then HS2 must be good for the nation

When handing out what HS2 costs they never compare with the benefits so here goes _
A simple back of a fag packet calculation ridicules their attempt at over egging the HS2 costs.Construction and operating costs total £10billion, the other £6billion (NOT £10billion) represents 'virtual' money used in cost benefit analysis. Planning, construction, operating costs are £10billion excluding cost added for appraisal purposes.UK has 60million inhabitants, taking four persons per household produces £650/household or £160/person/year over 30(60) years i.e. £5 per year or 10p per person per week.Building HS2 costs us £10billion but we get £20billion back to invest in schools, hospitals, local transport services, electrify the railways and into the bargain have fast frequent reliable journeys with a 30 per cent reduction in journey time.It will also bring increased property value to most houses in Berkswell and Burton Green, Hampton and Balsall Common.Opting for HS2 gives connectivity to Europe, London Crossrail, Derby/Sheffield/Leeds/ Newcastle Edinburgh/Glasgow, Preston/Manchester/Liverpool and probably Stoke and Coventry.Once everyone recognises just how efficient, reliable, comfortable HS2 can be passenger estimates will be easily met. The interchange station will be nearly a mile from Stonebridge roundabout with parking space for 7,000 cars. It will be quicker to drive to there from most of the north of Coventry (and north Warwickshire) rather than drive to the Coventry city station where there is no car parking available.Public transport operators will no doubt provide direct express services to interchange and serve the exhibition centre the airport and the existing rail station.Capacity freed up on the WCML will enable more services Coventry to stations along the WCML. The city was misled in opposing HS2, it still has great bargaining power if it drops this selfish stand.HHAG should also note the width of the route is 22m not the 72m they claim that is a 100 football pitch hole in their case. When they drop their silly pride even HHAG supporters will use HS2, and received compensation into the bargain. Lets Get On with HS2. Delay costs money and jobs

And so the nimbys poured on scorn
Desperate to stop our train
Chelsea Tractors at the ready
Their fight will be in vain.

The new fast line it must be built
No matter what they say
The motorways are at a halt
So rail's the only way.

Surely the vanity project was the WCML Renewal project? All that money, effort and disruption, just to give the WCML a life extension of less than 10 years and a pretty small increase in line speeds? If HS2 had been built earlier, the positive capacity impact would still have been realised and £10bn could be in effect knocked of the cost of HS2.

Who are these 'business leaders'?

Unbelievable negativity!

Can we state the counter statement from business too please. A large amount of senior business leaders gave a resounding YES to HS2.

It needs to happen! We are already in the dark ages with our transport. If we don't get HS2, this country will go further down the pan compared with its European (and wider) counterparts.

If we end up with no HS2, will the last person to leave the UK please remember to switch the lights off.....

"Some" business leaders urge abandonment of HS2, whilst others are very supportive of the project; it all decides which side of the fence you sit on.
In my opinion it's a far better investment in UK Plc than much wasted foreign aid, attack spending by the MoD or endless welfare payments.

Unless these 21 signatories can convince the business organisations to which they belong, then they are just 21 people against the HS2 proposals being consulted on. i.e. their opinions will count for no more than the average man in the street.

Also it is worth remembering that some of these 21 individuals may not even bother responding to the national consultation, as their real game is to discourage public support for the proposals.

HIGH SPEED RAIL

As libraries padlock their hallowed doors
And swimming pools close to further the cause
The plan for expenditure on this new scheme
Will cost us billions to fulfil the dream

Crumbling schools with no hope of repair
Hospital wards facing closure – despair!
Careers of policemen cut short in their prime
To enable the affluent to cut journey time.

The service of soldiers curtailed by email
And naval equipment offered for sale
Air and sea rescue will soon disappear
As the vision of High Speed Rail looms very near

The plan for the track cuts a swathe through the land
Devastating the countryside on either hand
Destruction of habitat – fauna and flora
Replaced by a bullet with quicksilver aura.

Speed is the essence no matter the cost
Hedgerows and trees irretrievably lost.
What will be gained by the grandiose plan...
A huge national deficit, a millstone for man.

Paddy Spears (aged 80)
March 2011


Hammond has to bow to sense and cancel this vanity project before it costs any more to the UK taxpayer. Rail package 2 is waiting to be implemented at a fraction of the price for the equivalent time-savings.

The sudden spike in petrol and diesel prices should remind us that oil is running out. We have electric cars, but electric lorries? The obvious answer, which is already starting to happen, is to send more freight by rail.
The west coast main line is starting to fill up with additional passenger and freight trains being run. It will be full in a very few years.
HS2 will take all the express passenger trains off the west coast line, leaving plenty of room for new electric freight trains. HS2 is a no brainer, just like the M1 was fifty years ago. That is why it has wide political support, and why it is going ahead despite the financial crisis.