Posted 10th February 2011 | 23 Comments
Public scrutiny of HS2 begins as objectors rally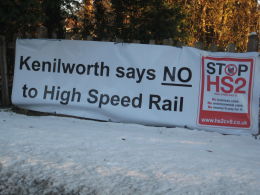 Objectors' publicity in the West Midlands
CONTROVERSY over the proposed High Speed Two project is about to move up a gear — with a 'national convention' of objectors being staged shortly before the launch of the Government's public consultation on plans for a new 400 km/h (250mph) railway line between London and the West Midlands.

It is also proposed that this route will be stage one of a High Speed network which would then be extended via two spurs to Manchester and Leeds.
The official consultation is expected to be launched in Birmingham on 28 February by Transport Secretary Philip Hammond, and accompanied by publication of a new central report and other documents on the business case, route engineering and alternatives.
Seminars for people involved in the consultation will be held in several cities during March and public exhibitions will start in London a month later and then move on to the West Midlands.
These exhibitions are expected to be held all along stage one of the proposed HS2 route — from London Euston to Lichfield, Staffs, with a spur into Birmingham city centre. There will also be smaller mobile exhibitions at other locations. All these are expected to be attended by officials from the Department for Transport and HS2 Ltd, the Government-owned company that is undertaking detailed planning for the new route.
Before this, the Stop HS2 campaign has planned a National Convention on 19 February at the National Agricultural Centre, Stoneleigh Park, Warwickshire, the home of the former Royal Show — a symbolic choice of venue, as the latest plans for HS2 would see it slice through the middle of the site, the result of HS2 Ltd moving the new line further away from the nearby village of Stoneleigh in response to objections.
What many objectors may be less aware of, however, is that one of the 'Rail Packages' put forward to the Department for Transport by the consultants W S Atkins as an alternative to HS2 would see a new 125mph railway line — half the maximum speed planned for HS2 — also pass close to Stoneleigh, as well as several other Warwickshire towns and villages where strong objections have already arisen to the high speed line.
The proposal is for what Atkins describes as a new "chord line" linking the Chiltern Line at Harbury, Warwickshire, to the West Coast Main Line at Berkswell, between Coventry and Birmingham.
The Atkins' proposal also suggests a new South Coventry Parkway station on the "chord line" could be provided in the narrow strip of Green Belt — hardly half a mile wide — between Coventry and Kenilworth where HS2 Ltd has recently proposed placing the High Speed line in cuttings to reduce noise and visual impact.
Stop HS2 Ltd says the Stoneleigh convention on 19 February "will be a unique opportunity to network with other organisations and campaigners" and "almost everybody from the anti-HS2 community will be there."
But anyone attending will have to pay £12 in advance, to convention@stophs2.org.
Reader Comments:
Views expressed in submitted comments are that of the author, and not necessarily shared by Railnews.
Why am I against HS2? Not because of Nimbyism, not just because of the impact on the countryside but because there is no business case and much higher priorities for public money.
Are we against improving the railway network? NO. Let's address capacity issues by spending less money to reduce overcrowding and improve public transport services NOW, not in 15 years time.

It seems to me that some people who are against hs2 are against it because they dont want it built near them which is a fair enough position, but then are fitting the facts to tailor that viewpoint.

we hear all kinds of things like electrification makes children ill, that the line will be a concrete bomb that represents armageddon and that the line will be much wider then it actually will be. we also hear claims that the proposed hs2 terminal is miles from the centre of birmingham (it is close to moor st and less then a mile from new st and a tram link is planned.) we are also told that tickets will be very expensive without substantiation and that only a few fat cats will use the line ! and of course to top it off the white elephant claim.

if the existing railway network was not overcrowded and not in fact carrying more and more passengers each year then i could understand the claim that hs2 isnt needed. it is important to also remember that hs2 is as much about capacity as it is about speed one just enables the other. another claim from the anti hs2 lobby is that "only a few minutes will be saved form london to birmingham" when the actual savings is around 40 minutes which is in fact HALF the current time of 80 minutes.
There is no point in stating something which can so clearly and easily be refuted !

the problem is that when such statements are made which are either exaggerated or cannot be substantiated it leads those for or neutral to hs2 think that the only reason why hs2 is criticised is because people dont want it near them, which most peole include myself would empathise with. When it comes to a planning enquiry those things will obviously be important but any criticisms based on incorrect information will be scrutinised closely.

The Anti HS2 conference at Stoneleigh Park brings just more repeats by the opponents of HS2 who claim that concern for the environment, visual and noise intrusion and the energy consumption of HS2 are among their major reasons for their opposing HS2. My apologies to the true believers in 'Green' principles for my irreverent use of their title when describing many if not most of those who oppose HS2 and falsely use Green credentials when doing so.

To witness adherence to true green principles I visited Stoneleigh Park on the day of their conference hoping to see a dozen or so coaches carrying full loads from Aylesbury/Amersham/Leamington/Kenilworth/Berkswell and Lichfield.
Instead I watched the devoted arrive in over 400 cars (plus me). The real heroes of the day were one on foot and one by cycle. I take my hat off to them it was pouring with rain.
If these cars were to at an economical speed they would form a queue 10 times longer than the single HS2 needed to carry the same number of passengers. They would consume four times the fuel, producing 4 times the CO2. Though the 'devoted' claim they would not hear the traffic its cumulative noise would be greater than HS2 and take no less than 4 min to pass. Imagine 430 cars passing along the quiet lanes of Warwickshire then waiting to get through the gates at the park – chaos would reign.

Now everyone knows HS2 will not serve Stoneleigh Park and would certainly not block up the quiet lanes around the park. However when claiming to be defenders of Areas of Outstanding NB the 'devoted' KNOW more than 16% of HS2 route will be invisible in tunnel and noise will be substantially absent.
By comparison along the route of HS2 M40/A40/M6/M42/M25 plus other 'A' roads cut wide swathes of highly visible concrete, noise visual intrusion and pollution across the countryside. The 'Greens for a day' admit they accept these despoilers because 'THEY benefit from them' - now there's selfishness. 'There ain't none more deaf as them as don't want to hear nor blind than those who don't want to see' seems appropriate.

These virtual 'Greens' are perfectly aware an additional 40% of HS2 route is in cutting, again reducing any visual intrusion or noise impact. They know this its in the route maps.
'HS2 should follow existing transport corridors' they say. What they really mean it should follow transport corridors in someone else's backyard. Look at the HS2 Route it follows the environmentally and populated minimum distance route utilising several existing transport corridors.
Another misleading claim is that population density is so great in the UK compared to the European countries operating high-speed rail. For their information the population density of UK (244) is less than Belgium and Holland and slightly greater than Germany (233). Once London is left behind only four towns are of any significant size until Birmingham Interchange is reached. They then have the nerve to complain HS2 is being driven through the low population density areas of UK just confirms they give NIMBY's a bad name.

The Government should let them have their day, give them fair compensation and build HS2 as quickly as possible. To many jobs depend on it.


The line will be built so get used ot the idea and lobby for more tunnels
and focus on how to limit noise and visual impact. So those complaining
can either waste their time or channel their energy into improving the
line.

Forget the 250 mph mad dash speed. Relay the track on the GCR trackbed and serve the villages on the way.

Mr. Hammond. Please do NOT do a U-turn on this.

What's all this rubbish about this being a project dreamed up by Gordon Brown? This was initially a Cameron/Osborne idea that Labour were very slow to get their heads round. Not a fan of Cameron/Osborne, but they were and are right about this.

Build it now and don't let the numpty nimby brigade stuff up the future of the UK's economy

This line must be built!!! I really can understand why the poor people who's house could be demolished to make way for the line, but more people need this line to be built. This is not about travelling between London and Birmingham its about reducing travelling times between London (and the SE) and the great cities of the North and Scotland.

I really hope the conservatives do not give in to the small minority who so viscously oppose it and so prevent the majority enjoying an efficient and quick mode of transport.

The AntiHS2 mob have certain Mantras. One refers to the power consumption of HS2. Here are the facts.
Private car 5 Seats; HS2 Zefiro380 1336 seats
Power Consumption car 20kw/seat; Zefiro 15kw/seat
A similar ratio can be assumed for CO2 performance

To transfer passengers from a loaded Zefiro would require accommodate a loaded Zefiro would require 270 cars. If HS2 line capacity is 15trains per hour full no less than 13000 cars would be required. Now that's noise and visual intrusion.
No less than 50% in tunnel or cutting noise and visual intrusion disappears over 55miles of the route Over much of the rest of the route the swathes of concrete and tarmac heaving with 44t lorries every few seconds adds to the delights of so called unspoilt countryside. With SSSI in the form of Motorway cafes and the historical routes M40 A40 M42 and other roads! Just what are they complaining about


Upgrade WCML
As for Pendolino on existing route (or via Chilterns)
A 'Twin Pendolino' has 838seats, 75% acceleration of Zefiro and a top speed 60% of Zefiro.

Cost
Though not a financial study if we 'translated' the HS2 report into those terms you could say the actual cost of HS2 would be £10billion, a further £6billion was added to cover construction risk and treasury optimism bias. Without these two 'insurance policies' BCR would be over 4 i.e. £3 return for every £1 invested. Because HS2 incurs 10 years of expenditure before any income, the use of discount rate of 3.5% for costing purposes will also weigh heavily against the BCR.

Not having seen the Atkins proposals first thoughts are that they may provide short term relief but at much higher cost with very little extra value. Doubling the Leamington to Coventry line and restoring the spur from it to Berkswell would be more cost effective.
A couple of points -
Atkins suggest spur between Harbury and Berkswell, just how would this relieve the WCML. Do they propose to quadruple between Berkswell and New St. Why should properties along this line suffer to save the 'wealthy of Wendover'. How do they get more than 11 cars into New St or into the London terminal/s
Is the Atkins submission just a spoiler?


I really dont think that hs2 is going to devastate the entire uk environment and also i would like these great swathes of countryside to be explained to me as i didnt think 2 tracks took much land up !

and i wouldnt describe 150 mph as trundling but if you think that then you should support high rail as you obviously think that the current railway is too slow. and the max speed on hs1 which i believe is in england is 185mph which eurostars achieve every day !

and interestingly it is the upgrading of the existing lines that doesnt have a business case as a dedicated new high speed line is more cost effective and provides more benefits. and upgrade means build more lines also so you are just realling saying built new railways but somewhere els e !

Being a regular traveller between London & Birmingham, I do not understand why there needs to be a 4th route. At present there are 3 routes:

The Virgin route from Euston is fast,comfortable, frequent and expensive. The Chiltern route from Marylebone is slower and less comfy,but reasonably frequent and flexibly priced. The London Midland route from Euston is very slow, extremely uncomfortable, infrequent and cheap as chips. So something to suit everyone.....at
There are parts of the country that do not have any rail link at all and I think that the money should be spent on extending the network not improving an area that is already adequately served.

High speed rail is affordable. Remember, it will take many years to build and so the entire cost will be spread out over these years. It's not all going to be paid in one go! The line will also pay for itself with the economic benefits it will bring, so we will see a return for this investment (you have to spend money to make money). By the time construction of HS2 starts, Crossrail will be nearing completion, our troops should no longer be fighting in Afghanistan and the economy will be out of recession so funds will be available.
If you think we should upgrade existing lines instead, remember we've just spent many years and £billions rebuilding the WCML. The WCML is likely to reach full capacity before HS2 opens. HS2 will be essential in providing extra capacity needed to help the economy grow.

High Speed Rail will boost economic output, create jobs, increase average wages in some regions, improve transport connections, increase capacity on the existing rail network, reduce domestic air travel (which has to be good for the environment!), reduce motorway traffic (and road freight if high speed rail will transport freight), create business opportunities, enhance the competitiveness of businesses, attract businesses to new areas (which, in turn will create jobs, supply chains and spending in local economies, bringing sustainable growth throughout) and create long term regional growth and regeneration. Oh, and yes, it will also reduce journey times (and not just to locations served by high speed rail).
The economic benefits of high speed rail in Europe, and other countries, can be demonstrated beyond doubt.
Every other major industrialised nation has recognised that high speed rail is key to economic growth and mobility.

For those of you against building a much wanted and much needed high speed rail network in this country, what are the alternatives that will also provide these kinds of national environmental, economic, transportation and social benefits?

This is passing through many sparsely populated areas and is of benefit to much more people than live in those places. Ultimately it is in their interests to protest it's construction, in order to secure a better compensation package which the rest of us taxpays will unfortunately have to fund.

I'm not sure why anti HS2 delegates from all over the country have to travel to Stoneleigh in Warwickshire to attend this so called "National Convention".
After all, these very same people have been claiming that HS2 is unnecessary, as video-conferencing can be used as a substitute attraction.

Of course, in the real world, people want to travel to broaden their minds, go on holiday, visit family and friends, attend concerts (pop and other) and confrerences etc, etc...

Though people thinking of attending the "National Convention" may care to consider why the "Royal Show" decided to stop hold their annual event at Stonleigh.

Yes, it was declining attendances and the weather, with attendees cars having to be dragged by tractor from muddy fields used as parking lots.

An what is the weather forecast for next weekend ..... rain, rain & more rain !!!!



There are a lot of people want it. The country needs it. There needs to be a pro-railway movement to counteract this nonsense.

Why oh why is the coalition going ahead with such a ridiculous idea they inherited from the previous administration? Makes me shudder to think that officials in the 'ministry' actually think HS2 is right for the country when all around us public services are being cut? Too many mixed messages for my liking.

Please don't be fooled by the brand name of 'high speed'.....do we seriously think 250mph will be achieved if this line gets built? Of course it won't. We will end up with "Concorde on rails" – there will be so many restrictions imposed under Health and Safety not to mention the wrong leaves, wind, snow and ice that HS2 will probably trundle along at not much more than 140 -150mph – bit like the current trains do.
And therein lays the answer. Invest and upgrade our existing rail infrastructure. There is simply no business case to support HS2, no environmental case that justifies cutting up great swathes of countryside and unless I died and woke up on a different planet UK plc cannot afford to spend £34bn now or in the immediate future. For a fraction of the price ticket we could however improve our existing lines from Birmingham to London and beyond. Ensure that more carriages are available in standard class and that trains run more frequently to match customer demand. Why is the last train out of London Euston to Birmingham on a Saturday night 21.49pm?
HS2 was dreamt up by Gordon Brown and his cronies at a time when the Labour party had sunk so low in public opinion ratings and they were frantic to generate some 'good news' ahead of a general election. I congratulate Labour spin doctors for coming up with HS2 when they did – a master stroke and a stroke of PR genius one might say! But if anyone tries to convince you that HS2 is right for the country then I am sorry they are either already on the HS2 gravy train (payroll) or they will be in future. 25 years of construction is a licence to print money for some consultancies, but HS2 will devastate UK plc both environmentally and financially.
Hammond would do well to distance himself from what will turn out to be the worst UK investment decision of the century if HS2 goes ahead!


The £12.00 fee covers the high cost of the venue and delegate packs.

The pressure must be kept up. Please turn up and support this event which will be attended by Christian Wolmar. The entrance fee will fund future court cases.

The fight against HS2 has just begun. It's a question of holding on until May when this con-dem coalition will collapse after the AV referendum is lost and the traitorous liar-dems are booted out after local govt elections. Labour can then send this white elephant to the dustbin.

It's time for real rail investment and to stop playing £32bn trains on lines that no-one wants or needs.

If you don't live along the line of the route, a high speed railway sounds like a good idea and you accept the government's logic without much scrutiny.

If you do live along the line of the route you are much more likely to go over the proposals with a fine tooth comb. Then you discover the flaws in the plans. Then you get accused of nimbyism. This is then used as a reason why your arguments should be dismissed and not be taken seriously.

I live along the line of the route and I can honestly say that if there were strong economic or environmental arguments in favour I would accept my compensation and move on. But there are no strong arguments in favour.

There are deep disagreements among transport professionals and expert commentators as to whether this scheme should be given priority, whether it is affordable, whether its economics add up, and whether its contribution to reducing carbon emissions by the transport sector is as claimed.

Even the government has acknowledged that there are no economic arguments. Phil Hammond has said "If we used financial accounting we would never have any public spending, we would build nothing ... Financial accounting would strike a dagger through the whole case for public sector investment ". Government justification now is now based on a nebulous idea of changing the social and economic geography of the country. They are disregarding their own rules and making them up as they go along. That makes it political.

With no strong arguments in favour, I am not going to sit back and meekly accept the disruption to the peace and tranquillity of where I live. It is incumbent upon us to inform those who don't live along the line of the route what the government are doing and what the implications are for them. With its ridiculous price tag, local transport projects will be starved of cash for decades.

This railway MUST go ahead! It is of vital importance to the country - economy, environment and for the benefit of the UK's train passengers.

Please don't let NIMBY-ism get ion the way!

If the bold claim that "almost everybody from the anti-HS2 community will be there" is correct it will be interesting to gauge the true size (in terms of numbers) of the anti-HS2 community, evidenced by theStoneleigh Convention attendance figures.

Will it be tens of thousands (or even more if some of the more hysterical predictions are valid) or will the numbers actually prepared to put their hands in their pockets (I'm assuming the £12 entrance fee is designed to raise funds for campaigning purposes rather than line anybody's pockets?) number considerably less?

If it turns out that the numbers of genuinely adversely affected individuals are relatively small, this will enable the public to place their legitimate protests in in a more accurate context; potential benefit to the National interest, ie. to millions, against the potential upheaval imposed on the few?