Posted 5th May 2011 | 5 Comments
HS2 campaigners combat 'ten myths' from opposition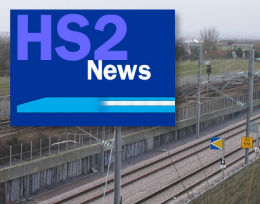 CAMPAIGNERS supporting the construction of HS2 have named 'ten myths' published by opponents of the plans.
The move has been supported by around 170 business leaders, including many from Chambers of Commerce.
The pro-HS2 lobby has set out what it is describing as the 'outrageous and exaggerated myths that are commonly pushed by those opposed to high-speed rail', adding 'the antis have made wildly misleading statements – from Warwick Castle will collapse due to the vibrations of the train to the UK is too small to benefit from a high-speed network'.
Among other claims it dismisses are that each British household would have to find £1,000 to pay for the line, pointing out that such a figure ignores both fares revenue and the wider benefits to the economy, which have been estimated to be worth at least £44 billion.
Professor David Begg, who is leading the campaign Yes To HSR, said: "This document is important in winning the argument for high-speed rail. For too long the opposition have been allowed to push misleading statistics and bogus exaggerations. It is time for them to own up to the facts.
"The economic case for high-speed rail is strong. This project must go forward."
Some of the opponents to HS2 have urged a major upgrade of existing routes instead, pointing to 'Rail Package 2', which was prepared for the Department for Transport by Atkins Global.
The group StopHS2 said: 'Rail Package 2 is designed to meet demand incrementally, has a superior rate of return, and costs just £2 billion.'
Even so, this latest push in favour of HS2 is being supported by Douglas McCormick, who is the managing director of the Atkins Global rail division.
Although Atkins produced possible upgrade alternatives for the DfT to compare against the proposals from HS2 Ltd, the company has long favoured high speed rail developments in Britain. Three years ago it proposed two High Speed lines from London to the North.
The supporters of the new document from Yes to HSR include David Frost, Director General, British Chambers of Commerce; Jerry Blackett, Chief Executive, Birmingham Chamber of Commerce; James Ramsbotham, Chairman, North East Chamber of Commerce; Geoffrey Piper, Chief Executive, The North West Business Leadership Team; Clive Memmott, Chief Executive, Greater Manchester Chamber of Commerce; Gary Williamson, Chief Executive, Leeds, York & North Yorkshire Chamber of Commerce; Neil Scales, Chairman, Liverpool Chamber of Commerce & Industry; Liz Cameron, Chief Executive, Scottish Chamber of Commerce; George Cowcher, Chief Executive, Derbyshire & Nottingham Chamber of Commerce Commerce; Yuri Matischen, President, Sheffield Chamber of Commerce.

Major business leaders supporting the campaign include Dalton Philips Chief Executive, Wm Morrison Supermarkets plc; Martin Gilbert, Chief Executive, Aberdeen Asset Management and chairman of FirstGroup plc; Lord Marshall of Knightsbridge, Chairman, Nomura and a former chairman of British Airways; Andreas Goss, Chief Executive, Siemens plc; Philip Green, Chief Executive, United Utilities; Paul Thandi, Chief Executive, The NEC Group.
Signatories from the transport industry include Alistair Dormer, Managing Director, Hitachi Europe Ltd; Paul Chapman, Managing Director, HS1 Ltd; Colin Matthews, Chief Executive, BAA Airports Ltd; Charlie Cornish, Chief Executive, Manchester Airports Group; Tim O'Toole, Chief Executive, FirstGroup plc; Douglas McCormick, Managing Director, Rail, Atkins Global; Paul Kehoe, Chief Executive, Birmingham International Airport; Adrian Shooter, Chairman, Chiltern Railways; Keith Ludeman, Chief Executive, The Go-Ahead Group plc.
Reader Comments:
Views expressed in submitted comments are that of the author, and not necessarily shared by Railnews.
A visit to Borough Market at London Bridge shows how despite the lack of space a twin track railway can be built in a very confined space and while it may not have the same guage as HS2 it shows how this "tearing up the country argument" is a load of nonsense. It was Marples and his Motorways that tore up the country!!!

One suggestion recently made to counter the antis in The Chilterns would be to build a HS2 station in this area this would surely make sense and could be linked to other lines either Chiltern Rail or GWR for intercchange purposes. The inclusion of a station would actually increse property values in the `area and so provide a very useful counter to the antis!!

One thing about HS2 is politicians still talk about starting from London and building northwards but perhaps we should look at combining HS2 with upgrades to the existing network and perhaps start by building sections of HS2 between Birmingham and Manchester and then divert existing Pendolinos via the route thus releasing capacity on the historic network.

Doing the above would help counter the Anti lobby as passsengers would see journey time reductions much sooner thus building the case for HS2 while allowing the work to rebuild Euston to be undertaken at the same time.

NB- I have just read a new book about Dr Beeching and it does raise the question of whether we need a new person to look at the railways he closed to see whether a case for re-opening some lines or sctions can be made given population changes which mean places with 200k to 300k dont heve a railway but do have a closed line!!

IMAGINE the next 20 years of rail chaos if they embarked on another "upgrade" of the West Coast line. None of us would live long enough to get a weekend train to Manchester.

about time hs2 critics stopped getting away with the wildly inaccurate statements made about hs2.

as far as rp2 is concerned, this would not have the same benefits as hs2 and indeed was one of only a number of rp packages that would be needed as an alternative to hs2.

the atkins report concluded that HS2 OFFERED BETTER VALUE then the alternatives when all the costs and benefits were taken into account, not to mention the huge disruption that rp2 et al would cause. funny that critics cherry pick the rp2 alternative out of that report yet ignore its overall conclusions !!!

It really is about time the argument was taken right back at the opponents of high speed rail who are finding every useless argument to say it's a bad idea. So every other country in the developed and in the major developing countries are going for high speed rail (even the small ones) but Britain is somehow a special case - what rubbish.

I might point out the present rail system cannot cope with today's traffic let alone a 15year upgrade with vastly inflated budget for a conventional rail upgrade that will also deliver half the benefits and the same low poor speeds attained by today's Intercity's.

When will the no lobby's learn that it simply isn't in the national interest to say no. We have more people moving and they need to be moved. We need to overlay the existing networks with a vast superior network in a scheme of even greater scale than that on the renewal of London's rail network at present. It's stayed for 100 years, now we need to built bigger and for more people in the 21st. There is no way around it unless these people want to see business gradually ebb away relatively speaking making us gradually poorer for it.

What is it about grand projects that no campaigners don't understand when it comes to economics and the country's well-being? I want jobs here and inward investment here. How pathetic do we look if we're crowded and refuse to build railways to cope and houses for people to live in? nimbyism and protectionism without flexibility and a reality check just makes my blood boil.

Now we know who the supporters of HS2(and likely funders as a result) are.

Now let us hear from the Antis who are the big funders of their campaign. We know about ex chancellers and a couple of wealthy lords hardly supporters of the Green movement or public enterprise in any form but who are the 'shadowy' forms afraid to come into the open. No doubt their motives will not be green.

ONLY TEN myths The brothers GRIMM attempts just cannot compare.