Posted 7th April 2011 | 26 Comments
HS2 trains 'should be slower', urge green campaigners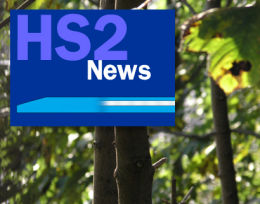 A NEW alliance of green campaigners is urging a rethink on the route and nature of HS2, accompanied by suggestions that if a new line is built, its trains should be slower than the government has proposed.
The grouping consists of a number of countryside organisations, including the Campaign to Protect Rural England, RSPB, Greenpeace, Campaign for Better Transport, Chiltern Society, Civic Voice, Environmental Law Foundation, Friends of the Earth, The Wildlife Trusts, and Woodland Trust.
These bodies have published a Charter which sets out four principles for 'doing High Speed Rail well'. They are not opposing the line altogether, because they fear that would provide a boost to the roads and aviation lobbies.
Instead they want radical changes, aimed at protecting the environment, and call for a 'national transport strategy', better long-term planning of the effects of big transport proposals and effective public participation.
The alliance said: 'Many groups commenting publicly on High Speed Rail to date have represented either people living along the proposed route or businesses and cities that could profit from it.
'Today's Charter draws together for the first time many well known national charities, covering environmental, heritage, countryside, legal and wildlife issues, in addition to other organisations. It seeks to achieve the best long-term outcome from high speed rail for the country, the climate, communities and the countryside.'
One suggested compromise is that trains could be slower, reducing the need for such a straight route.
Ralph Smyth of the Campaign to Protect Rural England said a reduction in the proposed speed, which is currently up to 400km/h, would make more routes available for consideration 'and provide more opportunities for engagement with local communities'.
"If they keep to the design speed it has got to be a straight railway," he pointed out.
Reader Comments:
Views expressed in submitted comments are that of the author, and not necessarily shared by Railnews.
High-speed rail is being touted as the green alternative, yet HS2 is being designed for ultra high speeds (400kph max) rather than the 300kph favoured for high speed rail projects in Europe and (now) China. I think high-speed rail is good in principle, but the HS2 specification is a mistake. It's as if Phil Hammond went out to buy a Prius but came back with a Bugatti.

Reducing the maximum line speed by 50mph is unlikely to make much difference to the journey times as there will only be a relatively short period between stations where trains will attain that speed. The main speed advantages of HS2 over classic rail are maintaining a flat speed profile (not having to slow down for Victorian rail alignment constraints, all trains operating at the same speed, high quality foundations etc) not ultra high speed. A 200mph railway with a better (faster) approach into London (Paddington maybe as it will be far better connected when Crossrail is in place) and getting rid of Old Oak Common as an interchange will recover any time lost by reducing the top speed slightly.
Any idea that we can improve the existing railway to the same extent for the same value is laughable. WCML is full, Pendolinos are being extended by 2 coaches (any more and you get into major costs extending platforms into tunnels, demolishing bridges and changing signalling headways). WCML upgrade cost £10bn and resulted in very few advantages. ECML would require a new tunnel and viaduct at Welwyn to increase capacity, never mind widening elsewhere and upgrading signalling (the reason trains still got at 125mph rather than the 140mph they were designed for).

We already have a slower version of HS2 its called "Chiltern Railways" and has been very sucessful at growing its market and proving a case for HS2!!!

Fact is our railways are nearly full and while some extra capacity may come from 4 tracking and re-opening lines closed by Dr Beeching the fact is we need high speed rail which also needs to include through Eurostar etc.. services from the regions to Europe as was promised when the Channel Tunnel was built!!!

The reality is high speed trains are often much quieter than conventional trains while their speed means the pass by in a much shorter time !



The hype is blinding us to some facts.

When HS2 reaches Manchester and Leeds in 2033 it will save 7 minutes on the current best journey time to Newcastle, 43 minutes to Edinburgh and 38 minutes to Glasgow. That doesn't seem good value for £34 billion. What we do need is good commuting railways and much, much beter roads.

This is NOT about London-Birmingham only for all you NIMBY's out there. The route to birmingham will also cut longer journeys further north.

Our trains are slow for Intercity's. What about Scotland? Don't they deserve to be connected to English cities in the north, nevermind London in less than 4 hours? Of course they do and only HS2 will bring that.

Finally, capacity - unless you know what's involved in upgrading a conventional railway, please....shut-up! No conventional railway upgrade will deliver the capacity required for the rest of the 21st century and a po;ulation of 70million to come. Deal with it - it's just a fact. It would cost double that of a high-speed line with major sub-contractor over-runs and budgets spiralling out of control because of the nature of how it needs to be done.

The railway is full. Therefoe there is every need for this railway and it's as simple as that. i hear some nonsense arguments on here about terrorism and other ism you want to mention, that'll always be there and is there with every line in Europe...pathetic.

21st century awaits and throughout human history here's how it goes as a mantra.....harder, faster, stronger, bigger as capacity and populations increase. It was no different in the Victorians era and the great engineers that built this country which many NIMBY's love (oh the irony) would be turning in their grave if they thought Britan was giving up!

If you have studied the facts and you still support HS2, is your view still valued, or is everyone who happens to voice a positive opinion merely a paid stooge for HS2 and/or works for a company that will benefit from the project (I've been accused of both)?

I'm in favour of HS2, I live potentially close to the possible route for the 2nd phase extension of the High Speed line and yes, I have studied the facts


As leading businessmen have said, this is a vanity project, typical of the DfT. The consultants retained to do the forecasts admit they were under pressure to get their figures out, and their basis was before the financial crisis. They dealt with this by shoving the growth numbers forward by two years - as if nothing fundamental had changed! This was all before the Coalition was told there is no money left!
The very least that a responsible Government can do is hold a public enquiry into the travel needs of the public and within that the demand that would exist at the present size of the economy for high cost high speed rail travel. Demand they need reminding is a function of price, which in turn depends on the capital and running cost of trains. Yet the Government's report does not tell us what the cost per passenger mile will be. Do they know? How many people will pay the higher fare to get to Birmingham CENTRE 10-15 minutes sooner, or to get to Newcastle
25 minutes sooner than on Pendolino trains on the existing line.
Why can't they address real rail capacity needs now with small sums instead of building capacity on unproven unmeasured forecast demand
over 10 years from now. Or is it just too boring and unglamorous to get on with the basic job of meeting the rail transport needs of ordinary people?

Many comments are high on rhetoric but low on facts.
NIMBYism does focus the mind, but doesn't necessarily undermine the argument. Many people only support a cause when they, or someone they know, has been affected (cancer, air-ambulance, victim support etc).
Everyone is entitled to an opinion, but its value to others is weighted by the knowledge and experience of the one giving it.
If you haven't studied the facts and your lifestyle and neighbourhood are not affected then the worth of your view should be valued accordingly.

SNCF with its long experience of High Speed does not want to go over 320 km/hr
(200 mph) due to serious cost increases in energy, trains maintenance, track maintenance and noise when trains are going at 350 km/hr which is technicaly feasible.

Quite simply these Nimbys are interested only in themselves. The welfare of the UK bothers them not one whit. To hell with the country so long as they are undisturbed. That's the long and the short of it, and they've always been the same. The fact that they are Conservative voters poses a problem for this Coalition Government - or at least the Tory part of it. Great courage is required from them - not something British politicians are known for! All power to Mr Philip Hammond's arm. One hopes his Seat is not in the Chilterns!

Sensible enough suggestion from the CPRE. HS2 Ltd knew exactly what they were doing driving a railway through an area of outstanding natural beauty and the negative reaction it would cause. Where are the alternative routes, their costs and their speed profiles?

Terminating HS1 in St.Pancras/Stratford without any thought to continuation of high speed rail north of Greater London was a planning disaster. Why should the route through the Chilterns and the cobbled together gesture of the North London line link to HS1 fill us all with confidence?

Whether you like the idea of High speed Rail in the UK or not, I cannot see how there is anything about the proposal for HS2 that is "Green". Why is it a good idea to encourgage an additinal 25000 journeys per day into and out of London, over and above "regular" growth in demand for transport?
Travelling faster consumes more energy per mile than going slower, whatever the mitigation it will be disproportionatley more noisy,
For £30 Billion investment surely there is a better return on investment than superimposing part of a new rail system on top of another, building new stations and new transfer points because HSR doesn't connect very well with conventional rail.

HS2 should not be built .The whole of the country needs improved rail.More electrification,longer trains at rush hours.More co-ordination with train and bus timetables.More investments in and around our larger cities so that people have
no need to travel so far from home to work.

The heading should be 'HS2 should be cancelled'. We desperately need increased CAPACITY, NOT SPEED. This will be achieved very simply by improvements to the current system, ie extra carriages and changing some 1st class carriages to 2nd class, which have a higher capacity. This simple and much cheaper solutions is being consistently ignored by government. Why when it is the common sense solution.
We cannot afford HS2 so extra borrowing will be needed to pay for it, at a time when vital services are being cut drastically, it doesn't take a brain of Britain to see that something is very seriously wrong somewhere and people will suffer greatly for no reason other than someones ego. Remember the millenium dome and Concorde, very pretty but no use to anyone.

There is no logic in having a design speed far higher than any other European country when we are one of the smallest and most densely populated countries. We already have shorter rail journey times from our capital to main cities than our European neighbours. Power consumption (this is less green daytime generated electricity not nightime as with electric cars) noise and environmental damage all increase exponentially with higher speed.

I smell a rat here

A rat funded by some very well heeled and well connected individuals residing in the Chilterns who don't want a new railway line running through their back yard.

The rationale goes like this;
• Argue that your not against High Speed Rail in principle but you think the speed threshold is excessive
• Erode the consensus within ministerial circles/government through this plausible/reasonable approach
• Simultaneously court public opinion through the same (reasonable) approach
• Gradually achieve a change in opinion to implement the lower speed threshold as official policy
• Once achieved, go for the jugular and argue that the lower speed threshold allows the route to be changed to an alignment with an existing transport corridor - the WCML and/or M1 (or mixture thereof) - anywhere will do just as long as it's not through my back yard
• Hope that the additional expense/wasted time/disruption caused by new set of protesters(due to proximity to their back yard) ultimately doom the entire project - (not that this final goal really matters, the main aim of moving the route has been achieved)

Hey presto - job done!

Mr. Hammond needs to stay resolute and ignore these siren voices - the right policy is being pursued - a lot of time effort and resources have already been invested - don't chuck that away now!




Thanks to homegrown dissidents and overseas fanatics, everything is already a terrorist target and has been for 30 years. I don't see people being body scanned to use Southeastern Highspeed services. I don't see people being strip searched to get on the Underground.

Why don't we just stop building any iconic projects because they are obviously terrorist targets? It's that sort of attitude that lets terrorists think they are having an impact.

Why not put in some roundabouts and speed bumps as well? That'll slow it down. Honestly, what mad idea will they suggest next...

"It is not sensible to make HS2 slower, because that makes the two main rival forms of transport, the car and the aircraft, become more attractive.

People who oppose HS2 need to go to Kent to see HS1 to see the contrast between the M20 and HS1. They are chalk and cheese!"

The above comments may not be from a NIMBY but they definitely are from a NUMPTY.

The distance between London and Birmingham travelling at similar speeds to HS1 (189 mph) will only be marginally worse than HS2 travelling at a top speed of 250mph. This is due to the slower speeds thru tunnels and the short distance between the 2 cities.

Slower speeds may also mean more options regarding location of the stations i.e. closer to city centres rather than the outskirts which only cancel out any time savings made.

Disingenuous to say listen to HS1. HS2 will be much louder. In fact Japan have restrictions on such trains due to noise pollution.


Looks to me like the usual NIMBY arguments - "we are not opposed to HSR but please build it in someone elses back yard" or "it is going too fast and will disturb the horses".

Thousands of part-time windmills are being planted across our green and pleasant land, which are far more intrusive on the landscape than HS2 will ever be. Not only that they will require CO2 emmitting back-up generation for all the time the windmills are off line.

However the proposed Heathrow and Birmingham spurs will have limited connectivity with the existing transport hubs; re-building Euston will give passengers the option of HSR or WCML for all or part of their journey

But spurs will not allow the same seamless transfer between classic and HSR or Airports. Logically more tunnelling in urban areas would provide the greasest social benefit whille less expense should be made in sparsely populated rural areas.

Speaking as one born in Northern Ireland, and part of the Peace Process, I believe the new High Speed line is obviously going to be a terrorist target.

Security such as booking tickets in advance, showing a passport to board and luggage checking (just like domestic airlines) will obviously be needed.

This will add at least 30 minutes to all the rail journey times quoted, making it quicker to use conventional services.

There is nothing that stops rail operators running the trains at a slightly slower than the maximum speed to improve energy usage. However by reducing the maximum permitted line speed there is no way of running faster trains on it. Unless there is an particular reason (other than as it will use less energy, e.g. to serve a town or miss a wood or the like) for a lower line speed, then we should use the current proposed line speed.
What also should be noted is that by having a higher speed, not only will it reduce air travel within the UK, with the link to HS1 it could reduce air travel between the UK and Europe.


To reduce speed of HS2 will defeat its (questionable)objectives. DfT HS2 proposals major on the speed benefits, even though HS2 will only cut 23 minutes off the London Birmingham current time and even though it won't be operational for another 10 years even if it goes ahead.
Current Dft statement is that HS2 is broadly carbon neutral, which hardly lines up with government commitment to large reduction in carbon emissions year by year.

As far as prolifeartion of air services is concerned, there are currently no air services from Birmingham or Leeds to Heathrow, and train already has 80% of the Manchest London market. Even Dft admit that possible drift from air to HS2 is not significant.

The environmental issues, including destruction of areas of outstanding natural beauty and many nature reserves, plus demolition of home, community amenities, and business premises,still apply whether the train is slowed down or not.
The same applies to the cost, a staggering £32billion at todays figures (plus the cost of power supply to the trains). At the same time the coalition governement is cutting vital services in health, homeland security (police, armed forces), and social serivces.
The current mainlines could be upgraded to take care of the realistic growth forecasts at a fraction of HS2 costs, but the Dft has hidden this fact in its so called 'Consutation Document'.
This £32 billion white elephant should be stopped because the finances don't add up, the environmental case dosn't stand up, and we (the tax payers) do not have the money to pay for it.
Perhaps these well intentioned groups named in this article might want to take a broader view of this folly and stop the project ' in it's tracks'!!

"Only 38% of those who voted agreed with the Government's proposals. The remaining 62% were against the line altogether"....Ministers would sell their Granny for less!

In their own language - "The country is broke. The country's credit card is maxed out. There must be efficiencies in the public sector. Protect the front line but needless back office jobs will have to go. We will cull the list of quango's inherited from Labour. We will stop the war on the motorists. We must support our troops fighting in Afghanistan. The status quo is not an option. We must reduce the deficit if we are to regain our financial credibility globally. We are all in this together."

....is it me or is this Government full of headlines but empty on substance? If the country is broke how can we afford £34bn on HS2? If the credit card is maxed out how can we afford £34bn on HS2? If there will be less public sector workers, how can we justify a commuter shuttle train (HS2) into London? If we are all in this together how come the public consultation on HS2 has only been targeted at those families and businesses 'along the HS2 route'? Everyone in the country will end up paying for HS2 so why is the consultation so restricted?

The Crossrail dig has just unearthed 'bedlam' - Mr Cameron is dangerously close to leading a Government of the same!

It is not sensible to make HS2 slower, because that makes the two main rival forms of transport, the car and the aircraft, become more attractive. Both are carbon hungry forms of transport that have to be reduced to meet international treaties.
HS2 will be much less obtrusive than the M40 motorway, with no pollution and minimal noise. The noise and air pollution from a six lane motorway is constant and dreadful within a 250m band each side.
People who oppose HS2 need to go to Kent to see HS1 to see the contrast between the M20 and HS1. They are chalk and cheese!

Glad to hear they 'are not against HS rail' but in essence they play into the hands of the extremists in the road and aviation lobby who realise the effect of HS2 will impose the superiority of rail for inland transport in the UK. An effect that will cascade through to intermediate and short distance travel and thereby provide environmental gains far and beyod HS2 itself and do not appear in its cost benefit case.

HS2 speeds are already lowered where there is environmental necessity.

There is little point designing a HS Rail route speeds lower than currently thought possible we would be repeating the mistakes that constrain our current rail system and make HS2 essential.