Posted 30th March 2011 | 14 Comments
New pro-HS2 group to oppose 'narrow self interest'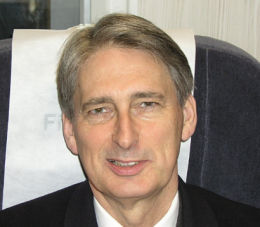 Philip Hammond: opposition is making 'spurious' claims
A NEW campaigning group supporting the construction of High Speed 2 has been launched only a day or so since the transport secretary dismissed the latest report from the anti-HS2 Taxpayers' Alliance as 'spurious'.
The new group, called 'Yes to High Speed Rail' has the backing of many business leaders.
Its campaign director is David Begg, who chaired the former Commission for Integrated Transport.
Professor Begg said: "We are united by a belief that high speed rail will significantly help Britain's economy, creating jobs and boosting parts of the country that need it, particularly in the Midlands and the North. We also believe that it will make ordinary passengers' lives easier by freeing up capacity on existing lines, bringing better services to more people."
The anti-HS2 Taxpayers' Alliance has already been the subject of criticism from the Department for Transport, after a new TA report claimed that towns and cities away from the future High Speed lines would suffer from deteriorating services and fewer trains because investment would be diverted away from the 'classic' network.
Matthew Sinclair, the director of the Alliance, said: "High speed rail isn't the right way of getting the capacity we need. The project is set to cost taxpayers a fortune and it is increasingly clear it will be a huge white elephant. While politicians are holding out the promise of a faster journey for a fortunate few, huge numbers of people will face slower and less frequent services with more overcrowding. Everyone will still have to pay the hefty bill."
But a DfT spokesman responded: 'This is complete nonsense, largely based around speculation, guesswork and spurious crystal-ball gazing about our future plans for investment in the existing railways,' while transport secretary Philip Hammond added: "It's perfectly possible to invest in major strategic rail projects and still invest in other rail projects."
The clash has come following a warning from Chiltern Railways chairman Adrian Shooter that 'super-rich' people in the Chilterns are pouring money into anti-HS2 campaigning. He told a conference in Birmingham that he deplored their stance, which was based only on 'narrow self interest'.
Reader Comments:
Views expressed in submitted comments are that of the author, and not necessarily shared by Railnews.
All those anti-HS2 types did not complain when the M40 was built ending the peace and fresh air of a huge swathe on land between London and Oxford. They could not care less about that. What about Heathrow's 3rd runway were they against that? No, it is just their blinkered ostrich-like attitude to transport.
Fine scrap the plans and build a 6 lane motorway with huge junctions, plenty of services right through the area - how about that for an alternative?

Perhaps the "super-rich" would care to channel some money towards offsetting some of the government cuts. If not then they can obviously afford to pay more tax. Treasury ministers please note.

This anti-HS2 rage is simply blinkered selfishness perpetrated by Luddites; the country's good can go to hell as far as these "proud-to-be-British" people are concerned. Where is their pride, their keenness for the country to succeed? Non-existent! No, they agonise endlessly over how to prevent this splendid development going ahead - whereas the French used to agitate because a high-speed line was going to miss out their district. What a contrast between French keenness and British grumpy moaning and whingeing! Nothing new there I'm afraid, it's normal reaction as far as the UK is concerned!
Let's all press constantly for the magnificent concept that is the HS2 to be pressed forward as soon as possible - so that the entire country may benefit.

This 'Only for the Rich' is rich coming from the rich.
Saying HS2 will benefit ionly the rich is like saying only its the rich who in their ability to purchase the current RollsRoyce or 4x4 every year who benefit from the motorways/roads whilst us 'ordinary folk' have to do our best in the latest 10 year old banger.

They give a new strength to the phrase 'there are lies damn lies and then there are statistics but AntiHS2 mob facts are worst of all.

IT was going to produce the paper less office but that has not happened
The human species is basically gregarious and like to get 'somewhere else'.
The other unfortunaste thing is they dislike the TIME the journey takes and so they want to get there as quickly as possible.
Fortunately or unfortunately that somewhere else requires travel so until Star Trek and Transpoter beams I'm afraid the best, most economic,least CO2 producing lowest land take lowest noise wil be rail.
Unfortunately for those (most of HS2 moaners fit this socio economic group) of the Chilterns so long cosseted by their escape from the nasties the rest of us less fortunates have to face.

So lets be clear
HS2 is the best solution
Lets get rid of this red herring the antis keep pulling.
HS2 will be no more 'only for the rich' than the current rail system it will use market pricing as Virgin etc do and will like all other train operators will use speciasl deals to fill seats and they will have a lot of seats to fill.
IGNORE the HS2 antis they are funded by the VERY RICH who want to protect their interests not the interests of us 'ordinary people.

HS2 needs to be promoted not just as a high speed railway but what it really is and that is a way of diverting fast trains of existing railways and thus creating spare capacity to allow BETTER services and more direct services to the many towns and cities which are either not served by rail or have just a local DMU service consisting of 1 or 2 cars running at irregular frequences.

The fact is our railways are nearly full and as the WCML upgrade showed simply upgrading an existing line just causes years of diruption with very little gained in the long term.

However, HS2 is currently seen as starting from London and working northwards but surely it would be better to identify which sections could speed up currently clogged and slow sections (e.g Birmingham to Manchester/Liverpool) and build some of these sections first allowing the existing Pendolinos to run at speed over sections that they at present travel at the speed of the fastest freight or DMU train!!

As for the NIMBYS well the project needs to be explained and tales of "Forests being destroyed " as per a recent BBC London news programme need to be countered with those making these claims asked to provide such evidence!!!

We already have HS1 and this should be used as an example as a way of asking if Kent has been destroyed when in fact cows still graze next to the line as Eurostars pass by.



HS2 is ONLY about "narrow self-interest". No-one will benefit from this line except wealthy corporate types who happen to travel between Birmingham and London. The least Hammond owes us is a proper consideration of Rail Package 2.

Its very strange that the railways are starved of investment over 30+ years, and then suddenly there's £32bn available for a white elephant vanity project.

We need to be careful about this We need to find ways of reducing the need to travel, especially for business. We may find that IT will increasingly replace all forms of travel including rail. This is such a lot of money it can only be justified if the transport infrastructure that most people use every day is fit for purpose. It isn't at present. We must not kid ourseles that inter city railways are used by large numbers of people on a regular basis- they just aren't. HS2 may have its place but is a long way down most people's list of priorities..

HS2 is a deeply flawed, uneconomic, environmetally damaging and WHOLLY UNNECESSARY project. It is a prototypical government response to the recent EU HIgh Speed Rail Directive which, in my view, has absolutely no place here in the UK. We have had fast enough railways for decades and still have the shortest overall network journey times between major cities than many other EU countries such as France, Germany, Italy and Spain. What we need is for the government to invest far smaller sums than £Bn 30 plus for HS2 in a phased programme that upgrades our existing network, starting with RP2 which will complete upgrading of the WCML, and on the DfT's own figures will cost £ 2Bn to provide adequate rolling stock, lengthen some platforms, remove six pinch points along the track and improved signalling. This could be ready many years ahead of HS2's TARGET completion date of 2026. This programme should continue on unninterrupted to upgrade the entire network and re-integrate it with common time-tabling and affordable ticketing to serve the entire country. Only then will the bulk of our population use the railways to the maximum practicable extent and genuinely reduce car numbers on our roads and aircraft movements overhead.

Rich of the "dft spokesman" (no name,of course )to talk of" speculation,guesswork and spurious crystal-ball-gazing",since all their predictions are exactly that. Hammond's comment is more cautious and non-commital "perfectly possible..etc.," but no guarantee.I love the reassurance that "ordinary" people (i.e,not rich businessmen on expenses) will have a better service.Tell that to the beleaguered commuters ,and passengers from places not served by HS2 with its paucity of stations,who will suffer reduced frequencies.Of course,when it's being paid for out of the public purse,which is bottomless,it WILL be perfectly possible.

Thank you for all of your support. You can follow our campaign on Twitter @BizforHS2.

Yes to HS2!

Fantastic news! Can we follow on Twitter or Facebook? The emphasis needed to counter the negativity of the No campaigners. Delighted to see this support.

Railways are best at moving large amounts of people into congested city centres quickly and cheaply.

They can also move large freight tonnage cheaply at much slower speeds, usually at nighttime.

This beats all other methods of Transport in all aspects. Cars and Planes cannot compete.

They are not good at moving small groups of people very quickly around a small island. Small planes (eg capacity 50-90) are best at this. Not cars and not trains.

Railways should stick to what they do best.

The pro HS2 Group have my support. Lets get on with it. The sooner it comes the better.

Please TRY and complete the project sooner than planned. I can't wait.