Posted 19th July 2011 | 9 Comments
Think tank delivers fresh condemnation of HS2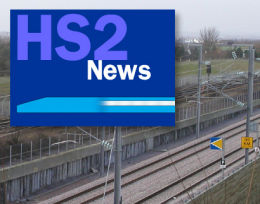 A 'FREE MARKET' think tank has published a new condemnation of the plans to build a High Speed line between London, Birmingham and the north of England. The Institute of Economic Affairs dubs the HS2 scheme a 'vanity project', and claims that it is 'economically flawed'.
Dr Richard Wellings is one of the report's authors and deputy editorial director at the IEA. He said: "High Speed 2 is another political vanity project – like Concorde and the Millennium Dome – being ploughed ahead with with complete disregard for properly thought-through commercial prospects or the mounting opposition to it.
"Its environmental credentials are questionable, its projected passenger figures suspect, and its proposed regenerative effects highly dubious.
"Proceeding with HS2 plans is a recipe for disaster and, as always, it will be the forever-embattled British taxpayer who will end up footing the bill for this latest white elephant."
The report says that: 'Claims that HS2 will bridge the north-south divide and bring regeneration should be treated with scepticism, as the evidence is largely speculative. Alleged benefits must be set against the wider economic losses from the additional taxation required.'
It is critical of the effect on Euston, saying that: 'HS2 is likely to create demand for additional high-cost, taxpayer-funded transport capacity. Terminating the line at Euston may require a new Underground line or Crossrail 2 link to cope with extra passenger numbers.'
The report's authors are also concerned that the effect on the existing rail network has not been properly calculated, saying that: 'The effect of competition from other rail lines has been ignored when projecting future HS2 ticket prices and passenger numbers. Lower prices would make the project even less viable.'
The IEA has existed since 1955, and has just published a separate analysis calling for additional public spending reductions of £215 billion, which would 'allow large tax cuts'.
Reader Comments:
Views expressed in submitted comments are that of the author, and not necessarily shared by Railnews.
Could say that St Albans is merely a dull little town at the end of the M1 that should be demolished for a new airport to stop the Thames estuary being used. Or maybe HS2 is a plan by people in the cotswolds (say Chipping Norton) to ensure their house prices rise as they become the first piece of coutnryside outside of London.
The countryside outside our towns and cities is a crucial part of our landscape and lives. Not everyone wants to spend all their time in the city. The Chilterns are beautiful, and certainly beat Birmingham and London hands down.
Or maybe HS2 is a project by a few men who like fast cars, sparkly trains and city living. They probably travel first class anyway and so have no experience of any overcorwding but want to send a vast amount of public money just so that they can tell their grandchildren that is was them that built that train that ruined the countryside and shut those nasty right wing countryside dwellers up. Strange that I know some many left wingers against HS2 though.

robin- But the think tank is flawed and has evsted interests..... therefore not really that realiable.
All well and good building a digital economy but i woulnt like us to be totally dependant on digital technology, only takes one solar flow to blow the whole lot.
And lastly, maglev removes the ability to run a train to manchester on HS2 then continue on traditional rail to glasgow..... not really gonna happen maglev.

The IEA is a right wing Thatcherite group that supports many cost cutting measures including the abolition of the NHS. As for transport their policy is to stop public investment and only rely on private funding.

If you want road tolls to be introduced, then support the IEA now !

For months now the Government and the pro-HS2 lobby have treated with contempt the evidence presented to them that HS2 is not in the national interest. Now that a respected think tank has come up with a report that confirms precisely that, the Government owes it to the country to sit up and take note. As the public consultation will no doubt confirm, the public are extremely sceptical about shelling out at least £34 billion on a project like this - at a time like this. We have a huge debts to pay off, and if the Eurozone crisis ends as catastrophically as many analysts now believe it will, we may well need to set aside billions more to bale out Ireland and other European partners. We need to take stock, improve existing public transport services, and invest instead in building a digital economy, based on ultra-high-speed broadband for all. Within a few years there'll be far more virtual meetings than real ones, and we'll look back and marvel that we used to waste so much time and money travelling to and from meetings, contributing to global warming in the process. By all means revisit the idea when we're back in the black. And if we still think high-speed rail is worth ripping up more of our precious countryside for, let's go for truly cutting-edge technology. Maglev and vactrains are faster, quieter, cleaner and cheaper to maintain than the old-fashioned technology the Government is proposing for HS2.

I wonder where the members of the "Think Tank" live.

So Dr Wellings, what should the government do as an alternative? Build another motorway, add more lanes to the M1 and M6 or increase the number of domestic flights? They could relay the WCML again, or even widen it but would that be adequate enough? There seems to be a lot of sceptisism but very little in the way of hard facts. The governemt has at least published the economic case for HS2, the detractors and associated think tanks have published precisely nothing to justify their arguments. Its interesting to see an academic using speculation to dismiss allegedly speculative forecasts.

Time for a 'who's who'?

Think Tank = 'Institute of Ecomonic Affairs'
- who have released youtube propaganda with their sister organisation....
Poorly supported rightwing nimby group = 'Taxpayers Alliance'
- who working together, their most noted speaker (late 2010) was....
John Redwood MP = planet of origin unknown.

More of a Septic Tank than a Think Tank.

I presume they would prefer more road projects and increased oil imports from dodgy regimes at ever rising cost to the economy...

I notice the "The Institute of Economic Affairs" also advocates more cuts to public services and tax cuts. This is sounding like the sort of right wing think tank that dreams of shrinking government small enough to fit in a terrace house...

Interesting that an institute of economics can say "it's a vanity project" and then fail to back it up with any evidence.

Purely anecdotal from someone who is supposed to provide compelling evidence to the contrary.

And again, what these people in their ivory towers fail to mention is that the government are building a new line to solve capacity projects on the WCML WITHOUT disrupting the line for 10 years and going billions over budget, as was done before.

There is no other option but to build a new line, anyone travelling on the WCML every day will agree with that, anyone who doesn't, frankly lives in the Chilterns. An area which they say is an "Area of Outstanding Natural Beauty" when in fact, it isn't a patch on almost the whole of the rest of the UK.

AONBs are just for "vanity" people who pretend they live somewhere nice to boost the value of their house prices. AONBs are for people who can never live in a national park.

The Chilterns are merely the first piece of countryside outside of London, nothing more.