Posted 28th February 2011 | 20 Comments
HS2 consultation unveiled, but protests go on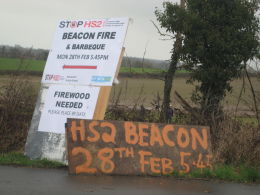 THE Department for Transport begins its consultation over the route of HS2 today. Although protestors have continued to make their voices heard, in spite of some 'greening' of the proposed alignment, the start of consultation has been welcomed by many.

[Railnews Focus: 28 February 2011. High Speed rail: the USA experience. Download here.]
Passenger Focus rail director Ashwin Kumar said: "All forecasts show that Britain's railways are only going to get busier. Government and industry must continue progress on this important project as new lines are critical to relieving overcrowding in the future. Putting longer-distance journeys onto these new lines will allow more trains to serve commuters and middle-distance passengers on the current network.
"Wherever this new line is built, there will be winners and losers. It is important that the Government and industry continues to discuss the implications of this decision with affected communities and addresses concerns."
Michael Roberts, the chief executive of the Association of Train Operating Companies, pointed out that a new High Speed line will unlock capacity on existing conventional routes: "A new high speed line, alongside sustained investment in the existing rail network, is key if we are to meet the transport challenges that will face the country over the coming decades," he said.
Mr Roberts continued: "Significant economic and environmental gains can be unlocked by cutting journey times, not just to Birmingham, but even more importantly to the UK's big northern cities where the benefits of high speed will be felt the most.
"The benefits will stretch beyond the cities along the route of the new line. Easing capacity problems on the existing network also offers the option for faster and more frequent services to a number of towns such as Milton Keynes, Watford and Northampton."
Network Rail, too, has given a thumbs up to this move forward in the plans for High Speed rail within Britain. Its chief executive David Higgins said: "The West Coast Main Line is Britain's busiest and most economically vital rail artery. It will be completely full by 2024 with no more space to accommodate the continued predicted growth in both passenger and freight traffic. A new high-speed line to Birmingham and the North West is essential to release much needed capacity on the existing line."

Meanwhile, key players from the West Midlands private and public sectors have joined forces to launch a consortium in support of the proposed High Speed link.
Go-HS2 is a collaboration between big business including The NEC Group, Birmingham Airport, Birmingham Chamber of Commerce, Business Birmingham, the city's inward investment agency and public bodies Birmingham City Council, Solihull Council and transport authority Centro.
The organisations have come together after carefully weighing up the arguments for and against the project. The consortium said it had spent months analysing research into the rail link's impact on the West Midlands economy and its ability to release badly needed capacity on the existing rail network, especially on the congested West Coast Main Line.
Geoff Inskip, the chief executive of Centro, said: "Go-HS2 galvanises support for the project within the business and public sector and enables us to speak with one voice on what we believe is the biggest opportunity for wealth and job creation in a generation.
"HS2 can bring 22,000 new jobs to the West Midlands and boost its economy by £1.5 billion a year, and it"s this potential for regeneration combined with its ability to meet future rail demand that makes the case."

However, opposition also continues. Protestors are planning to light a beacon between Coventry and Kenilworth in the West Midlands tonight, although there has been heavy rain in the area over the weekend.
Reader Comments:
Views expressed in submitted comments are that of the author, and not necessarily shared by Railnews.
BBC reporting only focused on the negatives for a man who complained \'oh it\'s going through the bottom of my crazily big garden!\'
This was an understatement. This man\'s garden contains the farm of several of my close relatives. A farm that HS2 is going to be cutting straight through, thus making the farm pointless and a bad environment to be raising cattle which is currently how they generate income. They are having to give up their farm and way of life to make way for a slightly faster rail.

I understand that the rail will generate new employment but damaging our agriculture in the process, which has recently received many harmful cutbacks as it is.

I am tired of the pro camp hurling insults at those who are against this. We aren't all NIMBYs and we don't want the UK to go back to the days of mudhuts, we just don't agree with this for a whole host of reasons. You should all be grown up enough to know that there are lies, damned lies and statistics and anyone naive enough to think that the DfT are giving you the whole truth and nothing but it, needs a reality check. Keep the debate grown up, yes its an emotive subject on both sides, but resulting to childish insults isn't debate.

Do you think the HS2 will screw up the timetable ending up with an unworkable timetable. WE should have bought British locomotives in the first place. The Hitachi is a disgraceful waste money which looks like it screwed the UK rail industry entirely.

It's high time to cancel this white elephant project. Some reasons -

1. Only the top 20% of the earning public will be able to afford to use it.

2. It will cost the country about £30billion for the rich to get to Birmingham 11 minutes faster then travellers on Virgin trains.

3. Rail Package 2 (WCML upgrade) can achieve virtually the same benefits for only £2 billion?

4. £750million is being spent on this project in this Parliament at the same time as the Health Service is cutting out the jobs of many thousands.

I do hope I am wrong, but I got the impressionn yesterday that Hammond was back pedalling a little on HS2. I just hope he sticks to his guns on this one and makes the new lines happen. Let the NIMBYs have their say, but don't let their biased arguments derail HS2.

For god sake...anti-HS2 campaigners miss the point entirely!

HS2 isn't just for Birmingham...it is to cut the journey time to Glasgow and Edinburgh too, not to mention Manchester and Leeds when the rest is completed. The British moaned at their rail system for years and laughed at it looking abroad with envy...now we want to build one you have people opposing it on ridiculous arguments! Little Britain people!

Grand projects are needed in the 21st century. the Victorians did it and people moaned then...but we changed the world with the railways the first time around. People who say we're a small country etc...you'll find distances between London and Edinburgh/Glasgow the same as those in France and Germany end to and so no argumant there

Secondly about upgrading the conventional route...are you being serious? So you want to upgrade a conventional route (that's already been done and proved hopelessly inefficient) with lines that can't go any faster than 125mph at present and that deliver less capacity? What a waste...why not do it properly and give us the 'big bang'. This will remove Intercity traffic from conventional rail with vastlt longer trains and triple the number of people carried if that's what's required!

Thirdly this line WILL NOT be built at the expense of existing rail budgets....the finance will be a seperate infrastructure project. So stop telling lies.

Finally all anti-HS2 people read the above...those are the facts. No amount of tinkering with the existing line will relive the capacity problems. The railways are full. To release capacity you need to release the Intercity traffic so the existing lines can handle more commuter traffic. Unless of course, you feel the rest of the world is getting it all wrong and we have a better answer? A slower one, a more expensive one? Get real, UK plc needs this, how many more times....there is no room left on the railway so we need more to get people around, very simple and no anti-person has come up with an argument that isn't based on mis-information and lies yet. If you all had your way the UK would still be living in mudhuts.

yeah the benefits are in too many areas - on the busiest line in the country which links many of our major cities ie where most of the population lives ! where else would you have it go - to small towns and villages ? We have express trains now that make few stops between london and say scotland so should all trains stop everywhere? one of the reasons why there are fewer stops now is due to capacity constraints which guess what hs2 is designed to alleviate !!!!!

and of course since the main benefit of hs2 (apart from a near halving of the current journey time to birmingham and eventuallymanchester) is that is PROVIDES more capacity on the existing network to the benefit of all the existing and likely new travellers on the west coast line !!! for example watford and coventry will benefit.

critics say hs2 doesnt add up but i say their criticism doesnt add up ! at least get the facts right before you do !

and the govt has today announced that iep and western electrification will go ahead which will provide jobs sooner then hs2 and also shows willingness to provide other investment then hs2. the criticism does not add up.

I have worked with the long term unemployed in Birmingham for more than ten years now, what we need is investment now, not in 15 years time. Europe is broke and investment from outside Europe will always come by air, not rail! How many chinese businessmen are going to cross the world on trains? They will fly direct which they can already do, should they choose. The arguments in favour of this are really poor. High Speed Rail is not a magic wand to save us from the dire mess we are in now. Local regeneration which comes from our own investment is what we need, we can't rely on investment from abroad to save us.

This won't ease congestion on the main routes to London, people don't just get on the train in Birmingham and get off in London, they get on in Coventry, Watford and everywhere else the services stop. Commuters will have fewer options if they live in the areas where the high speed services don't stop, the number of trains planned to stop in Coventry once this has been built has already been reduced.

This is a very expensive way to create jobs, the estimates for job creation differ from between 8,000 and 22,000, but we will have lost more than that by the time the current government cuts have taken force, probably 10 fold the higher estimate. These jobs created won't even put a dent in that figure.

The estimation of creating £44billion for the economy is based on the assumption that businessmen on trains don't do any work whilst they travel, and we are going to spend £34billion on that premise??

People will always need to commute into cities, this will never change and it is this commuter traffic which makes trains crowded, I was one of the cattle on a commute into Birmingham for five years, that won't change with HS2...

Doubters remove your blinkers!!! It makes so much sense in so many ways to build HS2!

A railway line is not that destructive to the environment! It is thin, discrete and will be hidden where necessary. A million times better than motorways with all that extra traffic noise and pollution - ditto, better than expanding airports.

HS2 must happen for the benefit of the UK as a country in its own right and as part of Europe and beyond.

Whilst the construction of HS2 is welcome it remains a fact that the existing railway network in the north receives less investment than those in the south. There are still major issues surrounding lack of and poor connectivity between areas across the north never mind to the south so it's essential that funding HS2 doesn't suck funds away from other regional priorities.

"what is the point in HS2?" I assume this question was meant as a joke.
If I have a choice between taking the train or the plane, the train wins - it's much less hassle and far more convenient. City centre to city centre without the need to part company with your luggage. And should you need to, you can use your mobile phone and have the potential to use a wi-fi connection to access the internet - much more productive for business travellers. In countries with an existing high speed rail network, many people choose this rather than flying. High speed train travel is a real alternative to "those big metal things that fly in the sky".

I'm very pro-rail, even down to my ownership of 3 Great Western Steam engines.

But I don't think this line makes any economic sense.

Britain is a small country geographically less than half the size of Germany and France. Its population is virtually all in the south-east around London.

All attempts in the past to move jobs etc to the North have failed.

What we need is to get services in and around London improving....the trains you can't get a seat on are all going in and out of London.

If this money is available then spend it there not on a dubious line to the North.

The National Audit Office reviews of large government projetcs for years have argued that the business cases did not stack up and questioned the value of this level of investment from the public purse but it has not stoppped projects, merely confirmed the same old reasons of what went wrong. The risk and damage to areas of outstanding beauty all along the route is massive when there are other options available. Stop this madness now please!

1)The benefits are in too few areas and will be largely at the few places to have stations(with London being the biggest beneficiary)
2)Time savings are too little for the costs , financial social and environmental.
3)A scheme to Birmingham which does not go to New Street is a massive compromise
4)Investment in high speed rail will be at the expense of the rest of the rail network
5)Investment in rail - yes : investment in more dedicated high speed lines- yes: this scheme -NOT AS CURRENTLY PROPOSED

HS2 is what the Yanks call a "boondoggle". Mr.Hammond should take note of the revised approach to HSR manifested by recently elected US state governors (such as Rick Scott in Florida) and cancel it, given the dire financial state of the UK government.

HS2 will allow some of the bigger companies and institutions to relocate from over-priced London and so benefit the North of England for a change.

HS2 will also benefit the existing network as it will free up capacity and allow some of the localities to have intercity services etc once more on the exisiting network. To me, this will fuel demand all round.

Our existing network prevents lots of new services being run because there simply isn't space to do so!

HS2 and development of the existing infrastructure go hand in hand!

If you are talking about investment from outside Europe your argument seems a little flawed. I don't know if you have seen those big metal things that fly in the sky, they are called planes... If I was a business man coming to the UK to invest my cash from outside of Europe I wouldn't fly to Calais and hop on Eurostar and then get on HS2 to get to Birmingham! Birimingham Airport already claims it could handle another 9 million passengers a year without adding an additional runway, what is the point in HS2? Manchester airport handles major destination flights already.

HS2 might benefit the primary cities on the route, maybe, mostly it will be a brain drain from those cities to London, where the bright lights and dazzle of higher salaries will attract our best.

Surely Rail fans, you should be demanding better local coverage, more branch lines to support the normal folk that travel into cities on their commutes to work, not travel great distances? Disappointed...

Excellent news! It's about time we better connected our rail network with the rest of Europe. I am in no doubt this will make Britain more attractive to companies looking to do business in Europe.

HS2 must happen! I am disappointed to see that the BBC seems to be doing very negative reporting about HS2. Can we have a program about the line and all of the benefits it will bring please... Or at least a balanced argument.