Posted 5th February 2019 | 5 Comments
'World Class' Old Oak Common images unveiled by HS2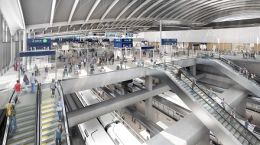 THE most detailed images yet of the future rail interchange at Old Oak Common in west London have been published by HS2.
Construction workers are now clearing the site, which was formerly the main passenger depot serving Paddington. When construction is in full swing, 1,500 workers will be employed building the future 'super hub' which will provide a key interchange between HS2 and Crossrail, the future Elizabeth Line, to the West End, the City of London and Docklands.
Passengers leaving HS2 trains at Old Oak Common will also be able to use Elizabeth Line trains heading westwards to reach Heathrow airport and stations to Reading. Forecasts suggest that the new interchange will be used by up 250,000 passengers a day or 90 million a year, which would be not far short of the current total at Britain's busiest station, London Waterloo.
The Old Oak Common project is also being seen as a major element in regenerating this part of west London, where there are plans to build 25,500 new homes and create up to 65,000 jobs.
As the designs were being unveiled today, HS2 minister Nusrat Ghani visited the site to meet HS2 staff, its contractors and the chair of the Mayor of London's Old Oak and Park Royal Development Corporation, Liz Peace.
Nusrat Ghani said: 'HS2 will be the backbone of Britain's rail network, unlocking regeneration and economic growth across the country, while improving journeys for passengers.
'These designs show how Old Oak Common will set world-class standards for the future of stations. The task for our designers and engineers now is to take these ideas from the drawing board to reality, building an iconic station that is accessible, safe and open to all.'
Liz Peace added: 'The launch of the designs at Old Oak today is an exciting step forward for the Mayor of London's Old Oak and Park Royal Development Corporation. In line with Mayoral policy we will be using the opportunity offered by the HS2 station, which we are now beginning to see take real shape, to create a vibrant new quarter of London that will bring jobs, housing and a whole new social infrastructure – for the benefit of both local people and also those that will want to move into this area.'
The six 450m HS2 platforms will be built in a 1km long underground box, with twin tunnels taking high speed trains east to the terminus at Euston and west to the outskirts of London and onwards to the Midlands and eventually the north of England. From these platforms there will be a connection to the adjoining conventional station at ground level via a shared overbridge, providing a link between HS2 and Elizabeth Line trains. The current station design also allows provision for future services to Wales and the West of England.
HS2 said that 'a light and airy concourse will link both halves of the station with a soaring roof inspired by the site's industrial heritage. Designed by a team led by WSP and architects, WilkinsonEyre, the station is set to be the UK's best connected rail interchange.'
If all goes to plan, HS2 trains will start running through Old Oak Common on the first phase between London and Birmingham in 2026. It is also hoped that the Elizabeth Line, although delayed at the moment, will open through central London in 2020.
(More new pictures of the Old Oak Common project will be published in the March print edition of Railnews.)

Reader Comments:
Views expressed in submitted comments are that of the author, and not necessarily shared by Railnews.
The problem is that. Once Old Oak Common station does eventually open that will become a "International railway hub" in West London. Will that affect nearby Acton Main Line station on the Elizabeth Line & GWR that could possibly close. Or will it not affect Acton Main Line once the new station is completed and opened in time when HS2 (1st Phase) is completed.
[As far as I know, nothing has been said about closing AML. It appears on the new Elizabeth Line maps (although of course OAC does not). Not sure that OAC justifies being called 'international', though. --Ed.]

Looks like an airport terminal. Not a bad thing.

To make Old Oak Common a truly connected hub for London, and not just central London, the Bakerloo Line and the Central Line need to be diverted to serve it. That and the North London Line Platforms need to be brought right up to it so that it is a convenient and desirable interchange.

That way it becomes a Hub for West London, not just for Heathrow and Central London. A hub that serves the residents of London, not just commuters.

When is construction on HS2 actually going to start? I hear it's this year, but I'm sure they said that last year and also the year before...