Posted 3rd September 2018 | 8 Comments
HS2 'delayed', while critics plan alternative transport schemes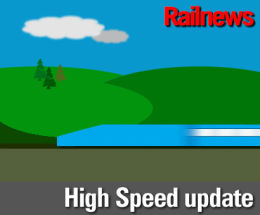 THE legislation needed to authorise Phase 2 of HS2 north of the West Midlands to Leeds and Manchester has been postponed for a year, according to reports, while one campaigning group which is doubtful about the present scheme is inviting suggestions for alternative investment in transport.
The Times has reported that the Phase 2 Bill is being delayed so that it can be integrated with a proposed upgrade of the existing classic line between Manchester and Leeds, but it is not thought that this delay will change the planned opening date of 2033.
Meanwhile the consistently-critical Taxpayers' Alliance, which opposes the whole high speed scheme, has launched a competition inviting suggestions for an alternative way of spending £56 billion – not necessarily on railways.
The Alliance says: "The Great British Transport Competition is asking all interested parties from across the UK to submit ideas for transport infrastructure projects. Entries will be judged by an expert panel, including qualified surveyors, politicians and rail industry experts. The winning bids will be professionally costed and presented to ministers."
The Department for Transport said: "As the future backbone of our national rail network, HS2 is vital for delivering better connections between our major cities with faster and more frequent services, acting as a catalyst for jobs, housing and economic growth. We are keeping a tough grip on costs and the HS2 project remains on budget at £55.7 billion."
HS2 Ltd, the government-owned company set up to manage the scheme, said it had 'gained one of the largest cross-party parliamentary majorities of recent years', and that "the programme remains on track and within its funding envelope'.


Comment
Sim Harris
The Taxpayers' Alliance is a right wing group which never seems to have much time for public transport. Its website banner announcing 'The Great British Transport Competition' features an aerial shot of a sprawling motorway junction, which is probably closer to the TA's heart.
So is this a cynical attempt to divert public spending back to roads, in the guise of a competition which is theoretically intended to make better use of the HS2 budget?
The panel will consist of MP Craig Tracey, Lord Framlingham, Lord Berkeley, infrastructure and procurement specialist Michael Byng and two directors of the anti-HS2 Taxpayers' Alliance: editorial director Phil Basey and political director James Roberts.
Of these, Conservative Mr Tracey's constituency of North Warwickshire and Bedworth lies on the route of HS2 Phase 1. He last spoke in public about HS2 in September last year, when he told MPs during a debate that more tunnels 'have been requested by constituents in the Kingsbury and Polesworth action groups in my constituency and would help to minimise the impact on residents and the environment, but also on the road infrastructure, which will be severely affected.'
Lord Framlingham was Conservative MP for for Central Suffolk and North Ipswich between 1997 and 2010, having previously served as the member for the former seat of Central Suffolk from 1983. He has consistently opposed HS2 and wants the scheme scrapped, telling the House of Lords in January this year that the NHS should come first.
Lord [Tony] Berkeley is well known in railway circles, but again he is not a fan of HS2, at least in the sense that both he and Michael Byng, an acknowledged expert in costing railway projects, have often predicted that the budget will need to be far higher than the official estimates. In March this year, Lord Berkeley challenged transport secretary Chris Grayling 'to disprove estimates by Michael Byng that Phase One alone will cost £51.25 billion'.
Mr Grayling had previously dismissed HS2 figures from Michael Byng as 'nonsense', but Lord Berkeley maintains that there has been a 'marked unwillingness from ministers and officials to engage in a discussion about costs'.
The finances of HS2 do appear to be fragile, and the doubts have perhaps been heightened by news that Crossrail (aka The Elizabeth Line) will cost more and open late, at least across central London, where the opening date has been pushed back from this December to later next year.
The Taypayers' Alliance has no official standing, but it is quite entitled to make suggestions about public spending. Whether ministers will take any notice of the results of this 'competition', which will be judged entirely by people who have already expressed grave doubts about HS2 is, of course, quite another matter.
Reader Comments:
Views expressed in submitted comments are that of the author, and not necessarily shared by Railnews.
Away from the insular world of rail operations, a period of unprecedented turmoil and social readjustment has just begun, the first obvious sign of which is the death of the high street. It will bring with it the most profound changes since the Industrial Revolution and lead to a world in 2030-40 vastly different from the one we know today.

There will be quite possibly a monumental fall in rail traffic as traditional workplaces (and jobs) vanish and a fall in incomes. Fewer people will need (or will be able to afford) to travel by train and fewer goods will need to be carried. The economy will reduce to a more basic, sustainable level.

The case for HS2 is based on the presumption of ever greater growth. This will not be the case and we should not be spending staggering sums on projects for a future that simply will never exist.

My comment re NHS was solely about what would happen if stage 2b were cancelled.....

Anyway it seems this delay is about bringing together HS2 and Northern Powerhouse Railwhich didn't exist when current HS2 was designed back when Lord Adonis was Transport Secretary a decade ago .

In fact, combined HS2 and NPR is likely to create a larger HS network and hopefully NPR will be built to same gauge as HS2 allowing through running if like on new Eurostars larger gauge or even duplex trains are introduced in the future.

As for roads well let their users pay tolls to fund better roads !

Reminds me a little of the Bustitution debate some 18 years or so ago.

I find it amusing that a peer from the party who love to proclaim their economic competence, would ignore the simple fact that most healthcare spending (beyond basic primary healthcare) is a cost to the economy and not an investment. Whilst I support increased funding for the NHS, I also recognise that such spending does not produce a net economic return and should not therefore be considered substitutable with investment in transportation infrastructure (which does produce a return).

As for the Taxpayers Alliance, maybe they should combine their efforts with the Stop HS2 Alliance to come up with an alternative motorway based solution along the proposed alignment? Surely the Stop HS2 Alliance would be happy with this, as they have repeatedly stated that their opposition to HS2 is based on their assessment of the costs & benefits to UK taxpayers and not on simple NIMBYism...? ;-)

Taxpayers Alliance are a bunch of right wing loons. The sort who tout nonsense like converting railways into roads (for their 4*4s). Laugh at them.

Is the current HS2 going to be built on the optimal routes ? Leeds and Manchester are both 189 miles from their London termini, whilst Birmingham is only 116 miles from Euston. Serious high speeds of 186 mph plus are unlikely to give a large extra benefit, with rail already having the "lion's share" with existing 125 mph operations on these routes.

The original serious high speed lines, Tokyo - Osaka and Paris - Lyons involve distances of appx. 360 and 270 miles respectively, which produced a "sea change", allowing new day return journeys on timings competitive with aviation. The only routing that would be similar in UK would seem to be London to Northeast England and the Scottish Central Belt, following an East Coast alignment, which would incidently also give some"spin off" benefit to centres in Yorkshire.

Of course, such a project could still give capacity enhancement , with some freight diverted rom the West Coast to the "old" (existing) ECML. As far as between the northern cities are concerned, we are talking about journeys of 35 to 170 miles, where more than anything the need is for a general investment to bring trnspennine and associated lines up to the standards that the South has enjoyed for some time.

The Taxpayers Alliance seems to have little idea of how HM Treasury works in that the money allocated for HS2 is solely for that purpose and if HS2 were not built the money would be clawed back and be available for other services like Defence or the NHS !

Anyway their is no £56 million as stage 1 of HS2 has passed parliament and is under construction so that's about £20 billion ( including contingency fund of £56 billion leaving £36 billion!) .

Then legislation for extension of HS2 to Crewe stage 2a is already going through Parliament and is unlikely to be affected by this decision.

The reality is HS2 is the only way the North is going to get a modern 21st Century Railway across the Penines reducing ridiculously long journey times for relatively short journeys!

Remember no HS2 no money !

Anyone who says ridiculous things like 'the NHS should come first' clearly hasn't driven on any of this country's major motorways in recent years. Unless there is significant expenditure on rail infrastructure the UK road network will be at a total stand still in the not too distant future, and the economic cost of such chronic congestion will make HS2 seem like a drop in the ocean.