Posted 23rd January 2019 | 6 Comments
HS2 has wrong name and inadequate budget, says former chairman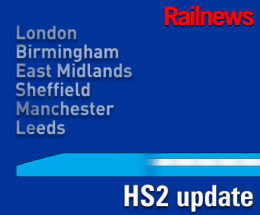 THE former chairman of HS2 has said the project was misnamed, because the arguments in its favour are more about capacity and connectivity rather than high speed for its own sake.
Sir Terry Morgan, who left HS2 and Crossrail in December, was giving evidence to the House of Lords Economic Committee. He also told the Committee that HS2 cannot be completed according to its present specifications within the budget of £56 billion, saying: 'I think the triangle of scope, cost and time – something has to give.'
The first phase of the 360km/h line is scheduled to open in 2026 between London and Birmingham, and then on to Manchester, the East Midlands, Sheffield and Leeds by 2033.
Others, including transport commentator Lord Berkeley and railway costs specialist Michael Byng, have already sounded warnings about the unrealistic budget, but so far the Department for Transport has insisted that the 'funding envelope' will be enough.
Sir Terry told the Committee: 'I think most people regret actually calling it HS2. It is about creating capacity. Connectivity is a really strong issue, particularly when you look at the Midlands going north.
'It's a dreadful journey if you travel, say, from Birmingham to Leeds. It will collapse from well over two hours to around 40 minutes. This whole question around connectivity, I think, is a much more important case for HS2.'
Sir Terry has also come under fire recently over the management of the London Crossrail project, amid a continuing controversy about who knew – and when they knew – that trains are unlikely to run under central London between Paddington and Liverpool Street before 2020, instead of December 2018.
The HS2 project itself has continued to be beset by criticism, including suggestions that the speed is unnecessarily high. Commons leader Andrea Leadsom, who is also doubtful about the viability of the project, said HS2 chief executive Mark Thurston had conceded several ways to reduce the cost, such as reducing the speed and also cutting the number of trains from 18 to 14 an hour.
Mr Thurston has confirmed that various cost-cutting options were discussed, but added: 'I was also clear that HS2 Ltd is working to the scope and budget of the project which the government has set, and for which detailed debate in parliament has taken place.
'If, at some point in the future, we are instructed to consider any of these options, then more detailed work on the effect of such changes would of course take place.'
HS2 gained its name after the Channel Tunnel Rail Link was renamed HS1 in November 2006, a year before the high speed line to the Channel Tunnel opened throughout and the London terminus of Eurostar moved from Waterloo to St Pancras International.
Reader Comments:
Views expressed in submitted comments are that of the author, and not necessarily shared by Railnews.
If more capacity is the real reason then the design of the whole line is totally wrong. It should have many more stations serving the Towns that it passes by - like Kenilworth and Amersham. Is it too late to go back to the drawing board ?

I still think Sir Terry Morgan has literally messed up Crossrail project which lead to more delays that it should of been completed in December last year. But it's been pushed back until Autumn 2019 (this year). He shouldn't of got the job in the first place. He's a disgrace.

If HS2 (the WCML relief railway) is to be futureproof built, it has to have FOUR tracks. This will allow for ICE/HST/TGV trains to depart and re-join the set of Four Track TRUNK ROUTE at speed - on the fly.
It would have the capacity to connect CDG, AMS, LGW, LHR, BHX, EMA, MAN, etc etc etc to GLA and EDI..to INV - the inter-airport connector trains.
The off/on the main Four Lines at speed with either new built connection paths or slight alterations to existing railway paths (50cm further apart, uniweld, and OHLE) to add Coventry, Nottingham, Derby, Sheffield, Leeds, Lincoln, Liverpool, New Castle etc etc etc to be served by ONE Trainset design standard. No Legacy required as the slight alterations would be 'future-proof' whereas having two different trainsets = a train of full 3.2m can access any metropolitan urban area in the UK.
Having two different trainset types, the 3.15/3.2m would not be able to reach the city centres that did not have their off/on the main trunk route modified so they are limited to the 2.8m wide trainsets.
IF...IF we want to make the best value for money, not only would the UK TRUNK ROUTE be built with Four tracks (it is cheaper to build the first time than to add additional Later!), to have the HS2 rolling stock to be of the same size as Scandinavian and Wide Bodied Chinese Rolling stock with a width of 3.45 to 3.5m. Economy could then benefit from a 3:3 and Business/First Class from a 2:2 seating arrangement. This would instantly increase the capacity of what will be decades later than was needed when opens so will have the standard typical UK Overcrowding Issues.
Imagine trying to operate the GWR, ECML, etc with just Two sets of rails...
Do it Right from the first shovel into the ground!

If capacity relief is the main driver, it could , as far as West Coast Line is concerned, be achieved for a fraction of HS2 costs. The WCML problem is predominantly between Euston and Rugby ; restoring the ex -Great Central north of Calvert and enhancing it from there to London , with a new stretch running past the west of Rugby to junction with WCML south of Nuneaton, could probably be done for 3 to 4 billion.

The only route in Britain that might justify serious high speed might be London to North East England and the Scottish Central Belt. Per mile costs, on an East Coast alignment should be substantially cheaper than HS2 , whilst the distances involved ( 240 to 440 miles) would open up new day - return markets . Birmingham and Manchester are too close to the capital for this to happen ( rail already is the predominant mode for these routes ).

He's absolutely right. HS2 should henceforth be known as "Adonis's folly".

But to facilitate Leeds-Birmingham trips, we don't need miles of expensive duplicative track from London, it would be simply enough to reinstate the Wolverhampton-Walsall line.