Posted 3rd July 2018 | 14 Comments
Senior Conservatives 'discuss scrapping HS2'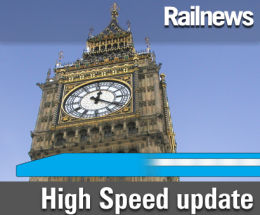 THE scrapping of HS2 in favour of other rail schemes is reportedly being discussed within senior ranks of the Conservative Party, as the Brexit crisis continues.
Prime Minister Theresa May is confronting a group of rebels who are against any compromises over such matters as a possible Customs Union.
At the same time, speculation is growing that a leadership contest is becoming more likely, with the Cabinet said to be split over Brexit details.
It has now been reported by The Times that Michael Gove has been sounding out MPs in informal discussions about whether they would prefer more rail schemes in the Midlands and North in preference to the high speed line.
Some sections of the Party are known to be opposed to HS2. The independent blog Conservative Home wrote its own unofficial manifesto in 2014 and this included the cancellation of HS2, although this was not echoed in the official Tory manifesto for last year's election, which said: "We will continue our programme of strategic national investments,including High Speed 2, Northern Powerhouse Rail …"
At the same time, other rumours claim that transport secretary Chris Grayling is poised to cancel Transpennine electrification, rather than give the go ahead for a partial upgrade with bi mode trains, and that Govia Thameslink Railway is being given two weeks to achieve performance improvements or lose its franchise.


Analysis
Sim Harris
IT is not often that Railnews quotes the scriptures, but this section of Matthew 24 seems curiously apt: "And ye shall hear of wars and rumours of wars: see that ye be not troubled: for all these things must come to pass, but the end is not yet."
Indeed, with very little officially happening (the latest release from the Department for Transport announces an innocuous consultation over the next CrossCountry franchise) there is so much speculation that the rumours are rapidly outgrowing the facts, like dandelions on a lawn.
The talk over HS2 is just that, and conversations with a few backbenchers in the membersˆ Dining Room in the House of Commons are hardly statements of government policy.
The heat of the fires of confusion is so intense, as the rumour mill gathers speed, that one internet source has even attributed the Conservative Home story about Michael Gove (which in turn was inspired by The Times) to the official party, rather than a self-driven Tory offshoot.
The business of Transpennine electrification also appears to be speculative, while the claims that GTR has just two weeks to go unless things improve is not really very new and certainly not astounding. (The GTR story seems to have originated in the Sunday Times or the BBC website, which made good use of that journalistic standby 'a source'.)
Chris Grayling virtually said that GTR is close to getting a red card on 4 June, when he told the Commons: "If it is found that GTR are materially in breach of their contractual obligations, I will take the appropriate enforcement action against them. This includes using the full force of the franchise agreement and my powers under the Railways Act." He has had a month since then to find out more.
Of course, there might be something in what is being said – and we shall no doubt find out in due course which of these speculations (if any) rest on fact.
Indeed, with the summer recess approaching, watch announcements from official sources carefully in the last day or so before Parliament rises. We certainly will.
Reader Comments:
Views expressed in submitted comments are that of the author, and not necessarily shared by Railnews.
To cancel now would waste a huge amount of aready committed money, but hey this is Britain. No doubt Grayling will want to divert the funds to Cross Rail 2 so a compromise will be thought up of complete HS2 to Birmingham Interchange, with a promise to complete the rest later, freeing up cash for Cross Rail and the Heathrow Western rail link. Sorry North and Scotland of course if Northern and Scottish MP's voted as a bloc not on party lines Grayling would be sacked and HS2 completed along with a freight link using the Settle and Carlisle and Waverley routes and the Trans-Pennine upgrade using hybrid technology for tunnels and other expensive to install overhead parts of the route.

Surely all that money they promised would be coming back from the EU will more than pay for HS2, as well as the third Heathrow runway and have some left over to increase the NHS, defence and police budgets?

Or are Gove & Co. are finally admitting that Brexit is actually going to make the country poorer?

Here it would be hard to find anyone to say anything good about HS2. We live in a town of 40,000 without a railway station. Adding in suburbs, that's a continuous urban area of 70,000 with no station. A branch of HS2 is proposed to go past it (Manchester to WCML to the North). Are there plans for a station? No! Are there plans for us having a conventional railway? Same answer I'm afraid. Northern Powerhouse? Lol

Seems Chris Grayling ( a brexiteer) has announced electrification of the Northern section of the MML will be incorporated in HS2 in order that HS2 trains will be able to serve existing city centre Sheffield Midland Station and so HS2 continues....
[The plan as I last saw it was for a spur from HS2 to connect with the MML into Sheffield, where HS2 trains would terminate. That bit of the MML would need to be electrified. HS2 trains continuing to Leeds or places further north would run east of Sheffield.--Editor.]



It isn't HS2 that should be scrapped; its the 3rd runway @ LHR

If HS2 had been planned properly with a LHR chord running in from the Uxbridhe/Dedham direction, funded by not building pointless politicised stations at Old Oak and Toton, rail services on classic and HS2 could replace short haul flying from LHR, thereby releasing dozens on slots, and negating the need to expand Heathrow.

Why build a 3rd runway at LHR if you could easily have hourly 500 seat trains direct from LHR to Birmingham/ Manchester/ Liverpool/ Leeds/ Paris & Brussels ?

We have 2 pressing needs which our politicians have been toying with over recent years; a) HS2 and, b) airport capacity in the southeast of England.

Its a crying shame that none of our politicians have the brains to realise that a) is the solution to b), and about £20 billion cheaper.

Excellent news. Hard economic reality forcing government to cut back on non-essential "nice to have" schemes. Hopefully Crossrail 2 will go the same way.

Just get on and build it!

Looked at narrowly or in broader terms, the current HS2 scheme has a poor benefit / cost case, Both Birmingham and Manchester are too near to London to generate much extra benefit ( day return trips are already quite feasible and over 80% of public transport users on these routes already go by rail), whilst the route selected involves high construction costs .

If a very high speed line is justified at all in Britain, it may be London to Tees / Tyne / Edinburgh / Glasgow, using an East Coast alignment, with lower per - mile costs, and where there is scope for attracting substantial custom from the airlines.

Whatever project might be selected in the end, please let it be cost - effective !

@ King Arthur Crossrail is coming in both on time and budget with 90% completed but that was with a competent government!

Anyone who thinks scrapping HS2 will deliver anything welli suggest you look at electrification of MML and TPE and reality of Treasury which only provides funding for a project and if project is cancelled so is funding !

Remember HS2 is a long term project costing just £2-4 billion per year and so there is no magic money track if HS2 is cancelled!

Of course a hard Brexit will mean their won't be the Labour to build HS2 ....

The problems with HS2 just won't lie down. By any measure it is wildly over-specified, poorly co-ordinated project blithely setting out to build a railway to nationally interpreted standards ignoring international best practice. It would have been better if the planners of HS2 had not got bogged down with the ultra-high speed monster they are setting out to build. As was always clear from the outset the main purpose of the line is to act as a capacity buster for the WCML and MML. Thus it should have brisk performance (150 mph+) and mop up demand along the peripheries of these two routes.

The concept should have used the model of the M40 when it was built to relieve the M1/M6. No-one suggested a non-stop motorway London-Birmingham restricted to the highest performance vehicles, rather a conventional motorway was built through largely lightly populated areas to meet a wide variety of needs. A new 180mph railway with intermediate stops would better meet user and operations needs.

I still think a recovery and upgrade of the former Great Central alignment much in the way that the Germans and Belgians upgrade main lines to high speed by combining old right of way with new sections round bottlenecks would have delivered the same capacity enhancing output at a fraction of the cost.

But the HS2 behemoth grinds along. This huge, rickety vessel has the potential to destroy the industry. Politicians sense this but don't know what to do.

Perhaps the continued heatwave is affecting our political masters more than most & the silly season is with us earlier than usual. Then again with the cabinet and governing party so split on the overriding issue of the day, Brexit, it is little wonder that a coherent transport policy is increasingly being sidelined,

Against a background of increasing cost & delayed project delivery, struggling franchises & the disastrous introduction of the May timetable the industry has been it's own worst enemy squandering much hard won political capital. Since Grayling arrived as Transport Secretary in the May administration the industry has seen the withdrawal of support for what was previously seen as a clear strategic vision for network electrification. The advent of bi-mode trains is now lauded as the way forward giving politicians immediate gratification rather than furthering the industry's best long term interests.

HS2 is certainly the child of it's political parents now no longer pulling the levers of power. Given other policy divergences from her predecessors it would not be unsurprising for the May administration to sacrifice it to keep the warring elements of her tribe on side a little longer. Remember it wasn't so long ago we were told that HS2 was a stand alone project that would not affect continued investment in the classic network. Interesting how only recently cancellation of MML electrification was being justified by redoing the figures for the affect of HS2.



Basically the speculation is that costs have risen steeply and the initial bids for the contracts have been a lot higher than the Government estimated. But is this too only rumour ?

UK governments have a poor record on delivery of such projects. Their focus is always on short term political gain rather than long term national prosperity (the benefits of HS2 will not be felt for many years, long after our current batch of MPs have retired to their pleasant country piles). How long has the Heathrow third runway fiasco been dragging on for now?

Unless you want to build a wind farm in the middle of a conservation area, it's pretty much guaranteed not to go ahead in this country.