Posted 9th November 2018 | No Comments
Crossrail storm, as London Mayor is accused of 'incompetence'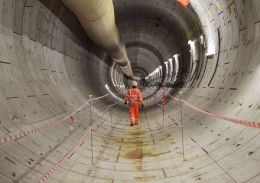 THE transport committee of the London Assembly has accused Mayor Sadiq Khan of making misleading statements over Crossrail costs and delays, which he has denied.
Transport for London has been forced to borrow £350 million from the Department for Transport to complete the Elizabeth Line, while the key underground section between Paddington and Liverpool Street is not now expected to open until autumn next year, which will be at least nine months behind schedule.
The committee had been pushing for explanations, and although the Mayor has now responded by letter, members of the committee say they still feel 'misled' about the delays, which they claim were kept behind closed doors while Mr Khan continued to make public statements, including ones to Parliament and the Stock Exchange, that the project remained 'on course'.
The committee also maintains that the Mayor has not provided all the information it had requested, including a monthly progress update from Crossrail, more details from TfL on the revenue implications of the delayed opening, details of any penalty clauses in agreements with organisations that provided funding to Crossrail and the details of revised opening dates for the eastern and western suburban sections.
Mr Khan said while he had become aware of 'significant growing cost and schedule pressures', Crossrail's position remained that the central section would open in December 2018.
He added: 'It was Crossrail's responsibility to decide when the project schedule was no longer achievable, and they did not do this until the Crossrail board meeting on 29 August.
He also denied misleading third parties, such as MPs and the Stock Exchange, because these statements had been made on 24 July, more than a month before TfL was told about the delay on 30 August.
The committee's chair Caroline Pidgeon said: 'Once again, with this response from the Mayor, we are left wanting.
'Simply accepting Crossrail's assurances about the launch date seems to show incompetence, or at the very least, disinterest. The fact that Crossrail is a joint GLA-Department for Transport project is irrelevant – the Mayor should have been having discussions with the DfT.
'One cheering note in the Mayor's response is a victory for our probing – we have demanded and received a promise of more transparency.'
Mr Khan's deputy mayor for transport, Heidi Alexander, said the committee's criticisms were 'nonsense'. She continued: 'The mayor has always been clear that he had discussed rising cost and schedule pressures with Crossrail Ltd over the summer, but it was not until the end of August that he was told that the opening of the central section was being pushed back to autumn of next year.
'In every project of this size, there are always risks that are being managed and both the mayor and TfL were relentless in questioning Crossrail Ltd on their assumptions and their actions, every step of the way.'