Posted 13th July 2017 | 2 Comments
Govia to pay £13.4m for Southern disruption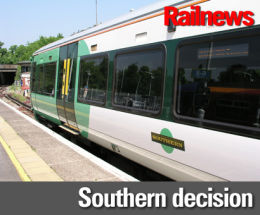 GOVIA has been effectively fined £13.4 million by the Department for Transport for poor performance connected with industrial action on Southern.
The money will pay for improvements rather than go to the government.
Govia Thameslink Railway said it was pleased that the matter had been concluded, but the RMT union condemned the decision as 'pathetic'.
The argument over whether Govia had been a victim of 'force majeure' -- factors outside its control -- has been running since early last year.
Matters came to a head in the High Court two weeks ago, when the DfT was given until today to reach a decision or risk a judicial review. The ruling came as part of a case brought by the Association of British Commuters, which claimed unsuccessfully that the disruption on Southern broke accessibility law.
Govia's majority shareholder Go-Ahead said it had already factored in the additional costs, and that its expectations for the year ended 1 July 2017 remain unchanged.
Go-Ahead, which owns 65 per cent of Govia in a joint partnership with Keolis, had said in February that the 'range of uncertainty' for the year to 1 July was plus or minus £15 million, and that the outcome was 'very close to management's central judgements'.
In a statement, Go-Ahead Group said: "This agreement resolves financial uncertainty relating to past industrial action and allows GTR to focus on improving services for Southern customers and delivering the significant passenger benefits associated with the Thameslink Programme."

 £7m will be put into a fund for the DfT to allocate to projects and improvements that will directly benefit passengers
 £4m will fund 50 on-board supervisors over the next two years (from January 2018) to improve access to staff for passengers on trains
 The remaining £2.4m will target performance improvements. GTR is now required to submit a remedial plan under the franchise agreement. (source: Go-Ahead)

Some uncertainty remains. Go-Ahead revealed that other 'contractual variations', including rolling stock cascades and timetable specifications, remain under discussion with the DfT, and that the sum still at risk could be up to another £5 million.
The uneven course of the Govia Thameslink Railway franchise, which has been running since September 2014, has already cost its owners significant amounts: Go-Ahead had warned that its share of profits from the franchise has been halved for the rest of the contract, which runs until September 2021.
Although industrial action over the controversial introduction of driver-controlled operation has been the main cause of poor performance, train services had also been affected by the long-running reconstruction project at London Bridge and other infrastructure problems.
GTR chief executive Charles Horton said: "We are pleased that this issue has been concluded, and accept and are sorry that our service levels haven't been good enough for passengers."
However, RMT general secretary Mick Cash was critical of the outcome, saying: "This latest whitewash of the Southern rail shambles by the government is hardly a surprise when they've been up to their necks in this fiasco right from day one. This pathetic response to the abject failure by GTR to deliver on their contract doesn't even stack up to a slap on the wrist.
"This is yet another case of the government and their rail industry cronies investigating themselves while the services they are responsible for are a global laughing stock. Chris Grayling has propped up the basket case Southern rail operation from the off."
Chris Gibb recommended in his recently-published report on Southern for the DfT that at least £300 million needs to be invested in GTR infrastructure if the full Thameslink Programme frequencies of 24 trains an hour through central London at peak times are to be achieved in 2018. The DfT authorised a special grant of £300 million for track upgrades after it was shown the first draft of his report in January this year.
Reader Comments:
Views expressed in submitted comments are that of the author, and not necessarily shared by Railnews.
Rather galling for Horton to state he is 'pleased that this issue has been concluded', from a passengers perspective this simply feels like another step in the wrong direction in a situation that feels completely irretrievable.

I fear this will simply be used as another mandate to increase industrial action on part of the Unions and GTR to dig their heels in even further. This would still be interesting government/commercial/industrial situation if it hadn't become so damaging and ruinous to peoples working lives, southern social services/healthcare staffing/education and local economies.