Posted 8th September 2016 | 6 Comments
Southern Judicial Review fund tops £12,000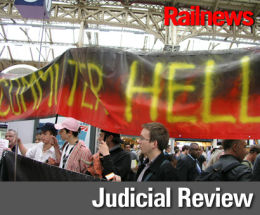 A NEW campaigning group set up to challenge the Department for Transport's handling of the long-running industrial dispute at Southern has raised almost half the funding it needs to launch a Judicial Review.
The fund, which was launched by the Association of British Commuters only a few days ago, reached its initial target of £10,000 yesterday and has since gained another £2,000, meaning that the ABC is nearly half way towards its second target of £25,000.
Its supporters want a review of how the government has managed the disruptive dispute over extensions of driver-only operation on Southern routes. After several months of industrial action and repeated but unsuccessful negotiations with the RMT, Southern began to make the hotly-disputed changeover on 21 August.
The news that the first stage of a Judicial Review is rapidly gaining support has come as RMT conductors on Southern stage another two-day strike this week.
Southern said the walkouts -- yesterday and today --- have reduced services on most routes, and some lines have no trains at all.
RMT general secretary Mick Cash claimed that his members' support for today's strike was 'rock solid'. He added: "Our message that rail safety and access to transport services has to be put before the profits of Govia Thameslink is ringing out loud and clear.
"The union thanks the travelling public for their understanding and support as we stand up against this failing and greedy rail operator in defence of the safety of passengers and staff alike.
"Southern is a train operator that has chosen to declare war on both farepayers and the workforce. Our message to rail users across the Southern network is clear -- our fight is your fight."
Passengers have already held public protests at Brighton and London Victoria.
Emily Yates, one of the founders of the Association of British Commuters, said: "The sense of camaraderie and the sense of community spirit is the one positive that has come out of this crisis. Sharing our experiences, our research, our money, emotionally supporting each other on social media and venting our frustration. It's not just a crowdfunder, it's crowd action."
Reader Comments:
Views expressed in submitted comments are that of the author, and not necessarily shared by Railnews.
I fail to see how viewing the side of the train from several small monitors in the cab is safer than someone standing on the platform who has a clear view of the whole platform. Many factors affect the clarity of the image on the cctv monitors - a dusty camera lens, sunlight glare, poor platform lighting and shadowy areas to name but a few, meaning it could be very difficult (humanly impossible, perhaps) to see a small hand, shoulder strap or something trapped in the doors. A guard/platform dispatcher can also warn/stop someone running towards the train after the doors have closed preventing a risk from a slip and fall underneath the train and they have the power to stop the train in an emergency.
Guards help with safety and security, are often the only point of contact a passenger has with staff and they also help reduce delays - imagine a passenger getting locked in the toilet in the 6th carriage back on a DOO train and operating the passenger emergency alarm. This would cause immense knock on delays due to the driver having to stop, communicate with the passenger, tell the signaller and then walk back 6 carriages, help the passenger and then walk back to the cab to continue the journey. With a guard on board this could be done on the move so there would be almost no delay. A DOO train is the same as having just the 1 pilot and no other members of flight/cabin crew on a transatlantic flight!

Mr Hall: you manage to think of a way to undermine every railway grade, insult Corbyn and UKIP voters and quite worryingly the travelling public.

I have no idea what your politics is, but, Peter Bottomley a Conservative has signed many Early Day Motions in parliament defending the role of the guard, so the idea that it is a "hard left", or indeed UKIP position doesn't stack up.

DOO is not popular, and drivers do not want it. The fact that there is no method of communication between drivers and passengers on platforms makes it inherently unsafe, unless dispatchers are used, or the train is very short, and the driver has an openable window.

Finally HSTs and 225s will be around for a long time yet. Loco hauled passenger services on GWR, Chiltern, Arriva Trains Wales and The Caledonian Sleeper are going nowhere. And Transpennine is ordering loco hauled stock. So your hope for voyagers and 387s or whatever everywhere isn't going to happen.

Apparently the RSSB DOO report uses a survey of 10 stations - are these London area or rural ones? Curved or straight platforms? Staffed or unstaffed platforms?

Opposition to DOO - what about the ordinary passengers who would like to see professional railway staff on the platform who can see (and hear) if everything is in order?

The RSSB has stated DOO with self dispatch is the safest method of dispatch as anything that introduces a second person leads to a risk of miscommunication. By using guards or platform dispatchers, the dispatch process is more dangerous.

DOO self dispatch with CCTV is the only safe method of dispatch. It should be extended countrywide at all stations.

Opposition is primarily from:

1) Guards and dispatchers trying to delay the inevitable to protect their very very well remunerated careers, as they see their gravy train has finally come to an end.

2) Drivers who blather on about risk of prosecution because they cannot be bothered to do dispatch safely or interact like adults with customers. They deserve prison / unemployment as well.

3) The trade unions of the above.

4) The hard left (and a lesser extent luddite UKIP supporters who want to take us back to the 50s).

5) A few rail passenger groups and commuter clubs (filled with often very well paid professionals with season tickets subsidised by the rest of the country) who have vested interests, which are not in tandem with the wider country and world, taxpayers and the expectations and obligations we have to investors both nationally and globally.

Once the steam era HSTs, 225s and assorted loco hauled rot we still have in the UK, are finally cut up and replaced with safe modern multiple units, there is zero need for any other staff other than drivers and signallers, and as ATO and ARS march on, these grades can be further eroded in order to improve investor outcomes and reduce costs. There is no reason why the ROCs and control centres cannot be offshored to India, or why ATO cannot be used to replace drivers with cheaper agency "train operators".

G4S and Rail Gourmet can be used for customer service / catering.



"DOO self dispatch with CCTV is always safer than dispatch by guards or platform dispatch, so the RMT and ASLEF are endangering the public".

On what evidence?

DOO self dispatch with CCTV is always safer than dispatch by guards or platform dispatch, so the RMT and ASLEF are endangering the public.

As for the commuter groups, they are just as selfish as the unions and seek to protect their interests as well. The interests of the country as a whole and investors should be paramount, not a tiny number of hard left rail staff or privileged season ticket holders.