Posted 16th March 2017 | No Comments
ASLEF, GTR agree second DOO deal on Southern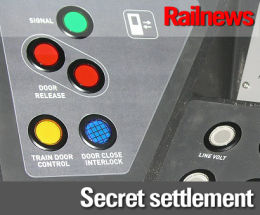 GOVIA Thameslink Railway and ASLEF have reached a new agreement which would settle the union's dispute over the introduction of driver-only operation on Southern – but as before the terms of the agreement are remaining under wraps.
Once again there will now be a referendum of ASLEF members on Southern, with the result being announced on 3 April.
ASLEF general secretary Mick Whelan said: "ASLEF members now have the opportunity to decide on the new terms of the agreed resolution with GTR Southern. This agreement has the full support of the negotiating team and the executive committee, and offers solutions to our concerns, as well as restoring the confidence of all parties and the travelling public."
GTR director Andy Bindon hailed the result as 'constructive'. He continued: "We're pleased we've been able to secure a recommended deal, subject to approval from its members, to end their dispute. It's been an extraordinarily difficult period for passengers, staff and the regional economy and we are glad we've found a way to move forward together. We look forward to restoring good industrial relations with ASLEF."
The RMT, whose members include the conductors who have become on-board supervisors, and which has now staged 30 days of strikes in the DOO dispute, is outside the proposed settlement.
The union's general secretary Mick Cash said: "RMT has not seen the detail of the proposed outline agreement between GTR and ASLEF and we are of course requesting a full copy as it goes to the heart of our disputes with the company.
"In the meantime RMT is pressing yet again for urgent talks with the company in our guards and drivers' disputes."
A previous attempt to settle ASLEF's part in the dispute failed last month. ASLEF agreed terms with GTR but these were rejected by ASLEF members on 16 February, with 55 per of those who voted opposed to the deal.
It is not known if the terms agreed by the ASLEF executive include the controversial provisions which would allow a train to run in service without an on-board supervisor in 'exceptional circumstances'.