Posted 29th June 2017 | 2 Comments
Court orders DfT to make decision about Southern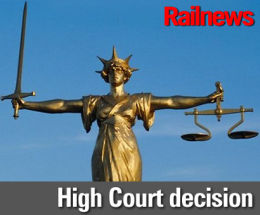 A HIGH Court judge has ruled that transport secretary Chris Grayling must publish a decision about the status of the Govia Thameslink Railway franchise by 13 July, or risk a judicial review of his department's management of the franchise.
The government has been considering whether Govia's failures to reach performance targets, particularly on Southern routes, amount to a breach of franchise contract.
Govia has submitted that poor performance has been caused by several external factors, which include the disruption caused by the rebuilding of London Bridge as well as industrial action.
Discussions have been taking place behind the scenes since early last year, but now the court has forced Mr Grayling's hand, ordering him to take action at the risk of facing judicial review later.
The ruling by Mr Justice Ouseley came in response to a claim by the Association of British Commuters, which wanted a judicial review of driver-controlled operation because it alleged that the extent of the disruption amounted to a breach of disability legislation.
The court did not accept this argument, and ordered the ABC to pay two-thirds of the DfT's costs of £25,900.
Counsel for the ABC, James Hodivala, submitted that there had been an unreasonable delay in making a decision about who was responsible for the poor performance, and whether Govia could reasonably plead that it had been a victim of 'force majeure' – in other words, whether Govia could not meet the targets set in its franchise contract because of circumstances outside its control. He also maintained that there had been a 'lack of transparency' about the performance targets themselves.
The DfT must now make a decision about whether Govia must take at least some of the responsibility for performance failings within two weeks of today's hearing.
Counsel for the Department, Clive Sheldon, said such a decision had been 'imminent' anyway, and that any penalty would then be decided. He explained: "The question of remedy will be a later decision, but not a significantly later decision."
A Department for Transport spokesman said: "We are pleased the High Court has thrown out the application for a judicial review by the Association of British Commuters.
"An independent report by rail expert Chris Gibb, which was published last week, made it very clear that the responsibility for disruption on Southern was primarily caused by industrial action led by RMT and ASLEF and exceptional levels of staff sick leave.
"We have been considering whether the extensive disruption to the line last year was entirely beyond GTR's control and our decision was due to be communicated to the company imminently. We are more than happy to inform GTR of the verdict within the 14 days required by the judge."
Govia has already been hit directly by the Southern problems, and its majority shareholder Go-Ahead Group has warned shareholders that its expected profits from the franchise have been halved.
The ruling came on the first day of an indefinite overtime and rest day working ban by ASLEF over the DCO dispute which is set to cut Southern services by as much as 25 per cent, although emergency timetables have been prepared which make the best use of drivers while they are working their core four-day week of 35 hours.
Reader Comments:
Views expressed in submitted comments are that of the author, and not necessarily shared by Railnews.
I think that other rail operators such as Abellio, MTR, First Group, Stagecoach/Virgin, DB Arriva and Trenitalia could take over the Southern franchise.

Abellio, DB Arriva, Trenitalia and First Group might be favourites to take over if one of them does win the bid to take over from GTR (Govia Thameslink Railway) Southern franchise which includes Gatwick Express aswell.

[There is no such thing as a Southern franchise. Southern is a marketing division or brand within Govia Thameslink Railway, and any transfer of the type you suggest (assuming that anyone wants to take the challenge, anyway) would involve some complex disentangling of the present GTR contract. It would not be easy -- or cheap.--Editor.]