Posted 23rd June 2017 | 2 Comments
Southern warns of service cuts when ASLEF ban starts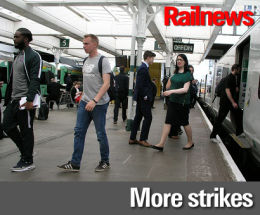 SOUTHERN has warned that its train services will be reduced from 29 June until further notice, as ASLEF prepares to start an indefinite overtime ban.
Talks between the unions and Govia Thameslink Railway over driver-controlled operation appear to be stalled once again, following a 14-day truce earlier this month between GTR and ASLEF which was intended to allow negotiations to restart.
Southern estimates that three out of four trains will still run under a special timetable designed to cope with drivers working only their base week of 35 hours over four days. Railways customarily depend on an element of overtime and rest day working to keep all their services running.
The operator is hoping to improve the percentage of trains operated to more than 75 per cent from 3 July, creating a timetable with 'stability and consistency'.
Passenger services director Angie Doll said: "This action is going to be very inconvenient to our passengers and communities but by putting in this revised timetable we will be able to run a more reliable and consistent service.
"We've been safely running our trains with drivers closing the doors on additional routes since January and have had six months of sustained improvement in service levels and positive passenger feedback.
"We urge ASLEF to put an end to their industrial action and allow passengers to get on with their lives."
Other GTR services such as Thameslink will not be affected directly, but Southern warned that they could be 'extremely busy'.
The news of fresh service reductions on Southern comes hard on the heels of new strike dates announced by the RMT in the DCO dispute, which are set to cause disruption on Merseyrail and Northern as well.
The RMT walkouts will be staged on Southern on 10 July, on Northern on 8, 9 and 10 July, and on Merseyrail on 8, 10 and 23 July. The last of these dates will be the final day of The Open golf championship at Southport.
RMT general secretary Mick Cash described the continuing deadlock over DCO as the result of a 'flagrant disregard' of the safety issues by train operators, and said there was 'no option' but to continue with strikes.
While operators and unions continue their dispute over whether DCO is safe, a report commissioned by the Department for Transport but kept under wraps since the start of this year has concluded that a number of reforms are urgently needed, including the creation of smaller, local depots on Southern.
Senior rail manager Chris Gibb has highlighted the poor state of the infrastructure on the Southern network, and the DfT authorised a special grant of £300 million in January to pay for improvements. Mr Gibb is also critical of the way timetables and rostering are arranged on Govia Thameslink Railway, which he says make a quick recovery from disruption very difficult.
He is proposing that all-night services on the Brighton Main Line, including Gatwick Airport, should be concentrated in future on the Thameslink route via Farringdon, Blackfriars and London Bridge, which would allow London Victoria and its approaches to be closed for maintenance for four hours each night.
Transport secretary Chris Grayling said the DfT had intended to publish the report in April, but the General Election had caused a delay.
He thanked Mr Gibb for his contribution, but industry observers noted that he stopped short of giving the report his whole-hearted endorsement.
He explained: "In many respects, Chris Gibb's advice aligns with the direction I want the industry to take as rail travel increases. Passenger journeys on Southern's major routes into London have doubled in the last 12 years. I wish to say directly to those passengers – while I am pleased performance is improving – I understand that last year you were let down by train services that simply were not good enough. We took steps to improve compensation, but ultimately we need services that meet your expectations, and I am determined to take the necessary steps to deliver needed improvements."
Reader Comments:
Views expressed in submitted comments are that of the author, and not necessarily shared by Railnews.
So cuts begin at end of June just in time for when rail workers take their summer holidays ..... Sounds same as last year !