Posted 15th January 2015 | 3 Comments
Network Rail, Southern apologise for performance problems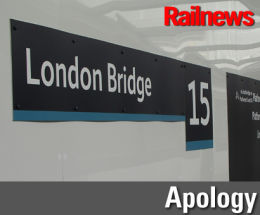 POOR performance on the Brighton Main Line has triggered an apology from Network Rail and Southern, the second such apology within a week.
The joint statement follows the revelation that one early morning train from Brighton has not arrived 'right time' at London Victoria for a year.
There has also been criticism of disruption at London Bridge, where the new timetable worked out for the latest stage of the Thameslink Programme has not been running smoothly.
Network Rail apologised for this on 7 January, saying: "This is not the level of service that customers deserve, expect or that we want to deliver.
"Over the festive break we undertook 16 days of work rebuilding two new platforms, removing and replacing 3km of track and installing new signalling. This work was completed on time.
"However, the new timetable has proved challenging to manage. We have reviewed this and made some immediate changes to a small number of evening peak services which will reduce the pressure on the infrastructure and allow us to deliver a more punctual service that passengers deserve."
The new statement says: "Southern and Network Rail accept that performance on the Brighton Main Line and routes into London Bridge has not been good enough."
Network Rail area director Steve Knight explained: "Trains to Victoria and London Bridge travel over the most congested part of the whole of Britain's railway network and we are constantly pushing against the boundaries of what is physically possible on the infrastructure.
"We are striking a balance between running as many trains as we can when people want them -- which is overwhelmingly in peak times -- and improving punctuality. The sheer number of trains also means that knock-on delays are magnified: for example a delay of one minute to one train in peak times will quickly delay more than 25 other services.
"To make things better we are rebuilding the railway around Bermondsey and London Bridge, which will make a huge difference to reliability. While the work is going on we are operating with reduced capacity, but we are doing all we can to continue to run as many trains as possible."
Labout shadow transport secretary Michael Dugher has also been critical, saying: ""Out-of-touch ministers talk about 'comfortable commuting', but this is a world away. Network Rail and the Operators need to get their act together and Ministers need to get a grip and sort this mess out. Passengers have had enough."
Reader Comments:
Views expressed in submitted comments are that of the author, and not necessarily shared by Railnews.
It does seem a bit daft to advertise times which the evidence shows are completely unfeasible in practice, just for the purposes of keeping a clock-face timetable. Adding a small number of minutes to the PTT for the most delayed journeys would manage passengers' expectations.

If a Train doesn't arrive on time for a whole year - then the time given for the Journey is unrealistic and needs altering. Add on 5 minutes and lo and behold, the Train is now on time.