Posted 14th September 2014 | 4 Comments
Govia takes over on Thameslink Great Northern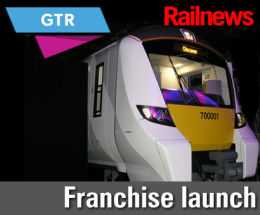 RESPONSIBILITY for trains on the Thameslink and Great Northern routes passed from FirstGroup to Govia at 02.00, marking the moment when Britain's largest rail passenger franchise was launched.
Govia Thameslink Railway, also branded GTR, will now operate trains on both sides of London for the next seven years. Some Southeastern routes will be added in December, and the present Southern network will be merged with GTR in July 2015, creating the largest rail franchise in the country.
GTR will employ around 6,500 people. On average it is expected to carry about 273 million passengers a year and earn annual revenues of approximately £1.3 billion.
The franchise is unusual, because all revenue will be paid to the Department for Transport and Govia will earn a management fee. Govia still has the 'costs risk', which means in practice that it will be responsible for keeping its expenditure under control. It is committed to investing £430 million in improvements.
The next seven years will see major changes on GTR routes, including the completion of the Thameslink Programme, the reconstruction of London Bridge and the introduction of a large fleet of 1,140 Class 700 vehicles for the core cross-London routes, as well as new trains for the line between Hertfordshire and Moorgate. Other routes will also see rolling stock changes: the London-Cambridge-King's Lynn route will be operated by Class 377s by 2017, while the Uckfield line will gain longer trains when cascaded diesel units become available.
By 2018, trains will be running through the central London core section every 2.5 minutes in peak times.
Other plans include major upgrades at St Albans and Luton stations, new fares such as 'super off-peak' returns on weekdays and more flexible season ticket rates which will allow a combination of peak and off-peak travel.
The company's website said: "We know that overcrowded old trains and dirty stations are some of your biggest bugbears. Over the next 5 years, we'll be investing millions to change all of that."
GTR managing director Charles Horton added: "I'm very excited to be leading the team dedicated to running the UK's biggest franchise. Over time we will be making real improvements to passengers' experience and managing the major changes that are happening on this part of the rail network.
"We've listened to what people want, and will be increasing capacity on busy commuter services, improving reliability and punctuality, introducing three new fleets of trains, spending £50 million on station improvements, and investing in our employees' training and development.
"There's no underestimating the challenge of the task ahead. But I'm confident that we have the people and the plans in place to make a real difference to the service we give our passengers, and that for our staff GTR will be a great place to work."
As First Capital Connect bowed out, returning the Thameslink franchise to its original operator Govia, FirstGroup chief executive Tim O'Toole praised the efforts of FCC staff.
He said: "I am tremendously proud that FirstGroup has operated the franchise for the past eight and a half years, and of the many capacity increases and other improvements we have delivered which have laid the foundations for better services in the years to come.
"Since 2006 we have been a key partner in delivering the £6.5 billion Thameslink Programme, along with the Department for Transport, Network Rail and others. This is a major investment that is already bringing benefits to passengers and is transforming a key part of London's transport network. Milestones achieved include the first 12-carriage trains to operate on the route, the extension of Blackfriars platforms across the Thames, redevelopment of King's Cross and Farringdon stations as well as further upgrades across the whole of the network.
"I am most proud of our employees at First Capital Connect for their dedication in working tirelessly to deliver these improvements for our customers during a period of great change on the network. We are supporting the new operator to ensure a smooth transition for everyone as they prepare to take on these crucial responsibilities for the capital and we wish employees, partners and passengers of the new franchise every success for the future."
Reader Comments:
Views expressed in submitted comments are that of the author, and not necessarily shared by Railnews.
While 3rd rail may be inefficient, the trains most certainly are not limited to 60mph, I am sure.

Have you been on the south West main line?

(You are quite right. The speed limit for third rail is actually 100mph (160km/h).--Editor.)

Nobody wants to extend 3rd rail DC. It is hopelessly inefficient losing 25% of power as heat and trains are effectively limited to 60mph. In fact most trains I've seen in use south of London are dual voltage. The real upgrade for the future is to replace 3rd rail DC with overhead lines.

I think GTR has a very tough job ahead of it; not only have they to maintain current standards, introduce the new fleets, and keep pace with growth, they are going to have to meet higher expectations and deliver on their commitments. All this while they reconfigure services, bring the Thameslink up to design capacity, and deal with increasingly militant unions.

It seemed like I had travelled back in time today with trains advertised and announced as Thameslink or Northern both names that should have never been removed !

It seems tonight's Evening Standard is reporting that users of Brighton line services are likely to have to pay more in fares as FCC offered lower fares than Southern and with this new combined franchise fares are likely to be more equalised .

I find it is ridiculous that DMUs will still use the new London Bridge Station all because the DFT won't see sense and allow extension of 3rd rail DC where it will release DMUs for use elsewhere . In fact full electrification of Southern and then South Western using AC or DC would release many DMUs for use to replace pacer trains around the country .