Posted 17th June 2019 | 1 Comment
17 June: news in brief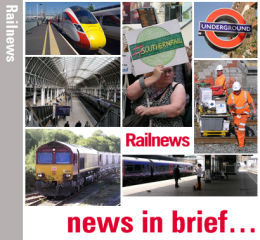 Arriva bidders
THREE potential bidders for Deutsche Bahn subsidiary Arriva have emerged. Arriva, which was a British company until 2010, operates the Chiltern Railways, Northern and CrossCountry franchises, open access operator Grand Central and also a number of bus companies. DB is trying to reduce its debt mountain of some €20 billion, and is expected to realise some €3 billion from the sale. The companies who are reported to have shown an interest are investment bank Goldman Sachs, private equity firm I Squared Capital and one of the owners of Canary Wharf in London Docklands, US-based Brookfield.
Open access proposal for Wales
ANOTHER open access application has been lodged, to provide competing services between London Paddington and Cardiff Central using Class 91 locomotives and Mk4 coaches cascaded from LNER. The application, from Grand Union Trains, has come only a few days since Virgin Trains said it was planning open access services between London Euston and Liverpool Lime Street. If Grand Union is successful, it will be providing the first open access services in Wales since Wrexham & Shropshire ceased trading in 2011. Grand Union is led by open access veteran Ian Yeowart, who was involved in the early days of Grand Central. Unlike Virgin, Grand Union's proposal is not for reservation-only trains, but it is promising a 50 per cent discount for passengers who have to stand. Grand Union trains would call intermediately at Newport, Severn Tunnel Junction and Bristol Parkway. Ian Yeowart said: 'Our trains will provide the very best on-board experience, with more leg-room compared to other train providers, free wi-fi, a good choice of catering, on-board ticket sales at a fair price and a full complement of safety-trained staff including train guards.' The service could be launched in December 2020.

Borders electrification
THE Borders Railway is one of several routes being considered for electrification by the Scottish Government, the Scotsman has reported. Network Rail said: 'We are working closely with the Scottish Government to identify opportunities to extend electrification and the faster, more reliable and greener journeys it brings.' The route between Edinburgh, Galashiels and Tweedbank was reopened four years ago. There were some single track sections to reduce costs, which have since been blamed for affecting performance, but structures were built with sufficient clearances for OHLE. Electrification would reduce journey times on the route. Transport Scotland said: 'We remain committed to a rolling programme of electrification, and are working with Network Rail to identify the next Scottish electrification scheme. Several routes are under consideration. Electrification of Scotland's railway network is a key component of the Scottish Government's commitment to improving rail services and tackling climate change.' The Campaign for Borders Rail has welcomed the news. Chairman Simon Walton said: 'Positive news of electrification, no matter how early in the process, is very encouraging for the railway, and for our ambition to see the line extended through Hawick to Carlisle.' However, the Campaign said other improvements were needed on the route as well, including more double track.

Electrification needed to meet zero emissions goal, says report
THE Campaign for Better Transport is calling on the government to restart the programme of railway electrification to meet its target of net zero greenhouse gas emissions by 2050. The CBT has published research showing that efforts to reduce greenhouse gas emissions and air pollution from transport are likely to stall unless rail electrification is resumed. The report says rail is currently the greenest major form of transport and releases up to 85 per cent less carbon emissions for each passenger kilometre than other forms of transport. It also says growth in rail travel has supported a reduction in carbon emissions but the government's cancellation of rail electrification schemes is undermining this and making it more difficult to achieve the net zero target. CBT chief executive Darren Shirley said: 'The government cannot meet its climate change commitments through its current plans for the railway. Without restarting the programme to electrify rail routes, it is difficult to see how the UK can meet its net zero targets. Rail is a very sustainable form of transport and should be at the centre of the wider efforts to reduce greenhouse gas emissions and improve air quality.' Among electrification schemes announced in 2012 but since cancelled have been Market Harborough-Sheffield/Nottingham, Didcot Parkway-Oxford, Swindon-Bath-Bristol Temple Meads and East West Rail. Plans for an 'electric spine' for freight between Southampton with the Midlands are also on hold.
Reader Comments:
Views expressed in submitted comments are that of the author, and not necessarily shared by Railnews.