Posted 13th December 2013 | 21 Comments
New boost for railway electrification schemes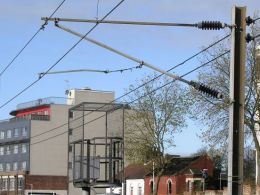 THE railway linking Bolton and Wigan is to be electrified by 2017 at a cost of £37 million, the Department for Transport said today.
In addition, a task force is to be set up to explore the next steps for railway electrification in the north of England. The routes to be investigated in detail include Sheffield to Leeds and Doncaster, Crewe/Warrington--Chester, Selby--Hull and Leeds--Harrogate--York. The task force will be made up of representatives from train operators, local authorities including the Rail North consortium, the supply chain and local Members of Parliament.
This group will provide the transport secretary with an interim report within 12 months setting out how schemes can be brought forward and their development accelerated.
The DfT said electrification between Lostock Junction, west of Bolton, and Wigan North Western station would allow diesel Pacers to be withdrawn in favour of electric trains on the services between Wigan and Manchester Victoria and also Wigan and Manchester Airport.
The schemes form part of a wider phase of new transport funding, which also includes many road improvements.
Transport secretary Patrick McLoughlin said: "Whether it's unblocking bottlenecks on local roads, improving trouble spots on our motorways and trunk roads, or working to deliver better railways through electrification, these projects will benefit communities up and down the country and help keep Britain moving. By investing in our local and regional transport infrastructure we can help support new jobs and boost our overall competitiveness in the global economic race."

FULL LIST OF POTENTIAL ELECTRIFICATION SCHEMES:
Leeds – Harrogate – York
Selby – Hull
Sheffield – Leeds
Sheffield – Doncaster
East Coast Main Line – Middlesbrough
Sheffield – Manchester
Warrington– Chester
Crewe – Chester
Reader Comments:
Views expressed in submitted comments are that of the author, and not necessarily shared by Railnews.
Where do you stop with a list of "potential" electrification schemes? I have heard no mention of electrifying north of Manchester to Rochdale and the Calder Valley to Leeds via Bradford, but surely that busy route cries out for electrification? The logical extension to that is Todmorden - Burnley, over the Copy Pit line, now that the route to Manchester is being re-opened.



A lot of you are mentioning about CREWE TO CHESTER. The reason that they are only going as far as CHESTER is because only a few of virgins trains continue to Holyhead. There are more trains to Chester so it is not needed to go to Holyhead.

I think the most obvious line has been completely missed out - simply the CLC route between Manchester to Liverpool South Parkway via Warrington Central. Doing that makes sense as it completely electrifies the whole South Lancashire area and no need for Diesel Units want so ever. I would say that is more important than the Warrington BQ to Chester line!

Electrify Manchester Sheffield? Haven't we been there already? They couldn't wait to close it and rip out the infrastructure, after little more than 25 years use. Can we really trust our railway managers with public investment?

The decision to electrify the Bolton to Wigan line makes some sense, however continuing on to Southport would allow comuter trains between manchester Airport/Manchester Victoria and Southport to be electically opowered, rather than running as diesel under the wires from Wigan to Manchester.

Meanwhile, I wonder if there will be a decision to electrify Leeds to Carlisle? Part of the route acts as a diversion route for teh WCML (Hellifield to Carlisle) and could provide a third electrified direct Anglo-Scottish corridor. It may be more feasible given its connection to the East Midlands, East Midlands Airport and European services at St Pancras. Just to get completely carried away, a direct Scotland to France/Belgium/Holland Eutrostar might be possible HS2 permitting!

Mr Editor, you can't fool me with that photo representing "northern" electrification :-)

I used to live in the building to the right of the electrification mast.
It's in Bedfordshire, platform 1 at my local Luton station lol.

(Absolutely right about the location, but it's intended to be a 'generic' image rather than specifically northern. One dropper wire looks awfully like another to me!--Editor.)



The whole point about the task force is that it will look at what happens as the current programme (plus Bolton-Wigan) runs off. The Sheffield connections are logical follow-ons from Midland Mainline electrification. Harrogate, Hull and Middlesbrough are logical complements to the ECML fleet renewal, but will involve substantial work force development and training. The Chester routes are gap-filling between WCML destinations, but as Richard Beckley points out (and indeed Virgin trains have stated), electrifying only as far as Chester on the North Wales route does not make operational sense. Unless Bombardier gets the cost of converting the Voyagers to bi-mode down to a sensible price...


Whilst these announcements are great, I wonder if DfT and Network Rail have thought about how they will actually construct these schemes?It is a known fact that the electrification resource available is simply not there, with the current resource seriously stretched.If these and the previously announced plans go ahead then we will be installing wires at a greater speed than ever before. The DfT and Network Rail need to take a balanced approach to ensure that all the schemes are delivered to the requirements, but do not heat the already overheated construction market at the same time. Long term alliance arrangements need to be entered into in order that construction companies have a stream of work that will drive investment and long term employment rather than the stop start culture of recent years.

I have to agree John, I would have thought the Tyne Valley line would be a prime candidate for electrification, especially as you say that it is a key diversionary route for Scottish services during disruption! that and the Durham Coast line!

The two gentlemen above make valid points. I would just say that the UK cannot do it all at once. We have an abyssmal history of rail investment in general and electrification in particular. IF the current plans go ahead - and, with a General Election looming, that is far from certain, then we shall be electrifying at a greater speed than ever before. The other lines DO NEED electrifying but even I, a cynic, realise that we can't do it all at once. Let's just keep tabs on them, the politicians and civil servants, to make sure that they speed things up and don't renege on their plans!! (For example the sainted Lord Adonis announced the GWML wiring in 2009 but almost nothing has been done yet!!!) That's four years gone by.

(GWML electrification to Swansea waa indeed first announced by Lord Adonis on 23 July 2009, but on 25 November 2010 [post-election] Philip Hammond 're-announced' the scheme and revealed that the scope had come down to outer suburban only. It has now been enlarged in stages to its original extent. I suppose all this rethinking takes time. As some consolation, there have been electrification masts visible in the Reading area for quite a few months now.--Editor.)

surely then both Holyhead and Llandudno services won't be able to be electric past Chester? Time to do North Wales...!

If Sheffield t Manchester is electrified perhaps the East Midlends trains frm St Pancras to Nottingham could be extended via Sheffield and Manchester to Liverpool. This would leave the diesel Norwich to Nottingham trains perhaps to be diverted to Crewe or Birmingham via Derby. Interchange could be available at Nottingham.
Electrification from Warrington and Crewe to Chester would leave the North Wales Coast out on a limb. I realise that the hourly service from Cardiff/Birmingham via Wrexham would, of necessity, continue to be diesel unit operated but the hourly Manchester to Bangor/Llandudno would either terminate with the wires at Chester or be diesel unit under the unused wires from Warrington to Chester as no train during the day from Manchester terminates currently at Chester. Wires from Crewe would enable Pendolino operation on the hourly express from London to Chester.

It would surely be wise to electrify the North Wales Coast Mainline along with the connections to Manchester & Crewe. That would 'free-up' 175's (Coradias) & 158's as well as Voyagers that travel under wires all the way down to London (from Crewe).

In the meantime, it would be prudent to replace the Voyagers on the WCML with new electric trains in order that the Voyagers can be redeployed to cope with the diesel shortage elsewhere.

I wonder who is going to be on this 'task force'; is this going to be drawn up within the DoT, or involving the wider industry? The former might, as I suspect, be motivate more by political considerations (less than two years to go) than Cost/Benefit analysis (or economic stimulation), give the list that has been provided so far.

(Your question is answered in our story, to wit: "The task force will be made up of representatives from train operators, local authorities including the Rail North consortium, the supply chain and local Members of Parliament."--Editor.)

I shall wait until work starts on the other currently planned major schemes as well as these before believing in these new schemes - excellent though they are of course. (And then, of course they all have to survive a General Election as well!!!!)

Sheffield – Manchester
So does this mean the Woodhead Tunnel would reopen coz I don't think Hope Valley Line Totley Tunnel is any good for the overhead electrification. I remember in the late 70s when i worked on that Line at Marple Wharf Junction Totley Tunnel was always closed at weekend and train ran via Woodhead Tunnel as work was done on Totley.
To think Woodhead is still a new Tunnel which was bored purposely for the overhead electrification of the route and was completed in 1953 and closed by 1981 that was only 28 years old and you think Totley is 120 years old

Good to see that Sheffield could be joined up to ECML at Doncaster. This could give great flexibility with diversions and do it with electric traction.

The other schemes to include Manchester - Sheffield and the approved MML scheme means the North should begin to get a rail infrastructure is deserves.

Just hope the politicians have the vision to take this through!

I'm trying to refrain from comments about StopHS2 in every Railnews post, but this one is too good to resist.

So, two years ago StopHS2 were claiming that Midland Mainline electrification wouldn't happen because of HS2. But it got the go-ahead. Then they said, okay, maybe it was going ahead, but that would be the last one because no new projects will begin whilst HS2 is being constructed. Wrong again.

We've also had support in principle for faster journeys to Norwich and the remainder of the East-West rail project in the last couple of months. Heaven knowns how much longer the StopHS2 bunch think they can keep this up.

No mention of the Lakes line, nor the Furness line!!!!!!

(The potential electrification of the Lakes Line to Windermere was announced in early August. Please see http://www.railnews.co.uk/news/2013/08/09-dft-unveils-lakes-electrification-plan.html.--Editor)

"By investing in our local and regional transport infrastructure we can help support new jobs and boost our overall competitiveness in the global economic race."

Looking at the list of proposed electrification schemes i don't see anything that benefits the regional transport infrastructure here in the East Midlands.
What about electrification of the Matlock branch, Derby - Stoke, and Lincoln? Less than 100 route miles for all three lines, currently operating Sprinters that will all be over 30 years old and life expired in less than 10 years, a lot of which are Class 153's that must be withdrawn or reformed earlier due to the DDA. What future for regional rail in our area? Is Midland Main Line electrification just a token scrap of investment for the East Midlands or will someone with a little foresight expand outwards instead of merely Northwards!
At the very least, once Hull and Middlesborough are wired, can we at least have the displaced 180's on the Liverpool - Norwich's please? and cascade the ageing and underpowered 158's to the local routes in our region!

as a ex railway signaler one route that gets forgetting every time is the Tyne valley route known as the west line it has-to carry diversions for E.C.M.l. and settle and west coast when thing go wrong to Scotland this route needs up grading t he amount of electrics Diesel hauled through this route is unbelievable