Posted 24th April 2019 | 19 Comments
Virgin calls for all-reserved 'airline style' railways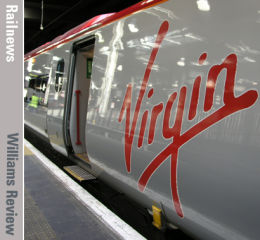 VIRGIN has unveiled proposals for making intercity trains all-reserved, as Eurostar is now.
The plan, which has been submitted to the railway review being led by Keith Williams for the Department for Transport, would end the concept of a 'walk on' railway as far as longer distance travel was concerned.
Passengers would need to book specific seats on specific trains for all types of intercity travel. At the moment, this restriction applies only to heavily-discounted Advance tickets
The RMT has condemned the idea, saying it would lead to 'total chaos'.
Virgin said its reforms would mean no more standing passengers in normal circumstances, because when a train was fully booked no more tickets would be available. There would also be an end to peak and off-peak fares as such, because each seat would be offered at rates which could change as the train concerned became busier, as seats on planes do now.
The proposals, entitled 'Reimagining the railway', also change the way paths are allocated for each franchise.
Long-distance operators would compete for slots which they would own indefinitely, while a 'modified, devolved and longer-term franchise system' would be introduced for short distance commuter routes. These would be 'integrated with devolved infrastructure management' and involve local government.
Other benefits, according to Virgin, would include 'a more positive development environment' for stations, meaning that operators not limited by a franchise expiry date would be more willing to invest in them.
The reforms would also include the creation of 'a single independent and strategic regulator'.
Virgin Group senior partner Patrick McCall said the Williams Review offered a 'once in a generation' opportunity.
He continued: 'This submission was written before the recent Government decision to disqualify our bid for the West Coast Partnership. However, we believe the recommendations are more pertinent than ever given this news. Keith Williams has said that franchising cannot continue as it is now, and it is clear we need systemic industry reform which is driven by principles and a whole-system redesign. Indeed, it is highly questionable whether any franchises can be let sensibly, or robustly, as things stand.
'This will not be an easy fix. Every option will have downsides and there will be some difficult decisions to be made. But there should be no dogmatic fixation on models or ownership. Instead, we must develop a system which optimises the benefits for passengers, taxpayers and communities and which enables train companies to evolve as the world evolves around them. We must be both visionary and pragmatic.'
RMT general secretary Mick Cash said: 'What Virgin are proposing is a deregulated free for all where private train operators slug it out on the most lucrative routes on a slot by slot basis. It would lead to total chaos with passengers trapped in a transport nightmare of escalating fares where prices rise by the minute according to availability.
'Virgin are actually proposing a version of the current broken rail franchising model pumped up on steroids, when what is really needed is an end to this nonsense and public ownership of our railways.'
Reader Comments:
Views expressed in submitted comments are that of the author, and not necessarily shared by Railnews.
One of the best things about rail travel is the flexibility.

One of the worst things about airline travel is rigidity. And then there's the discomfort, lack of space, regulations, and the huge amount of fannying around at either end before you even go anywhere.

Why would anyone (apoart from those stand to make a profit out of it) want to make rail travel more like air travel? No thanks.

It is great in theory as it would stop people from boarding overcrowded trains and then moaning that there are not enough seats. In practice, I use rover tickets for a lot of leisure journeys and often board trains without a particular destination in mind. The other problem with only being allowed on trains with reservations comes when trains are late and people miss connections. Or trains get cancelled and everybody is bundled onto whatever the next train happens to be. Great idea but not thought through. Although it would stop the Opposition leader sitting in the corridor of a train operated by the bearded one whilst being photographed for the press as he would not be permitted to board without a seat reservation........

Stupid idea. I use rover tickets a lot for the flexibility, which would all but vanish under beardies plan. one of the many great things about railways is that they are NOT like airlines; lets keep it that way.

Whilst being in favour of Virgin's idea here, I'd like to say it can only work given an IT system that allows fares to be paid together with seat reservation up to 10 minutes before the train departs ; my information is that such does already exist , and is used in the TGV and Eurostar services already mentioned by others. Business users wanting flexibility in return journeys could thus largely be catered to.

Just what you'd expect from 'The Bearded One'! the quicker he is slung off the railway and sent back to his crap airline the better!

A terrible and totally impractical idea, which would destroy the flexibility of train travel. Have Virgin noticed how many passengers use their trains for short distance journeys such as shopping trips from Coventry into Birmingham? Are those passengers going to have to decide in advance how long their shopping will take and reserve their homeward train? And good luck to their staff who will be tasked with only allowing reserved passengers to get on at stations such as New Street.

This smacks of putting the operational convenience over customer service. Yes, it's nice to have all seats full and no standing passengers but that's the Utopian view of the world from the point of view of the TOC. Where's the 'flex' in the system in case of disruption if passengers cannot stand instead of trying to book on a service potentially several days hence? I'd imagine that there'd be a migration of custom to an expanded inter-city bus service. Until there are sufficient seats and sufficient trains to cover all intending passengers, it's a non-starter. Waiting 30 minutes for a train is probably not too much of an inconvenience but, if the missed train is only one of several on a journey, the destination may not be reached the same day. The seat reservation system in Germany allows for a booking to be made during the journey without turning people out of their seats by allocating seats of passengers disembarking rather than seats which were not reserved at the start of the train's journey. Virgin cannot cancel a seat reservation at Euston with one hour's notice.
[Virgin has conceded that 'standing reservations' might be necessary when there is disruption.--Editor.]

The French have been practicing the reserved seat concept since the start of the TGV in 1981, even if they are well known to be undisciplined !!!

There are different fares with flexible, semi-flexible and non flexible tickets.

On the existing intercity services, this is unworkable. You could just about install the infrastructure needed to reserve and reschedule seats on the fly like there is in much of continental Europe, but with all intercity services functioning as commuter services into London and other cities, the consequences of refusing to let standing passengers on to service don't bear thinking about.

That said, we may need to think about this for future high-speed services. I think I read somewhere that the main reasons for mandatory reservations on continental high-speed services is that it's considered unsafe to run services pack to standing at 180 mph. Railnews, is that the case?
[There has been a reservation-only policy on French TGVs for a very long time (and that is echoed on Eurostar) but the reasons have never been spelt out. I wonder whether standing passengers might be regarded as rather untidy! I have also heard it suggested that you could be safer in an emergency stop on a crush loaded train, because the weight of bodies would act as a kind of protective mattress -- there would be no room to fall over, for example.--Editor.]

In my view this would drive the business travel back into their cars. I can't predict when a meeting will finish and I am happy to pay for a walk on ticket so that I can turn up and get a train home at the end of the meeting. With Virgins view I would have to predict the end of a meeting or book a much latter train to make sure my meeting had finished. If this happened I would be more tempted to drive.

Surely the train companies should be encouraged to increase the length put on more trains for the extra demand not force people of because they haven't booked a ticket week in advance....


I'm not convinced that reducing capacity is going to help with overcrowding. As a regular down the WCML it can be massively overcrowded especially during key times and when services get cancelled or short formed

However open access TOCs have long been a model that drives competition and choice in the market so not in itself a bad idea as well as a bidding model (i.e. TOCs that perform well can bid less if they rank higher in PPM and passenger surveys)

However we operate a walk on railway and as such that will never change (nor should it). Specific trains that are exempt from carrying flexible passengers at the expense of their ORCATS share could be an option to allow customers the choice of AP only for longer haul but again doesn't address the capacity issue

I think Virgin Trains should disappear. They are a absolute disgrace. Why would they want to introduce all reserved air-line railway. Why?

HS2 is under construction and once HS2 is completed. It will mean better trains and better service. Which will become more reliable than on the West Coast Main Line. And even on the East Coast Main Line aswell.

A laughable idea from am outfit walking away from GB rail to focus on polluting flights. Walk up tickets are here to stay, Branson.

That said, their support for Open Access instead of franchising will make good sense on the WCML fast lines after HS2.

Well, sorry to disagree folks, but I think Virgin's ideas here are largely the way forward. Don't forget that on a given route, not all operators have to offer this same fare structure - competitors to Virgin might decide to offer "walk on" fares as an alternative, giving passengers choice.

Before anybody labels me as a profit crazed Tory, I'm not - I've voted for all the parties over several decades.

Bad idea.
The advantage of "walk on" tickets is you can change travel plans easily without hassle and extra cost. No worrying about missing booked connecting trains.
If a train is full when boarding, a few stops down the line you usually find a seat. If very full, have a cup of tea and catch the next one.
Surely there will soon be plenty of surplus Mk3 coaches for some mainline and cross country routes?


Why does it matter to Virgin Trains? They won't have a franchise from next year since the Stagecoach debacle. Good riddance to them, both of them Virgin and Stagecoach, time for a change of scenery.

I travel on Virgin West Coast regularly and the trains are often very overcrowded and reduced to standing room only. If you simply ban all the standing passengers then you'll only exacerbate the problem! Those standing passengers will be forced onto another train and another train until there is huge competition for the seats... and Virgin can put the prices up - maybe that's the plan all along. There's no doubt that the WCML has an overcrowding problem but what Virgin is proposing is certainly NOT the solution.

What an awful idea. This might work on Eurostar or Virgin Atlantic, but will not work on the national rail system. What about the commuters who probably won't know what train they are catching until they reach the station. What about the customers with warrants or passes? There are already far too many seat reservations , a lot of which are not taken up and then there is the Cross Country variation where a seat can be reserved by someone else whilst you are sat in it. If this is the way Virgin are thinking I'm glad they are leaving the industry

Correct me if I am wrong, but what benefits will this bring to the average rail passenger? In reality, it would likely mean extreme difficulty in getting a seat at a time you need to travel, and hugely expensive tickets between times of high demand.