Posted 19th October 2009 | 20 Comments
ATOC calls for infill electrification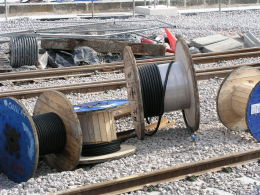 ATOC says more electrification would reduce carbon emissions and provide much-needed additional capacity
The Association of Train Operating Companies is calling for a series of infill electrification schemes, which would provide better connections between major British cities and also close some 'missing links'.

The plans involve up to 640km of route – about 4% of the National Rail network.

ATOC is 'keen to see work done which prepares for the electrification in the long term'. The new proposals would reduce carbon emissions and journey times, and also reduce overcrowding on some of the busiest parts of the network. At the moment, these carry around a quarter of a million passengers every day.

The Association said it had developed its proposals as part of the discussions about a longer-term programme of electrification. The Government has already announced plans to electrify the core Great Western Main Line between London and Oxford/Bristol/Swansea and also to complete the electrification between Manchester Victoria, Huyton and Liverpool Lime Street.

ATOC said it had estimated that electrification on ten key routes would cut carbon emissions by about a third on those routes, or around 75 000 tonnes a year. It would also create extra capacity for both passenger and freight.

ATOC Chief Executive Michael Roberts said: 'The programme of electrification that the Government announced over the summer was a clear demonstration of the commitment to a modern railway that is at the heart of a successful, low carbon economy. But we need to go further and plan ahead for the longer term if we are to ensure that a significant majority of passengers reap the benefits of faster, greener, quieter electric trains. Over the next 30 years, the demand for rail is likely to double and we must continue to improve our existing network if we are to keep up with this growth.'

The ten schemes are:

a. Liverpool–Warrington Central–Manchester via Warrington Central
b. Manchester–Huddersfield–Leeds
c. Basingstoke–Reading and Oxford–Leamington–Coventry (completing Basingstoke–Oxford–Birmingham)
d. Barnt Green–Cheltenham–Gloucester–Bristol Temple Meads (completing Birmingham–Bristol)
e. St Helens–Wigan
f. Leeds–York (with [b], this would complete Manchester–York–Newcastle–Edinburgh)
g. Preston (Euxton Jn)–Bolton–Manchester (completing Manchester–Glasgow)
h. Crewe–Chester
i. Ipswich (East Suffolk Jn)–Felixstowe
j. Swindon–Stroud–Standish Jn (with [d], this would complete Swindon–Cheltenham–Birmingham)

Reader Comments:
Views expressed in submitted comments are that of the author, and not necessarily shared by Railnews.
I live near Glasgow and often use the train to North West England.. I frequently need to travel to Liverpool but, incredibly, there are no direct services
to this city. The Wigan - St Helens - Huyton proposed electrification from the WCML announcement 'looks like' good news if a direct service is implemented, however, it appears that 'Renaissance Trains' are still trying to obtain a 'slot' for running a direct service from Glasgow? I understand that Liverpool enjoyed direct services from these Scottish Cities, some of the services splitting between Liverpool and Manchester at Preston.

Well, well, well, you have all been suckered by the 'encouraging' words from Brown, Adonis, ATOC and the boys at Notwork Fail. Brown said the Manchester/Liverpool wiring should start "straight away" well Guido that was in July its now November and i dont see any structures being erected or wires being strung. They talk the talk but strangely find it very hard to walk the walk. People!! JUDGE THESE PEOPLE AND THEY SCHEMES THEY TALK ABOUT BY THE SPEED WHICH THEY GET THESE THINGS DONE!! IT AINT GONNA HAPPEN, GET A GRIP. And dont think the tories will be any better coz believe me with Villiers at transport and the tripe she spouts ("Longer franchises, Longer franchises!!!") there will not be enough electrification to power a hornby train set.

Edge Hill to Liverpool docks is vital. Just these 10 miles of electrification makes it possible for the long distance freight trains to be electric instead if diesel. A lot of gain for very few miles of electrification. This is a much bigger payoff than either Bolton or St. Helens.

Wales is sorely noted by its absence. Wrexham and the South Wales Valleys particularly.

Mr Eager of Manchester. The East Coast Mainline north of Newcastle has been electrified all the way to Edinburgh since 1991! Like the WCML North of Crewe though, the Electrification assets on this stretch are chronicly under used with most trains operated by Diesels.

SHOULD BASINGSTOKE OXFORD COVENTRY CORRIDOR NOW BE ELECTRIFIELD TO NUNEATON & LEICESTER VIA BEDWORH & HINCKLEY TO CONNECT WITH THE MIDLAND MAIN LINE NOW BEING PROPOSED & AS WELL AS BIRMINGHAM - NUNEATON - PETERBOROUGH!!!

With regard to Basingstoke - Reading: as a member of Thames Valley Chamber of Commerce Transport Forum, I have asked that we should ask for this to be included as part of the GWML electrification. That includes Newbury already so it would add relatively little cost to add on Basingstoke (signalling immunisation there should have been carried out at recent re-signalling). With the rebuilding of Reading station, it would make operational sense for Basingstoke-Reading to pass to South-West Trains franchise which could then operate through trains from Waterloo to Basingstoke via Bracknell and Reading which would open up a lot of new travel opportunities and reduce operating costs.

With regards to South Wales: I think that ATOC have deliberately treated this separately as electrification of the Valleys Lines will be a matter for the Welsh Assembly and they can probably get EU funding for it.

Can agree with just about all of the above. Manchester & Liverpool to Glasgow electric will be possible via Chat Moss line so the routes via Chorley and St Helen's not quite so urgent and perhaps difficult with the listed Chorley arches (although I think that they made enough clearance by dropping the line a few years ago).
How much carbon reduction depends of course on how we generate the electricity.
Strange though how the man from Manchester has not noticed those wires across the Border Bridge at Berwick!

Infill Electrification or Complete Line Electrification

When one becomes the other is a moot point. The ATOC suggestions for infill electrification has some of both. In the north some are logical but some need questioning.

1-the HUYTON - St.HELENS - WIGAN infill is a logical extension of the Liverpool Lime St. – Newton - Manchester Victoria electrification facilitating access to and from the north to the WCML from Liverpool Lime St.

2- Similarly the MANCHESTER – BOLTON – PRESTON infill will facilitate connexion to the WCML to and from the north to both M/C Victoria and Piccadilly.

3 – The CLC line L/P – Warrington Central – M/C is as necessary if not more so than the L/P – M/C connexion through Newton –le-Willows (Chat Moss line)
Both these lines form part of the Transpennine system so both can be seen as the first part of electrified extensions to Hull and Grimsby.

4- Thus the M/C – HUDDERSFIELD – LEEDS infill is also necessary. However, because of the difficulties of the terrain would it not be better to undertake a major upgrade of the line together with electrification? Otherwise the gantries will be installed and that will be that for another 40 years blowing the chance for major improvements in line speeds. Also when is the extension to Hull planned?

5 - The infill LEEDS - CHURCH FENTON – YORK is part and parcel of the same Transpennine system and is a logical connexion to the ECML.

6 – In the same way the M/C – LEEDS connexion should be a major upgrade so should the M/C – SHEFFIELD – DONCASTER line (With a view of extending it to Grimsby within a reasonable time) for the same reasons.

7 – The CREWE - CHESTER infill makes no sense at all unless it is part of the electrification of the North Wales line to Holyhead in which case the WARRINGTON – CHESTER infill has to be completed at the same time.

With regard to the other suggested infills by the ATOCs I feel that other readers can made more meaningful comments as I am also sure there are other schemes which could be added. I have only one more comment. The connexion SOUTHAMPTON - READING - OXFORD – BIRMINGHAM necessary for both passengers and freight will be commented on more fully when the HS2 proposal is released by the end of the year.

Yours,
Stephen Cryan
Warrington
27 Oct.2009


One obvious omission is the 'Cardiff Valleys' network. These high frequency services are operated by units which will be well over thirty years old by the time the wires reach Cardiff so surely it would be convenient to plug in the valleys as part of the overall scheme. The Vale of Glamorgan route should, in any case, be electrified as it is frequently used as a diversionary route between Cardiff and Bridgend.

Passenger carryings on the lines involved have shown consistent growth over the last few years and are likely to continue to grow. Just look at the recently reopened line to Ebbw Vale which has already passed its four year target in considerably less than two.

SHOULD ALL THE CROSS COUNTRY CORRIDORS & OPERATORS IN THE U.K & ALL THE MAIN LINES OPERATING OUT OF LONDON TODAY BE ELECTRIFIED NOW & RUNNING ELECTRIC TRAIN'S EVERYDAY WITH A NEW FLEET OF PENDOLINOS & JAVELINS & DESIRO'S UNIT'S TO SERVE ALL CITIE'S & TOWN'S ON MAIN & BRANCH LINE'S WHICH ARE AT THE MOMENT NOT WIRED FOR FUTURE ELECTRIFICATION & ARE ALSO STILL RUNNING ON DIESEL TRAINS!!!!!

It makes no sense to electrify St Helens to Wigan if this does not include the rest of the line to Liverpool. Are we to assume that electric trains terminate at St Helens and a change to diesel train as at Kirkby and Ormskirk for the rest of the route?
Another proposal should be the busy North Wales Coast line to Holyhead which has both freight and passenger links to Ireland.

I agree with R Burnley, Bradford. Great News, Lets Get On With It !!

Seriously, NWR and our Government need to speed up the process of upgrades and renewals now before all the experienced staff have left the industry. Many of us are finding it increasingly difficult to carry on in the industry with ever decresing pay and conditions. The job reward is slowly deminishing from what it once was.

NWR - Listen Up !!

Severn Tunnel Junction to Gloucester is also a must as part of Newport to Birmingham and as a diversionary route when the Severn Tunnel is closed.

Great News!!! Good Old ATOC and for once i actually see alot of suggestions for rail users in the North Of England! Don't forget this is a strategy for infill schemes to link with existing electric supply, not electrification of new routes.

One thing i'm really suprised to not see though is electrification North Of Newcastle? Surely having the whole of the East Coast Franchise Operating Electric makes sense? and then a natural infill would be newcastle to carlisle, so there is a diversionary route to glasgow and edinburgh from the east or the west .



As usual the North East is forgotten. Any danger of the strategic cross country route from Carlisle to Newcastle being considered?

At last ATOC is starting to shout for rail and its users.
There are however a couple of items they should consider.

1. I trust they have discussed their proposals with the freifgt operators.

2. Basingstoke–Reading and Oxford–Leamington–Coventry (completing Basingstoke–Oxford–Birmingham) . What about Southampton to Basingstoke?
I believe it is Third rail It should be electrified at 25kv ac as the first of a complete changeover for all 'main line' routes. Wev certainly do not need d.c. to Birmingham .

3. All strategic routes should have guage clearance for High Speed trains.


GREAT NEWS LETS GET ON WITH IT .

I agree entirely with your above list of routes but is this not still incomplete with some major routes missing namely:

1) Midland mainline to Derby/Nottingham/Sheffield

2) Bristol to west country -Exeter and Plymouth and beyond

3) Birmingham to Derby and to North East

Were these routes not considered also?

Diesel trains on the West Coast Mainline should be a thing of the past. Connecting Manchester and Birmingham to the electrified WCML would save millions of litres of fuel and cut carbon emissions. I really fail to see why this is not done urgently, it is hardly a great distance to electrify and the benefits far outweigh the costs. I realise the diesel trains would need to be replaced in time - but the sooner it is started the sooner it will be complete. We cant afford to keep putting it off.
The WCML upgrade over the past number of years has brought the railway up to a modern standard and must be continued. To stop now will only leave us in the same position as we were at in 1998, in years to come. Throwing billions of pounds at railway projects every 10 years is not an option. Regular maintenance and upgrading is required to keep the economies of cities and towns along the route strong.
The length of time taken to complete such upgrades needs to shortened dramatically too, all the talking and red tape needs to be cut considerably.

Surprised this list doesn't include Birmingham-Derby-Sheffield-Moorthorpe/Doncaster, the Midland Main Line between St Pancras and Derby/Nottingham, and perhaps also some lines in the West Midlands (like Walsall-Rugeley, Wolverhampton-Shrewsbury, Water Orton-Nuneaton, and perhaps Lichfield-Alrewas). This would allow all East Midlands Trains main line services and Cross Country's Newcastle-Readings to go over to electric, the Euston-Wolverhampton service to be extended through Telford to Shrewsbury, and for electric traction to be used for most of the route of the Edinburgh- Plymouth service.

Moreover, shouldn't option [g] terminate at Blackpool North?