Posted 14th July 2012 | 4 Comments
Hope grows for Midland Main Line electrification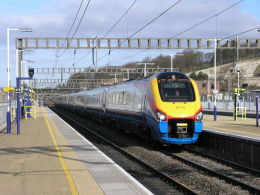 Conversion of Class 222 Meridians to all-electric traction may also be on the cards
SPECULATION is growing that the Government is set to announce the electrification of the Midland Main Line at the start of the coming week. The announcement may be one of several about new rail projects.
Industry sources expect transport secretary Justine Greening to say that the MML is to be electrified between Bedford and Sheffield, and almost certainly to Corby and Nottingham as well.
The MML south of Bedford was electrified three decades ago for suburban services, but cities in the East Midlands and Yorkshire have been campaigning since then for the scheme to be extended north.
There is also the possibility that the wires could be extended on an 'infill' basis beyond Sheffield to Leeds and Doncaster, where they would join up with existing electrified lines.
A parallel announcement could concern the Bombardier-built Meridian units which run on the MML (writes Railnews editor Sim Harris).
These diesel electric trains could be converted to all-electric by the insertion of another car, carrying a pantograph. This proposal has been dubbed 'eVoyager', because so far the DfT has appeared to be concentrating on a conversion of the similar Voyager units in the CrossCountry fleet, but without such a conversion of the MML fleet it is not clear what electric trains would be available.
Although the announcement of the InterCity Express Programme is running years behind schedule, this may also be signed off soon. But all the indications are that electric IEP trains will be ordered only for the East Coast and Great Western routes.
Reader Comments:
Views expressed in submitted comments are that of the author, and not necessarily shared by Railnews.
I think there's a strong case for lengthening Meridians and Voyagers with a pantograph car, as we have so many difficult routes, where electrification may never happen, like to Inverness, Aberdeen, Fishguard and Holyhead. They also make ideal trains to run, where electrification is proceeding down the line. So on the Midland Main line, they could now be used to Bedford before the next section is electrified. And these trains could be here fairly soon, whereas the IEP won't be here for years. Remember too, IEP creates a lot less real jobs, as they are just assembling Jap bits.

MML electrification is long overdue but ending the wires at Sheffield is not a good idea. Surely the scheme must include links to other electrified routes at Leeds and Doncaster. With the Transpennine route also recently approved for electrification it is vital that all these electrified routes are linked up so that as an additional benefit many of the local commuter services in Yorkshire can dispense with the old DMU's and introduce more efficient electric trains bringing even more benefits to both passengers and the environment.

As part of a rolling programme of electrification the cross country route between Bristol and Derby has to be next so that if the evoyager is built it will be able to maximise its utilisation under the wires.

Kent High Speed = Hitachi
Replacement of East Coast and Great Western - IEP, should be combined into one big order.
If we continue to have different rolling stock on different lines - the rolling stock would lack inter-operability during times required.
I personally would like to see the IEP, Cross Rail 1 (and 2, and should be 3 and 4), East Coast Mainline, West Coast Mainline, Midland Mainline, Great Western, etc to be all the same rolling stock.
Additionally all new stations, electricifications, and rebuilding of stations and other structures - should be done with the foresight to be built to the Berne Gauge Clearance.
Seeing Reading station being rebuilt with a new passenger foot bridge connecting the existing and new platforms - with only a W8 Clearance.
All gantries, pilons, cantanary, etc structures should be built and old upgraded when as most are nearing end of life - to the Berne Gauge height so that if in 20 years we wish to run double decker units, we wont have to put up with 12 or 16 carriage long trains.
Passengers prefer a shorter train as you get off the train nearer the exit or enter near the entrance, so a 10 carriage (single or double decker) would be the longest we the passenger want.