Posted 3rd May 2019 | 2 Comments
Crossrail costs were boosted by lack of 'realistic plan'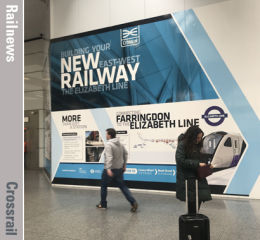 THE National Audit Office says the way that the Crossrail project was planned meant that costs were increased unnecessarily.
In a report published today, the NAO says: 'The compressed schedule, the contractual model, the loss of downward pressure on costs, and the absence of a realistic plan were set against an atmosphere where "can do" became unrealistic. All these factors and many more set out in this report have contributed to underachievement in terms of cost and progress so far.'
The bill for Crossrail has risen from £14.8 billion to £17.6 billion. Transport for London and the Greater London Authority have borrowed more than £2 billion from the Department for Transport, while TfL is also facing a loss of revenue which has been estimated to be as much as another £1 billion, because Elizabeth Line services which had been due to be launched in December 2018 may not now start until 2021.
There is no firm opening date yet, although a six-month 'delivery window' has been agreed which stretches from October 2020 to March 2021. It has emerged that more than 100,000 tasks need to be identified and a timetable agreed for their completion.
The head of the NAO Amyas Morse said: 'Throughout delivery, and even as pressures mounted, Crossrail Ltd clung to the unrealistic view that it could complete the programme to the original timetable, which has had damaging consequences. DfT and TfL must support the new Crossrail Ltd executive team to get the railway built without unrealistic cost or time expectations. While we cannot make an overall assessment of value for money until Crossrail is complete, there have been a number of choices made in the course of this project that have clearly damaged public value.'
The transport committee of the London Assembly has also been probing what went wrong, and published its own report, 'Derailed: Getting Crossrail back on track', on 23 April.
The deputy chair of the committee Caroline Pidgeon said: 'This report from the NAO reinforces our findings that bad management of Crossrail caused huge damage.
'The Transport Committee report also highlighted how the obsession with a December 2018 opening date clouded all judgement, despite red flags showing up as early as January 2018.
'Crossrail, TfL and the Mayor must be realistic, pragmatic and honest with themselves and Londoners about any issues that occur and deal with them accordingly. They should not be afraid to face the music if a big stumbling block threatens the timing of delivery.
"Crossrail is a huge and complex project and it is understandable that not everything will go to plan. However, we must leave behind the days of chasing an opening date and focus on successful delivery.'
Reader Comments:
Views expressed in submitted comments are that of the author, and not necessarily shared by Railnews.
But why 2 years? I just don't get it. Why allow Crossrail to extend its project to 2021 even though there is a lot more work to do. Money being wasted on a new rail project for London and the Southeast and it's still being delayed.

I believe the Queen is so upset by the delay that she has asked them not to call the line the 'Elizabeth Line' any more. Well would you like your name associated with an almighty mess-up ???? (I am joking)