Posted 23rd April 2019 | 4 Comments
Report says Crossrail warnings were 'watered down'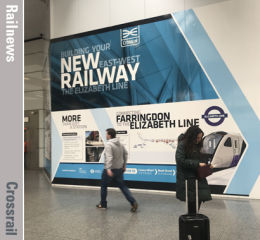 UPDATED 13.20
A NEW report from the London Assembly is accusing London transport commissioner Mike Brown of 'watering down' the information about potential Crossrail delays which was given to the Mayor, and questions whether he should keep his job.
Transport for London has denied the allegations.
The report, 'Derailed: getting Crossrail back on track', analyses what went wrong, and why the launch of services between Paddington and Whitechapel under central London has been pushed back to a 'mystery date' which has yet to be announced.
The core service, to be known as the Elizabeth Line, should have begun in December 2018 but has been repeatedly delayed. It has now been suggested that a launch may not be possible before 2021.
The report also finds that 'significant concerns' raised by an independent reviewer as early as January 2018 were 'largely ignored', that the 'desire to achieve the completion date overpowered any professional and critical assessment of risk', and that the Crossrail Executive did not have the skills required at the later stages of the project to assess and understand the risks as they became apparent.
The other recommendations in the report are that the Mayor should strengthen his control over Transport for London, so that he is effectively kept up to date about the progress of schemes, and that Crossrail and similar future projects should have systems that 'encourage transparency, openness and a sense of accountability on all levels'
The chair of the Assembly's transport committee Caroline Pidgeon said: 'It is a complete tragedy that one of the most highly anticipated engineering projects the world has ever seen has found itself in a mess of overspending, mismanagement and an embarrassingly long delay. Crossrail was supposed to be the beacon of modern 21st century engineering but its name is now tarnished with shame in the eyes of the London taxpayer, who will have to foot the bill until its completion.
'The inability of senior figures in the project to push past their obsession with a December 2018 launch date is one of the main reasons why their dream did not become a reality. As a result, thousands of people who have invested in areas around Crossrail stations or those with small businesses have had to deal with longer commutes and major revenue losses.
'It is shameful that nobody at a senior level is willing to take responsibility for the failure of the project thus far. Crossrail's former chairman, Sir Terry Morgan stepped down, however, the evidence suggests that TfL Commissioner, Mike Brown, was at the centre of decisions to dilute important information sent to the Mayor.
'Crossrail will provide immeasurable benefits to London, once launched but vital lessons must be learned by the Mayor, TfL and Crossrail so we all can bring this sorry chapter of the project's journey to a close.'
TfL said: 'It is clear that the responsibility for the delay to the Crossrail project lies with the former management of Crossrail Ltd. It is entirely incorrect to suggest the Transport Commissioner, or anyone at TfL, kept any information from the Mayor.
'The Commissioner works to ensure that the Mayor is kept informed of everything going on in transport in London and to ensure the information he receives is clear, consistent and accurate.
'As the Commissioner made clear to the Transport Committee, it would not have been right to allow material to go to the Mayor that was incorrect or inconsistent with information that the management of Crossrail Ltd themselves were presenting to TfL and the Mayor in regular face to face meetings.
'Everyone involved is fully focused on opening the Elizabeth Line as soon as possible.'
Reader Comments:
Views expressed in submitted comments are that of the author, and not necessarily shared by Railnews.
Comparisons with HS2 are as clueless as they are predictable. HS2 is simple relative to Crossrail. Three types of signalling won't be required for a start. Xrail was/is uniquely challenging in terms of 'getting things to work' should have been reviewed/updated when the tunnelling was successfully completed with updating of the programme and timeline of remaining 'fitting out' works. Lesson learnt, hopefully, but irrelevant to HS2, which is a new mainline high speed railway providing desperately needed additional capacity.

Will Crossrail be completed in mid 2020 as it's been extended which was suppose to be completed before the end of this year. Or will it extend until 2021 if there was more improvements to be done before the whole project is completed.

And TfL to announce that the Elizabeth Line is opened and Class 345 trains are now in service and stations in Central London also to be officially opened with millions of people expected to use the Elizabeth Line. With the proposal of extending the Elizabeth Line from Abbey Wood to Ebbsfleet at a later date.

It should be remembered that the December 2018 opening date has been on hoardings at stations ever since the Crossrail project began a decade ago and takes no notice of construction delays let alone getting systems like signalling which barely existed when Crossrail began working properly.

Anyone who uses Crossrail Stations could see how the project was behind by looking at stations like Whitechapel where they have still now finished the Underground/ Overground part let alone Crossrail and it's still a work site !

Sadiq Khan was his own worst enemy as on becoming Mayor he failed to vista sites along the route and find out for himself the state of progress, something former Mayor Ken Livingstone would have done and kept up o date with.

As for the future it seems TFL are still keen to open the whole project from Abbeywood to Paddington in one go but perhaps they should do what happened with the Victoria Line which opened in 3 stages and open this route in stages e.g Abbeywood to Canary Wharf, then onward to Liverpool Street then to Paddington.

The lesson for HS2 is not to keep going on about 2026 !

That the Crossrail project has been seriously derailed is in no doubt. However given it's critical path had a very publicly declared delivery date perhaps a little more substance is required explaining the engineering & operational reasons behind that failure? The public embarrassment & shame of the big beast personalities only tells us so much.

Several billion pounds extra of public funds have also had to be committed to completing the project. Under political pressure budget cutbacks were made to the project. Did these play a part in hampering it's completion, the overrun only exposing over optimism on behalf of the project managers in appeasing their political masters?

Equally important while public money has been pledged to the completion of the project it is being delivered through contracts with a variety construction contractors and sub contractors as well as established railway equipment suppliers. Surely in our highly contractualised world there should be penalty clauses to be activated in order to reclaim financial redress for the missed deadlines. For the public purse to underwrite all the risk sets a very bad example.

As HS2 work is in it's mobilisation phase the additional cost of completing Crossrail will certainly add ammunition to it's critics especially if hard cash is being diverted to the completion of the later. More importantly the lessons learnt from Crossrail missing it's opening need to be urgently fed into HS2 to ensure it's critical path analysis is robust.