Posted 18th April 2019 | 5 Comments
Londoners will be 'hugely disappointed' by new Crossrail delay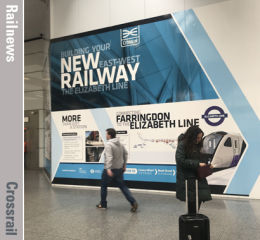 Updated 11.00

SOURCES at Crossrail are said to be warning that the new Elizabeth Line might not be open between Paddington and Liverpool Street before 2021, after fresh revelations about dynamic testing.
The central section of Crossrail uses automatic train operation, as well as ETCS between Paddington and Heathrow, and most trains will encounter two signalling interfaces on their journeys across London.
After problems were revealed in the summer last year, the original opening date of December 2018 then slipped to autumn 2019 and then to 2020.
The BBC has reported a source saying that dynamic testing – running trains under power through the central section – is 'proving more difficult than was first thought. It all depends on how dynamic testing goes between now and the end of this year: the last quarter of this year will be a critical period.'
Work on stations has also been running behind schedule, with Paddington and Bond Street said to be still needing more work than the others.
Caroline Pidgeon, who chairs the London Assembly Transport Committee, said: 'Londoners will be hugely disappointed and frustrated by these reports of yet further delays.
'The fact that this information has been leaked does not bode well for the integrity of the project. The Transport Committee has much to say about the poor management and governance of Crossrail in its upcoming report.'
Crossrail headways are intended to be no more than 2.5 minutes during the peaks between Whitechapel and Paddington, and when the contract for central section signalling was awarded to a consortium of Siemens and Invensys Rail in November 2012, Crossrail had said: 'Crossrail will be adopting a Communications Based Train Control signalling system as it is technically and operationally proven and is successfully used by many metro systems around the world.'
Reader Comments:
Views expressed in submitted comments are that of the author, and not necessarily shared by Railnews.
Utterly pathetic. At least HS2, as a brand new railway
wouldn't need the farce of 3 (or is it 4?) types of signalling per 70 route miles.

These problems should have been foreseen.

Meanwhile the reputation of Bombardier Derby is shredded given that their part in the Xrail delays is a minor embarrassment compared to their abject failure with the Barking-Gospel Oak EMUs and version 36(?) of the software?!

So it is likely that Crossrail will not be completed or finished in time before the end of 2019. And could extend to 2021. I think it is a absolute disgrace that 2 years more wait for the Crossrail project and people living in London who want to see the new Elizabeth Line open will have to wait 2 years before the whole rail project is completed so that they can experience riding on the new railway line. That will pass underneath Central London from Shenfield & Abbey Wood in the East to Reading and Heathrow Airport in the West.

Such a shame on how money has been pumped in and still there is lot of work to continue. And perhaps Crossrail 2 could be given the go ahead from 2020 or 2021 once the Crossrail project is completed.

"Go to countries like Switzerland or further afield to Japan to see how REALLY to run trains"

Japan and Switzerland are both building new lines to HSR standards. Point being?

It's worth remembering that the December 2018 opening date has been on hoardings outside worksites since construction began a decade ago and took no account of the stage we are now at re train testing .

The real issue is the failure last year to admit that Crossrail would not open in December something anyone using stations could see was not possible. In fact Whitechapel Station still looks more like a worksite than a completed Station and that's just the original Overground/ Underground part let alone the Crossrail works.

The odd thing is that on the Crossrail site their May 2018 issue of Update is shown as the last issue as if tge project was finished!

From the country that gave railways to the World,couldn't make it up ! and the fools still think HS2 is a reality
Go to countries like Switzerland or further afield to Japan to see how REALLY to run trains