Posted 26th February 2019 | 6 Comments
No confidence about Crossrail date, admits Mayor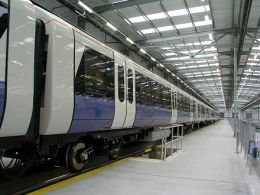 THE Mayor of London Sadiq Khan has admitted that there is no date that can be given 'with confidence' for the opening of the critical central London section of Crossrail.
The line between Paddington and Liverpool Street should have opened in December, but a controversy is continuing over who knew that the launch would be delayed, and when they knew it.
Former chairman Sir Terry Morgan has already clashed with the Mayor over the sequence of events last year, and the Mayor has now admitted that Crossrail chief executive Mark Wild is not in a position to name a new date yet, although this year has been ruled out.
The cost of the project has now risen from £14.5 billion to more than £17 billion. Transport for London has had to borrow money to increase the funds available, but is also incurring growing deficits because it should have been earning revenue from the service since December.
The problems concern the software connected with signalling systems. Bombardier is building 630 vehicles in Derby for the Crossrail fleet, and dynamic testing in the London tunnels was able to restart in January.
When hopes for a December 2018 launch were abandoned in the autumn, it had been suggested that the opening would be delayed for about nine months, but Mark Wild said in January that he couldn't see how a 2019 launch could be achieved, adding: 'I don't actually know when it will be delivered after that.'
More recently Crossrail deputy chairman Nick Raynsford said the board had decided not to commit to a new timetable to avoid 'making promises we can't keep'. When he made a speech to the City of London Corporation's planning and transport committee annual dinner in mid-February, he added: 'There can be no hiding from the fact that mistakes have been made and trust has been lost. We need to earn that trust back.
'We won't do that by making more promises we cannot keep … the board, together with Mark and the whole leadership team, have made the decision not to commit to a new timetable until we have the absolute confidence it can and will be delivered. We hope to be in a position to give more information on this by early April.'
The chair of the London Assembly transport committee Caroline Pidgeon commented: 'Nearly six months have passed since the public were told that the opening of Crossrail would be delayed, yet incredibly we still have no revised opening date.
'I can understand Crossrail's reluctance to not make promises they cannot keep, but what we cannot escape from is that as every day passes the cost of Crossrail escalates even further and TfL is deprived of a new fare income stream which it so desperately needed.
'As the delays in Crossrail escalate so do the unanswered questions as to why the line was held for so long that Crossrail would open on time in December 2018.'
Reader Comments:
Views expressed in submitted comments are that of the author, and not necessarily shared by Railnews.
With the similar software issues on London Overground's Aventra fleet plus the even bigger disaster with Bombardier's Ontario LRV project (2 years late, order halved by customer), Laurent Troger's departure ("pursuing opportunities outside Bombardier") is no surprise whatever.

Centralising functions like software development on "Centres of Excellence" (sic) all over Europe has resulted in watertight compartments totally divorced from the completed train sitting on Sale Line.

I'm still thinking that Crossrail should be completed by December 2019. But it might be completed at the beginning of 2020. Plus with the timetable to be announced in April. I don't think that Elizabeth Line will not open in April.

If this does come down to Bombardier again it will be yet another in a long line of missed deadlines and cement their building reputation as the company that can't deliver on time.

"The problems concern the software connected with signalling systems."

Presumably we're talking specifically the signalling in the central tunnel section, so is the problem with the signalling system itself (Siemens), or the equipment on board the trains (Bombardier) ?

Or is the remaining issue the switching between CBTC in the central tunnels and ETCS at Paddington/Stratford?

Is there one vendor resonsible for the delay, and were there penalty clauses for late delivery in the contracts?
[Industry grapevine suggests that it's the systems on the trains, so Bombardier, but with software issues -- particularly interface failures -- it is always hard to say exactly whose bytes are losing their way. Officially very little indeed is being said--Ed.]


It is not useful at this stage to engage in 'The Blame Game'. It makes not a jot of difference about who-knew-what-when. Everyone involved should work together to get the trains running as quickly as possible. When all the dust has settled, an enquiry into the project should be conducted with the title 'How could we do it better next time'.