Posted 26th April 2019 | 2 Comments
'Cautionary' welcome for Crossrail rescue plan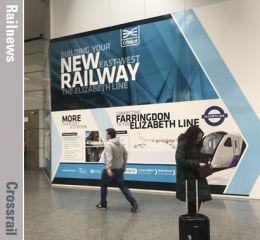 A NEW plan to rescue Crossrail and open the Elizabeth Line as soon as possible has been developed by senior managers and agreed by the Crossrail board.
There is no firm opening date yet, although a six-month 'delivery window' has been agreed which stretches from October 2020 to March 2021.
It has emerged that more than 100,000 tasks need to be identified and a timetable agreed to get them done, but a brief list of the main items includes the revelation that software 'to integrate the train operating system with three different signalling systems' still needs to be built and then tested, while 'vital' station systems have again yet to be installed. Equipment also needs to be installed in the tunnels.
Only when all these things have been done can extensive operating trials begin. These will involve running trains for many thousands of kilometres 'to shake out any problems and ensure the highest levels of safety and reliability when passenger service begins'.
Crossrail said there had been a 'detailed audit' of the programme, and that there was now a 'robust and realistic plan to put Europe's most ambitious and complex infrastructure project back on track'. Contractors' progress and achievements will be closely monitored by a 'new visual management system'.
The plan has been accompanied by a warning that 'many risks and uncertainties remain', which is why no firm opening date can be announced for the time being.
However, Crossrail said the remaining fit-out and installations in the stations and tunnels will be completed this year, and that Bombardier and Siemens will also complete their train and signalling software by December.
The central section of the Elizabeth Line will open between Paddington and Abbey Wood with modified headways of 12 trains an hour during the peak. Bond Street station will not open with the rest, because there are particular 'design and delivery challenges' which must be overcome on the West End site.
In the longer term headways are set to come down to 2.5 minutes, providing 24 trains in each peak hour.
Crossrail chief executive Mark Wild said: 'I share the frustration of Londoners, but this plan allows Crossrail Ltd and its contractors to put the project back on track. Crossrail is an immensely complex project and there will be challenges ahead, but the Elizabeth Line really will be worth the wait. This new plan will get us there.'
London Mayor Sadiq Khan said: 'I was deeply angry and frustrated when we found out about the delay to Crossrail last year. The information we had been given by the former Chair was clearly wrong. We now have a new Crossrail leadership team who have worked hard over recent months to establish a realistic and deliverable schedule.'
London Assembly Transport Committee chair Caroline Pidgeon said: 'We welcome this announcement with cautionary relief. However, the project has been pushed back twice already, so the question has to be asked – is the "six-month window" a hedge-betting exercise to avoid disappointing passengers once more?
'It is also incredibly frustrating that no senior executives will accept any responsibility for the litany of failures that have led to this delay.'
Meanwhile, the Assembly published a report on 23 April which concluded that warnings of delays to Crossrail had been 'watered down'.
Reader Comments:
Views expressed in submitted comments are that of the author, and not necessarily shared by Railnews.
Those responsible for this farce need to be held to account and hauled in front of Commons committees to be grilled.

It is far too easy to blame DfT. But they are not delivering the scheme, are they?

6 figure salaries and abject failure - Crossrail management is on a par with Network Rail in CP5.